The Loop
Throwback Thursday: Four giants of golf met 50 years ago, creating barely a whimper
When is a throwback item double the nostalgic element? When the throwback itself has a secondary look-back value along with mystery and intrigue.
On September 18, GolfDigest.com ran an item on Arnold Palmer's longstanding frustration over Ben Hogan's failure to call him by his first name, last name or any name other than "hey you" or "fella." The slight went back to when Palmer first started playing the Masters in the 1950s and after a practice round Hogan asked fellow pros how Palmer was even good enough to be in the field.
Fast forward to the Oct. 1, 1965, issue of Golf World. Fifty years ago, Arnie is now well into his reign as golf's king, with Jack Nicklaus on the rise. A one-paragraph brief, succinctly, describes a match that deserved a front-page report. It read:
"As Jack Nicklaus produced a new one-year money-winning record by winning the Portland Open, the former record-holder, Arnold Palmer, teamed with Sam Snead in an exhibition match at Dallas to trim Ben Hogan and Byron Nelson, 5 and 3. Nelson was hampered by an injured wrist."
Yeah, that's right, Arnie and Sam played Ben and Byron, and the frequent partners in team play smacked the childhood caddie friends from Glen Garden CC and all there is in that report is 49 words.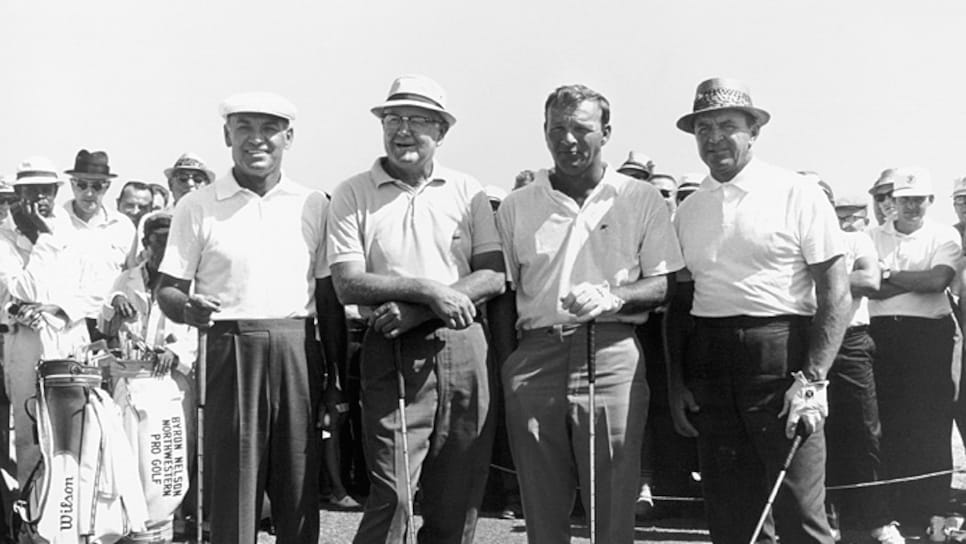 The match of Arnie with the Big Three predecessors to him, Jack and Gary Player is one of the most underreported events in golf history. Can you imagine an exhibition of Jordan, Rory, Jason and Dustin being played and barely a word getting out about it?
Some additional details not in that graph is that the match was for the opening of the new Preston Trail Golf Club, which explains the lack of publicity put out there. And it had been played in May, not in the fall when it was reported, with a few hundred watching and able to roam about freely without any gallery ropes. There's basically just one primary black-and-white photo of the event, with Hogan, Nelson, Palmer and Snead standing in the usual driver pose on the tee.
Even though Palmer was 35 and the others either 52 or 53, they were still a potent force. In that same month, Hogan had been named the greatest professional golfer of all time in a national poll of golf writers and sports editors, gaining 684 points. Palmer was well back in second with 398. Arnie certainly would have been motivated to inflict some "Do you know me now?" impressions on Bantam Ben.
In a rare comment on the four-ball match, Arnold once told Golf Digest, "I played in an exhibition at Preston Trail, Byron Nelson, Sam Snead, Hogan and me. I played very well. I was low man that day, and I got the feeling that upset him [Hogan]. I talked to Nelson, I talked to Snead, but the conversation with Hogan was zero.
"I didn't know him that well, and maybe that was part of the problem. It's not that I tried to force myself on him. I don't do that with anybody. I played with him and against him and tried to be as nice as I could…I was never an entity as far as he was concerned. I was just another player."
In The Irish Times in May 1998, Dermot Gilleece wrote in a column about a golf auction he attended in which he said he "learned of the only occasion that Ben Hogan, Byron Nelson, Arnold Palmer and Sam Snead played together. It happened in the 1965 First Invitational Exhibition at the Preston Trail club in Dallas, Texas." He notes that at the auction, up for purchase was a photo of the quartet as well as the golf balls they used, which were autographed, available for 6,000 pounds.
The items were said to be on display at the Arnold Palmer Room at the K Club in County Kildare, Ireland, a fitting place for a king's treasure.