The Loop
The late Billy Casper and Louise Suggs hold a soft spot in our Golf Digest hearts
The news on Wednesday of the passing of Christy O'Connor Jr. marked a sad start to chronicling the 2016 international golf scene. It was also a reminder of the key figures we lost in the year just ended.
There were pioneering African-American golfers Charlie Sifford, the Hall of Famer; Calvin Peete, former Players Championship winner; and historical PGA Tour winner Pete Brown. Australian World Golf Hall of Fame great Kel Nagle, the oldest living former major champion, died at age 94. (Doug Ford, who will be 94 in August, has that title now.) Bright up-and-coming teacher Wes Mensing was killed tragically at 27, and legendary club pro and Tom Watson-mentor Stan Thirsk died at 87. LPGA Tour standout and 1966 U.S. Women's Open champion Sandra Spuzich died at 78. Canadian Golf Hall of Fame member Dan Halldorson died at 63. Media figures John Derr, James Finegan, William Price Fox, Terry McSweeney and Rhonda Glenn passed away, as did acclaimed architect and Tom Weiskopf design partner Jay Morrish, at 78.
While Golf Digest had associations with several of these golf personalities, the loss of Billy Casper and Louise Suggs in 2015 brought up a fond connection with each. Casper was a great editorial collaborator with Golf Digest in both magazine and book form. When he had a book-signing gig at the 2013 U.S. Open at Merion for his book The Big Three and Me, I asked him to sign the dedication page for a copy that would go in our library. Directly underneath a "dedicated to my family" line, the gracious and humble man inscribed to Golf Digest, "Many thanks for the days you helped build my career." The feeling was mutual.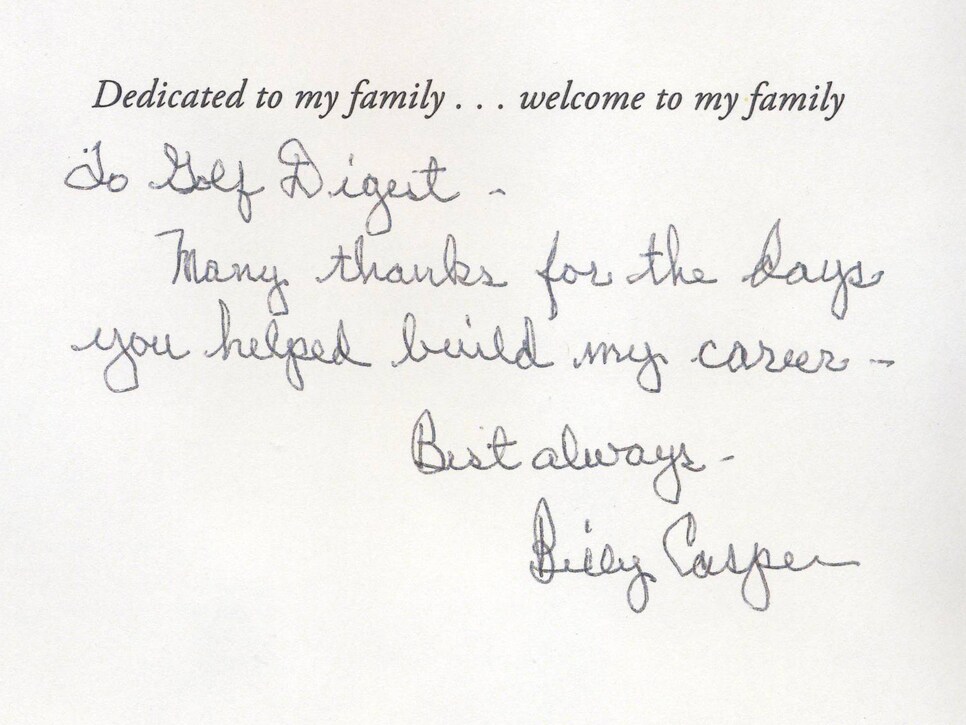 Golf Digest and Suggs grew up together, with both the magazine and LPGA being founded in 1950. Golf World, begun in 1947, was already on her trail, so she had an association with the two golf media heavyweights from the start. One of our favorite vintage photos is of Suggs shows her standing with Bobby Chapman next to a Golf Digest LPGA leaderboard in the mid-1950s at the Peach Blossom Open (below). At the time, she was second to Patty Berg in both money and scoring average but she was second to none in tenacity and desire to win.