The Loop
Throwback Thursday: Big Three Golf becomes must-see TV
As Golf Channel celebrates 20 years on the air and golf fans have access to televised golf 24 hours a day, it's hard to picture a media landscape that was void of regular opportunities to watch tournament golf on TV. But such was the environment when the modern Big Three of Arnold Palmer, Gary Player and Jack Nicklaus was starting to hit their stride.
It wasn't a given that tour events would be broadcast when television first came into existence. Johnny Farrell, the 1928 U.S. Open winner, was nearly 50 years old when he did a golf show in 1949. Into the early 1960s, TV golf consisted of occasional coverage of the big events along with regional and national golf shows or made-for-TV golf contests such as All Star Golf, Challenge Golf, CBS Match Play Classic and Shell's Wonderful World of Golf. As the schedule started expanding, some wondered if there was suddenly "too much TV golf." L.A. Times columnist Sid Ziff answered the question bluntly -- "No! -- in a March 1963 Golf World article.
And so the Big Three came in and decided to flex its muscles. In late 1964, the boys filmed eight matches: four at Firestone Country Club in Akron, Ohio, in October, and four more in December at Mauna Kea Beach Hotel, the then-new Robert Trent Jones course on the Big Island of Hawaii. Then for eight consecutive Saturdays beginning Jan. 30, 1965, each match was played back on NBC as "Big Three Golf." (Nicklaus came in first, Palmer second.)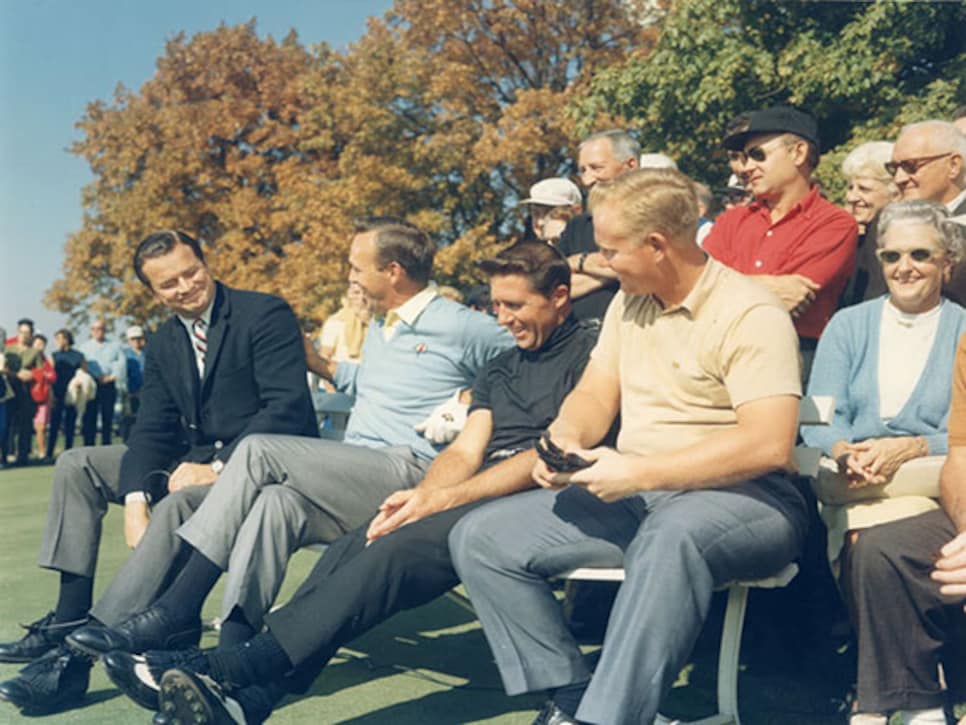 Filming the matches was an accomplishment all its own, let alone whether the golf played was up to the stars' standards. Because cameras weren't set up on all 18 holes as is commonly done today, it took roughly 60 crew members to move the equipment around to make sure a hole was ready to be played when the Big Three had finished on the previous hole.
"Big Three Golf" had some staying power. The next season had two rounds at Firestone and two at Indian Wells in California (Palmer was first, Nicklaus second). The theme of the third season was "The Big Three in Britain." The trio played a round at Gleneagles, Carnoustie and St. Andrews, and, finished in a tie at 218. (The matches were part of an effort to introduce color television in Britain.) They played off the tie at Dorado Beach in Puerto Rico, and Arnie won. The series wrapped with rounds played at Kasumigaseki, Nagoya and Osaka, Japan, with Nicklaus and Player playing to a draw (the sudden-death playoff was stopped by darkness).
Whether 50 years ago or now, the Big Three on TV is a major viewing event.