The Loop
Throwback Thursday: That time Ben Hogan helped start what is now the Web.com Tour
This week marks the 25th time the Web.com Tour has stopped in Wichita -- one of four sites that will celebrate its silver anniversary on the PGA Tour's developmental tour this season. Of course, it wasn't known as the Web.com Tour in 1990.
Before the website design company acquired naming rights in June 2012, there was the Nationwide Tour, which followed the Buy.com Tour, which came after the Nike Tour. But it all started with Ben Hogan.
The golf legend and his equipment company partnered with the PGA Tour to create a satellite tour in 1990. Here's a photo of Hogan and then PGA Tour commissioner Deane Beman at a Jan. 4, 1990, press conference in Fort Worth, Tex., announcing the new tour's creation and a 30-event schedule for that year.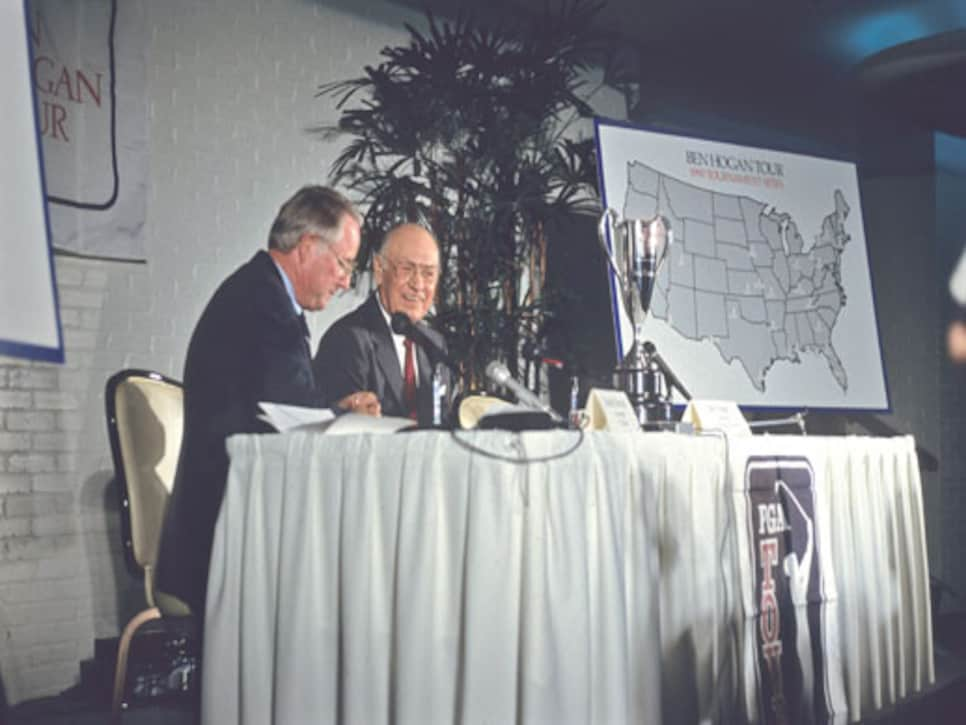 And here's a video put together by the Web.com Tour of early footage, including that press conference, wins in 1990 by Tom Lehman and Jeff Maggert, and Beman hitting the ceremonial tee shot at the tour's first event in Bakersfield, Calif.
"I want to play a big part in it. And I'll be going to some of these tournaments myself, not playing of course, but just to be there," a 77-year-old Hogan said.
In addition to being a business venture for Hogan, the new tour also meant a lot to a man who struggled for years as a professional golfer before making it big. The schedule was devised in a way that pros could drive from tournament to tournament, a throwback to the way Hogan and his contemporaries traveled.
This May 7, 1990 article in Sports Illustrated by Steve Rushin dives into the nomadic lifestyle of players on the Ben Hogan Tour during its first season. "The idea is to move up or move out," a 25-year-old John Kernohan told Rushin.
Nearly 25 years later, the goal of a Web.com Tour player is the same: Earn a PGA Tour card. And the tour's role in doing that has increased with the top 25 money earners getting full status on golf's biggest stage for the following season -- up from only five during the Ben Hogan Tour days.
Rewarding more people for toiling an entire year in relative obscurity? Something tells us the man who helped start it all and spent countless hours "digging his swing out of the dirt" would approve.