The three balls Tiger Woods put in the water on Monday probably shouldn't be taken for more than what they were: three awkward shots without the benefit of a warm-up, in front of a hyper-analytical live audience. It could have easily turned out differently. Had Woods been given three more balls, who's to say he couldn't have holed one?
The problem is these are the only three shots we saw, and in our rush to extract meaning, one could at best deduct Woods is still some time away from being able to play competitively, or worse, that he never will be.
Actually, the worst scenario is something darker, that the three 102-yard wedge shots at Congressional Country Club hold up as some lasting image of Woods, a permanent mark on his legacy. It's an unfair way to look at a 14-time major champion, the best player of his or possibly any generation, and in some ways completely misguided.
But here's where you should pause for a moment and consider the phrase "Willie Mays falling in the outfield." You've likely heard those words before, and if you haven't, it's easy to conjure the image. Mays was 42 and playing for the Mets in the 1973 World Series. By then he already had amassed the credentials that made him arguably the best baseball player ever. But in the ninth inning of Game 2 at the Oakland Coliseum, he struggled to track down a fly ball through the haze, and he fell. Never mind that another Mets outfielder botched a ball under similar circumstances earlier in the game, or that Mays was still swift enough at that point in his career that he was actually put into the game as a pinch-runner. The damage was done, and more than four decades later, no synopsis of Mays' incredible baseball career seems to leave out how it ended with the Mets. (A search of the event yields 323,000 results on Google).
"Age has a way of catching up to everyone," Willie Mays said in 2009. "Far as I can tell, nobody's ever been immune to that."
Mays at least didn't have to arm himself against a crush of social-media reaction to such a moment. Woods wasn't as lucky. Predictably after he made a mess of his Quicken Loans Media Day appearance, the Internet was abuzz with all sorts of wisecracks about the sorry display (we were no different). USA Today put the story on the front page of the paper—the whole paper, not just the sports section—certainly the first time a golf tournament media day has been bestowed such an honor.
You couldn't help but feel sorry for the guy. When Woods hit his first shot, he was so mortified by the result he quickly asked for another ball. Then when that ball rolled into the water, it was like he wanted to disappear. It was only when the small crowd urged him to hit a third ball -- there's no way he could hit it in the water again! they must have thought -- that Woods agreed, reluctantly. Another ball in the water ensued, and this intensely proud, competitive figure resorted to explaining why at 40 years old, with a still-recovering back, he needs a warm up.
"It was stiff," he told ESPN.com after the event. "It was certainly stiff. It goes to show you you just can't go out here and just do it."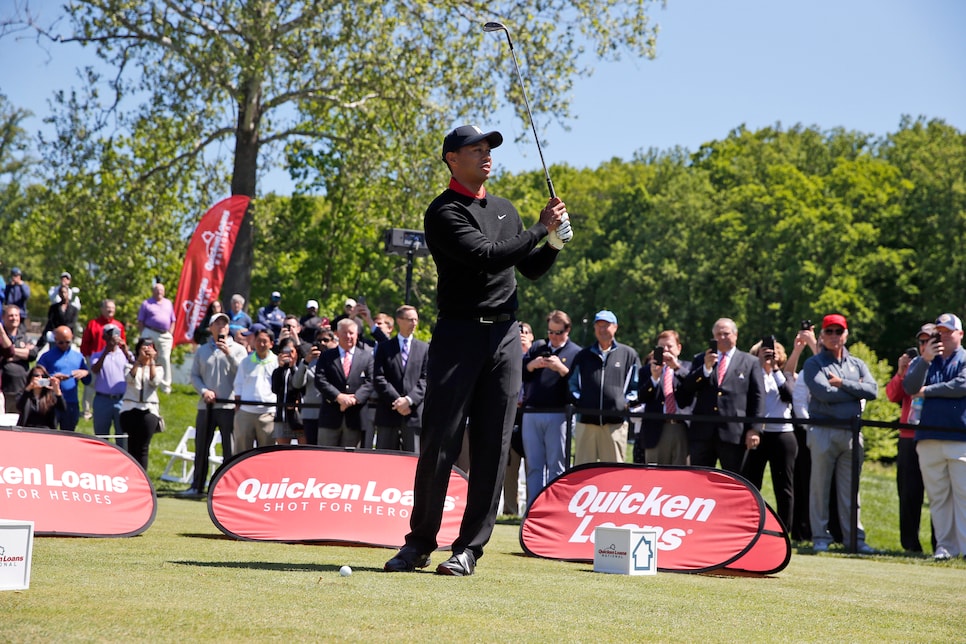 Copyright 2016 The Associated Press. All rights reserved. This material may not be published, broadcast, rewritten or redistribu
The legacy business is a tricky one these days, and in Woods' case, his success in distancing himself from Monday's follies probably depend on new images to take their place. This was the problem for Mays. He retired after the World Series, and never got a hit after Game 2, his outfield stumble becoming his career's undeserving period. And it's not as if your athletic performance is the only thing taken into account. The New Yorker's Ian Crouch recently wrote about the Crying Jordan meme making the rounds on the internet these days, the head shot of a tearful Jordan at his 2009 Hall of Fame induction ceremony seemingly becoming more resonant with younger audiences than anything Jordan actually did on the court.
"For those of us who were sentient when Jordan was winning championships, seeing his face become a mocking emblem of sadness and incompetence has been jarring," Crouch wrote. "Jordan never lost when it counted, and even during his strange baseball interlude, few dared call him incompetent."
The same sentiment applies to Woods. On Monday before he plunked his three balls in the water, Woods remarked that one of the toughest parts of being sidelined is that he is alienated from the rest of the tour.
"When I look at our fields, probably I'm guessing probably maybe a third of them I don't really know," Woods said.
Certainly everyone who plays the PGA Tour knows the name Tiger Woods. What's less certain is the image that it conjures when they hear it.