News
Thousands flock to Arnold Palmer memorial service to cry, laugh, and pay tribute to The King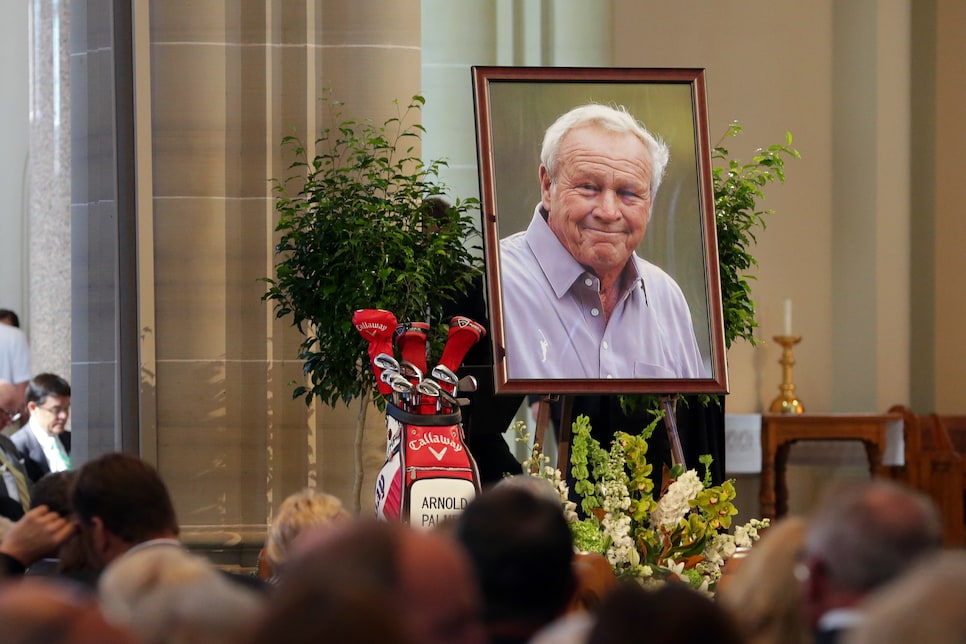 LATROBE, Pa. -- The drive east along Route 30 to St. Vincent College on Tuesday morning was an idyll of contrasts. Cool and sunny, hills and valleys, misty and bright. Autumnal western Pennsylvania at its best. It helped you understand why Arnold Palmer never left.
The scene before his memorial service at the bucolic campus, only two miles from where Palmer learned to play golf at Latrobe C.C., also contained contrasts. The nearly 1,000 who would enter the lovely basilica were somber as they shuffled in, but also carried a palpable energy. It was the power of memory.
Fulfilling the simplest metric for a life well-lived, Palmer, who died on Sept. 25 at age 87, filled up a church. Actually, another 5,000 watched the service via closed circuit at other locations on the campus, making Palmer's gathering even larger than the 3,000 that attended Payne Stewart's service at the First Baptist Church of Orlando in 1999. But it was all the stories and moments and images contained in the collective remembrances of Palmer that had trouble fitting under the basilica's ornately-arched 50-foot ceilings.
It was a day to reflect and relive and grieve and celebrate and feel a deep wistfulness for the passing of time. Jack Nicklaus and Lee Trevino and Tom Watson all arrived a couple of hours early, compelled to honor all they received and shared in their close relationships with The King. Several dozen current and former players attended, the oldest Bob Goalby and Dow Finsterwald, both born the same year (1929) as Palmer, with Doug Sanders, 83, still possessing a dashing flair. The youngest was 27-year-old Rickie Fowler, who arrived carrying the Ryder Cup, who was accompanied by fellow members of the U.S. team Phil Mickelson, Bubba Watson and captain Davis Love III.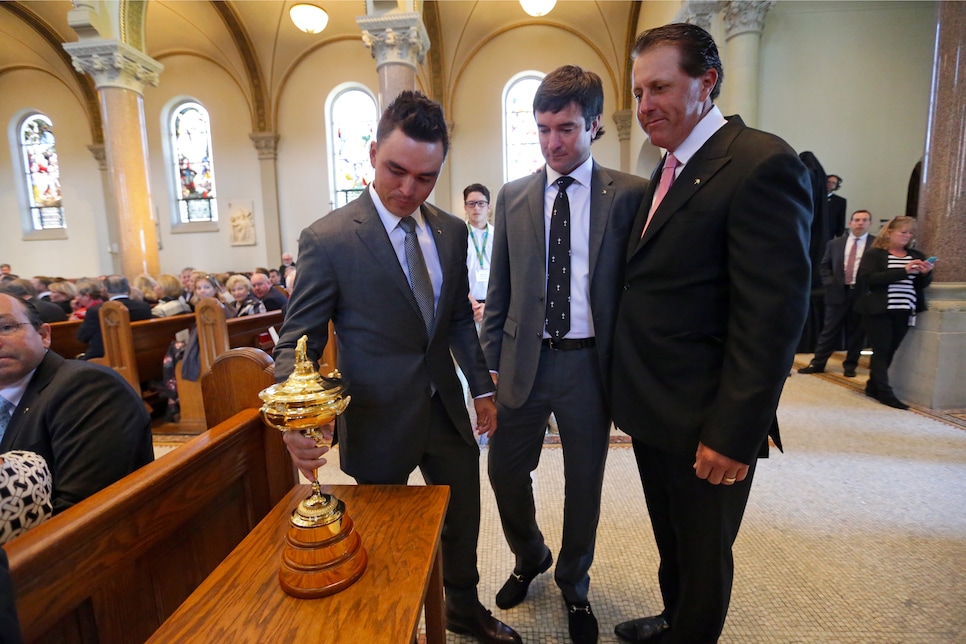 Fellow Wake Forest alums Curtis Strange, Jay Haas, Billy Andrade paid homage, as did major champions Ernie Els, Nick Faldo, Hale Irwin, Mark O'Meara, Fuzzy Zoeller, Craig Stadler, and Mike Weir. Members of the rank and file past and present – among them Ed Dougherty, Tim Herron, Scott McCarron, William McGirt, Bobby Clampett, Chris Perry – could all speak to how Palmer had encouraged them. Two all-time greats, Annika Sorenstam and Nancy Lopez, represented the women's game.
Peter Jacobsen, whose impersonation of Palmer testing the wind by plucking a chest hair and flicking it into the air is perhaps golf's greatest set piece, remembered how the players made Palmer cry by presenting him with a cake at Bay Hill in 1991 after he'd made the cut at age 61. But Jacobsen teared up as he told the story.
Upon taking the podium as one of the eight speakers in the two-hour program, the always controlled Jim Nantz offered with his first words "Wow, this is powerful….more than anything I've attended in my life."
Speaking of Palmer, former R&A chief executive Peter Dawson asked rhetorically, "Has anyone done more for our game? No one has ever come close." PGA Tour commissioner Tim Finchem had his own question — "Why was [Palmer] so popular?" — and offered a profound answer. "He had that other thing. The incredible ability to make you feel good – not just about him – but about yourself," Finchem said. "He took energy from that and then turned around and gave it right back."
Close friend and fellow aviator Russ Meyer, former CEO of Cessna, revealed Palmer's appropriate call sign — "One Alpha Pilot" – and praised his love and gift for flying. "In aviation, we say the real good pilots have good hands," Meyer said. "Arnie's hands were just as skilled in the cockpit as they were on a golf club. When he climbed into the left seat, he was no longer a professional golfer. He was a very professional aviator."
Palmer's sense of others, remarkable for one so famous in a necessarily selfish sport, was repeatedly cited. Nantz told a story of seeing Palmer a few minutes before he was to play his final competitive round at the Masters in 2004. Nantz had just finished weighing a difficult choice between remaining a sportscaster or moving over to news. The decision had been harder because he hadn't been able to consult his father, who'd been dealing with Alzheimer's Disease. Palmer walked over from the practice green to Nantz and said, while tapping the announcer's heart with emphasis, "You don't understand that your father helped you make that decision." "It blows my mind how he was somehow keeping all of us in the loop," Nantz said.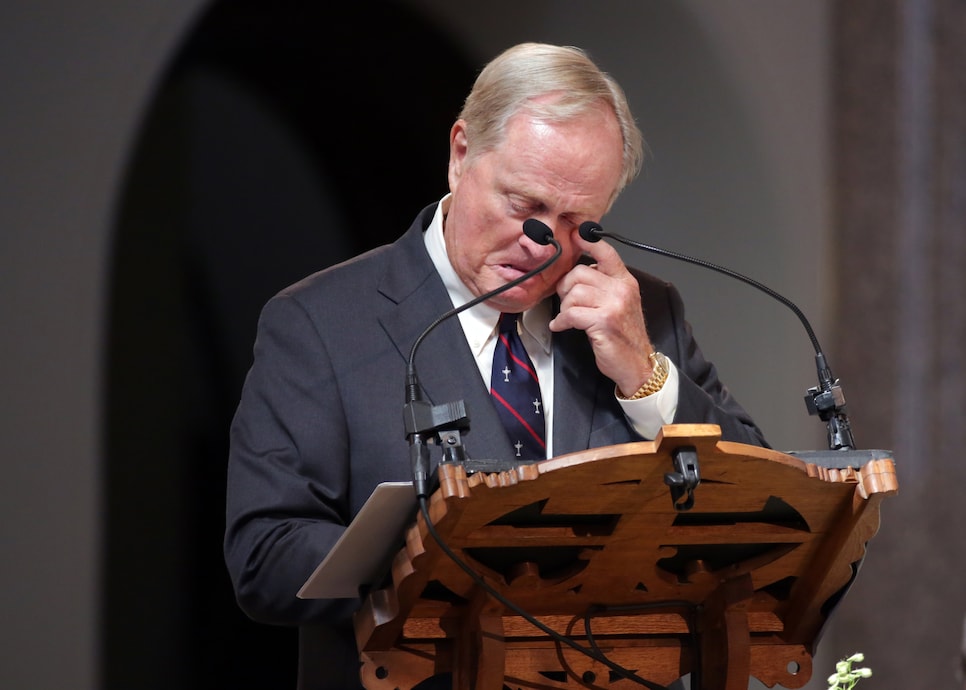 A clearly emotional Jack Nicklaus fought through his own speech, starting only after audibly exhaling and quietly exhorting himself with a determined "OK." At one point Nicklaus stopped to gather himself while emitting a loud "aahhh." While noting how fiercely competitive he and Palmer always were with each other, he was always aware of "the compassion that would always lie under it." He movingly quoted Vin Scully, who after announcing his last Dodger game on Sunday at age 88, said, "Don't be sad that it's over. Smile because it happened."
To conclude, Nicklaus added, "Remember when Arnold Palmer touched your life, and touched your heart. Please don't forget why."
The most personal and intimate speaker was Palmer's grandson, Sam Saunders, who has followed his grandfather's footsteps into professional golf. He brought home a Palmer who would swim on his back in the family pool and lounge around his home in cutoff sweatpants and a tee shirt. "We loved that man as much as the man you saw on TV," Saunders said. "There wasn't a lot of difference."
He called his grandfather "Dumpy," a family endearment that caught on after Sam's older sister Emily couldn't say "Grampy" when she was small. "He's still Dumpy in my phone, and I'll never change it," said Saunders. "He would always take my phone call no matter where he was, and he'd answer by saying, 'Where are you?' " Saunders was most grateful that he called at 4:10 pm last Sunday, a few hours before Palmer died suddenly while awaiting a heart operation. "He asked me where I was. I said 'I'm here at home. I'm thinking about you today – we all are.' He told me to take care of my babies and my entire family. I told him I loved him, and he told me he loved me back. It was the last thing we said to each other, and I will be grateful for that the rest of my life."
By the end of ceremony, which concluded majestically with a fly by and steep ascent into the heavens of the Citation X (tail number N1AP) flown by longtime co-pilot Pete Luster, we could all be grateful. In the most important ways, Arnold Palmer will never leave.