Though motivations vary, players are bringing their best for FedEx Cup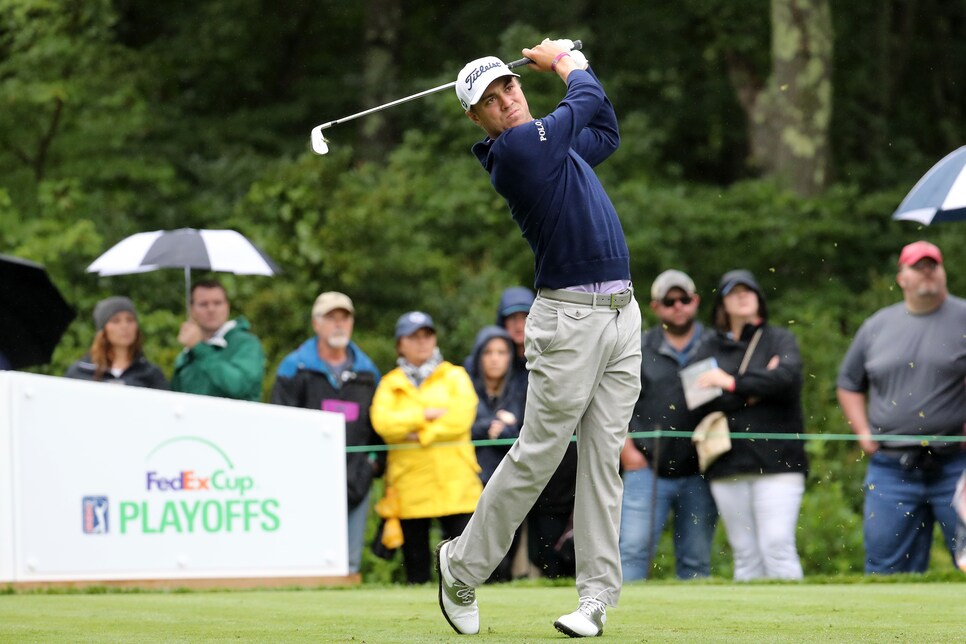 NORTON, Mass. — The word "playoffs" isn't really applicable during the PGA Tour's annual postseason FedEx Cup series, at least when it comes to the game's top players. They'll advance to the season finale no matter what.
What does tend to happen, though, is the game's best seem to play the best this time of year. From that aspect, the FedEx Cup, well, delivers, which is as much the point as anything.
Last week, it was Dustin Johnson beating Jordan Spieth in a playoff. Through the first three rounds of this week's Dell Technologies Championship, it's more of the same.
Justin Thomas, already with four wins this season, including a major, ripped off eight birdies Sunday en route to a bogey-free 63 that has him tied atop the leader board with Marc Leishman.
A stroke back is Paul Casey, with Jordan Spieth among a group of three players two off the pace.
The big names keep coming, too. Johnson and Jon Rahm are three strokes back, Phil Mickelson four, Rickie Fowler five, which is one less than Rory McIlroy trailed by a year ago when he won on a windswept afternoon at TPC Boston.
The conditions are expected to be calmer on Monday, and a steady rain on Sunday softened the course, which means the final round will be a shootout, especially with all the firepower on the leader board.
There's plenty at stake for everyone, too.
A victory by Thomas would be his fifth of the year and all but lock up player-of-the-year honors. It would also put him in position to win the FedEx Cup with a victory at the season finale in two weeks at East Lake.
"Winning trophies is motivating enough for me," he said. "It doesn't matter when it is. … It doesn't motivate me more now than it does [earlier in the season]."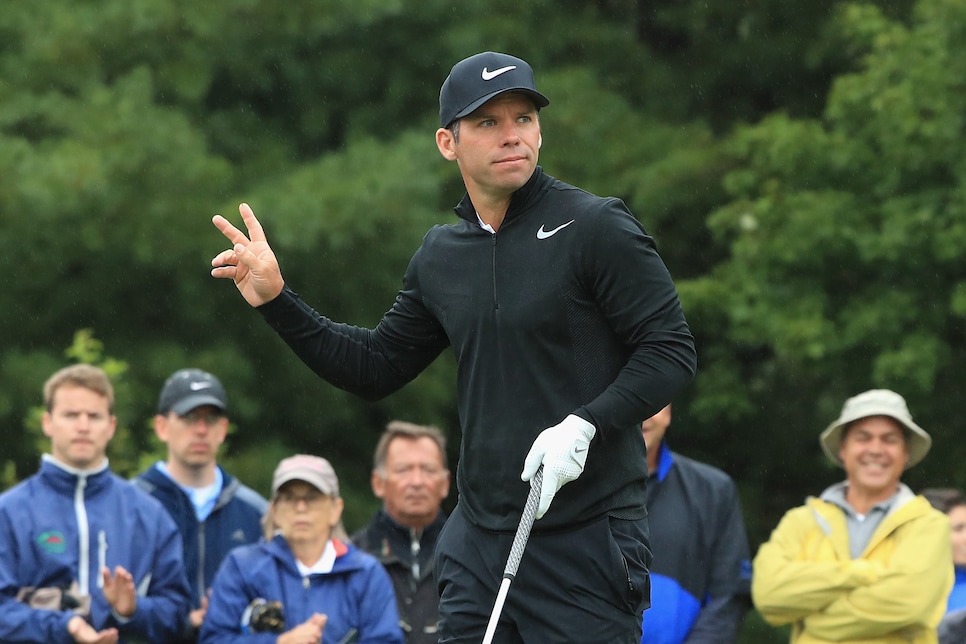 Leishman, meanwhile, is looking for his second win of the season and said capturing the FedEx Cup would be almost as big as winning a major.
"I think it's become that big," he said after a 65 on Sunday. "Because it's a season-long race, I feel like it's got a lot of meaning. Obviously the majors are what everyone wants to win, but I feel like if you win the FedEx Cup, it's very close to a major."
Casey is motivated by the trophy at the end, too—and the $10 million bonus that goes with it.
There's also the matter of some unfinished business. Last year, he led by three going into the final round but struggled in the wind and finished in second two back.
A win by the 40-year-old Englishman this week would likewise move him closer to guaranteeing a spot inside the top five of the FedEx Cup standings going into the finale in two weeks.
"There's light at the end of the tunnel," Casey said. "I like the fact there's a conclusion, I really do. … There is genuinely something to play for."
A win by Spieth would muddy the player-of-the-year race and give him a crack at a second FedEx Cup. Only Tiger Woods has won it more than once.
Grayson Murray, who is tied with Spieth at 10 under, would certainly sew up rookie of the year with his second W of the year.
Should Johnson win, it would be his fifth victory of the year, which would move him one ahead of Thomas.
Mickelson? It would make him a lock for the Presidents Cup and be his first victory since 2013.
For Fowler, it could dull the bad taste of so many close calls in a year in which he has just one win.
"There's more at stake and maybe that just plays a role," said Spieth, trying to explain why so many big names are playing so well in the Playoffs.
Whatever the reason, many of the game's best have played their best late in the year, something that wasn't the case in the pre-FedEx Cup era. Another star-studded finish awaits.
"It's certainly something that grabs guys' attention," Casey said. "It certainly has my attention now and that's all that matters."