News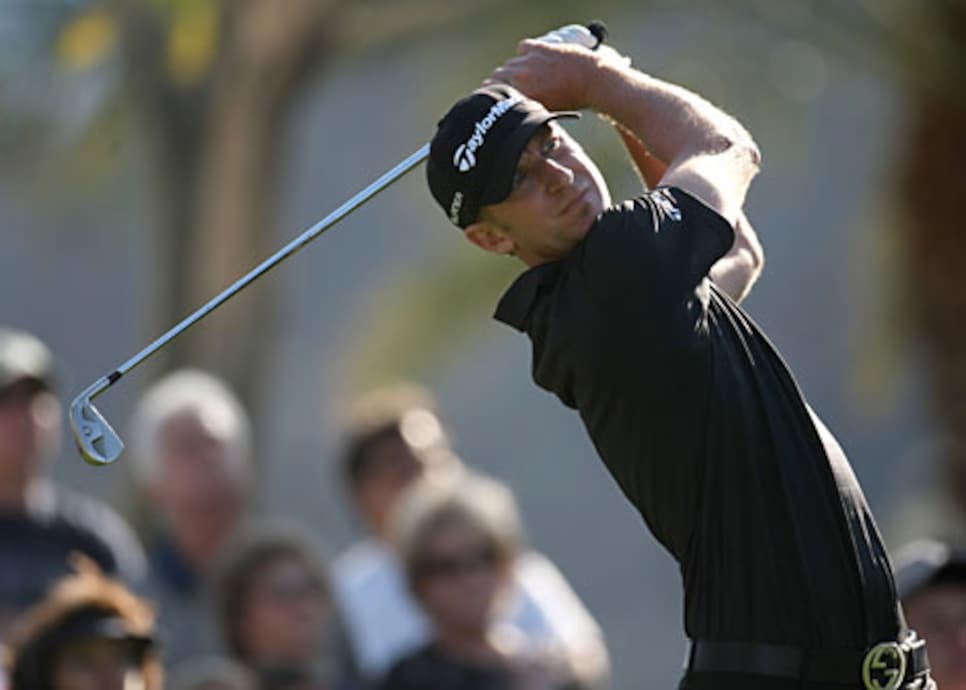 Vaughn Taylor has played in three previous Masters, but would need a win one of the next two weeks to secure another trip in his hometown tournament
ORLANDO -- Here's how you finish dead last in a tournament: You shoot 77-83 at the Transitions, you log five double bogeys, you're 18 over par on your first 27 holes, and on your closing hole, you knock it over the green, then leave it short of the hole, roll it up to tap-in range but miss when the ball hits a pitch mark and leaps sideways.
Here's how you finish first: In a three-hole stretch Friday at Bay Hill, you go ace-birdie-birdie and start imagining that's exactly where you're going to finish.
It's not yet worst-to-first for Vaughn Taylor, but it's a scenario that could happen, and that would be, well, totally unexpected, especially with a Masters invitation on the line and the clock ticking.
Right now, the only way Taylor will see the Masters is from the television screen in his living room. Too bad, because it's going to be old home week. Taylor grew up in Augusta, went to high school there, went to college there and has played the Masters in his hometown three times.
But unless something good happens quickly, he won't be back next month for a fourth trip. The only way he gets in is if he wins the Arnold Palmer Invitational on Sunday, or the Shell Houston Open next weekend. That's exactly the same schedule, and the same situation, that confronts another Augusta native, Charles Howell III.
It's win or else, but even after Taylor put himself in contention at Bay Hill with a second round of two-under 68, he said he's trying to refrain from chafing under the heavy green burden of the Masters.
"I don't feel a lot of pressure. Sure, I'd like to get in, but it's not the end of the world."
Spoken like a true grinder, which is the real place Taylor is right now. He's missed the cut in the last five majors he's played, including last year's Masters when he fell four shots short.
It's not as if Taylor is unaccomplished, if you conclude that five straight years of making at least $1 million and a spot on the 2006 U.S. Ryder Cup team means you're on the right track. But Taylor admits he's been struggling to get his game together. It looked pretty tight Friday when he smacked a 6-iron at the 197-yard 7th and watched the ball track right toward the flagstick. He learned it was in the hole when the gallery yelled.
Last week, there was mostly silence when Taylor played, probably because it was too darned hard to watch. Taylor decided he had to look, so he watched tape of his swing. He said he was slouching too much and didn't like his spine angle.
"I was just really bad through impact. Not really good. But I feel like I have an idea now."
This would seem like a good time to have a clue. Taylor's been a little short on ideas so far this year, with four missed cuts in eight events (and a combined 28 over his last two times out). Other than a tie for 14th at Pebble Beach, Taylor's best result is a tie for 34th at the Hope. He can blame accuracy (134th in hitting greens) and his short game (117th in putting). All Taylor knows is that he doesn't want to repeat what happened last week, the first time he's finished last in a tournament.
And what would be fun is playing the Masters in the town where he grew up, where he graduated from Hephzibah High School and Augusta State University and where he still lives, now only a couple of blocks from his parents.
The only thing separating him from going home for a week of work on the golf course is winning a tournament -- and he better do it fast. Taylor has won twice as a pro, but not since the 2005 Reno-Tahoe Open. Anyway, if Taylor's not feeling the pressure about connecting the dots between a victory and a trip to the Masters, he's at least thinking about it.
"Winning isn't something you can force. If it's meant to be, it's meant to be."
But after last week, did he think a victory was possible?
"Not really. But that's the crazy thing about golf. You can turn it around just like that."