News
Thomas Pieters, Thomas Detry lead Belgium to first World Cup of Golf title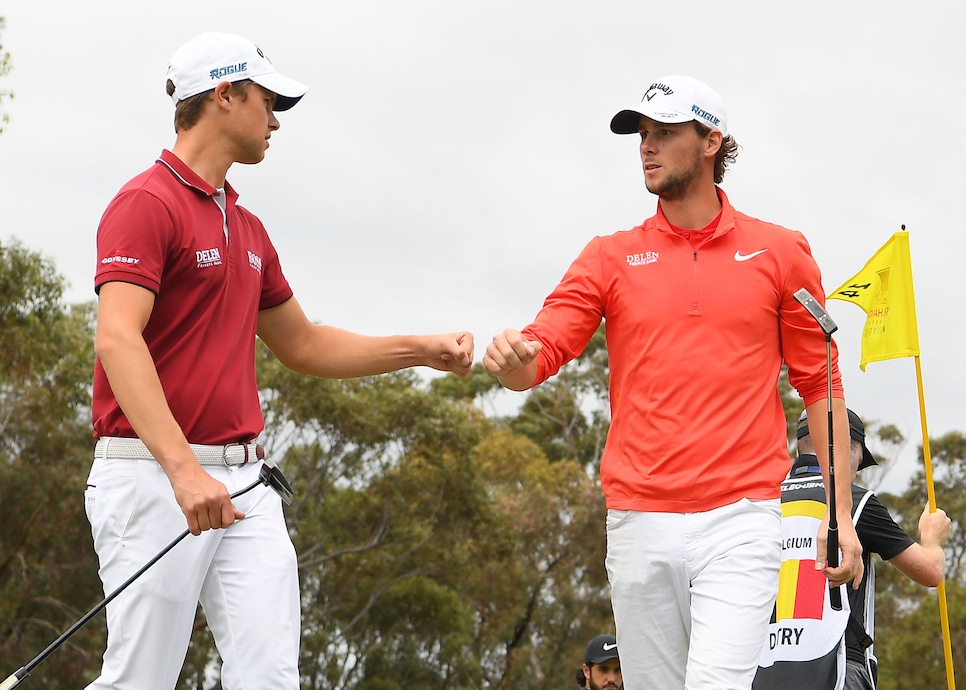 Quinn Rooney/Getty Images
MELBOURNE, Australia — In the end, there was no doubting these Thomases. Armed with a two-shot advantage on the 18th tee, the Belgian pair of Pieters and Detry combined for their 25th birdie of the week (they also threw in a couple of eagles) over the Metropolitan Club to emphatically clinch the 59th World Cup of Golf. Their 23-under-par aggregate for 72 holes—half four-ball, half foursomes—was clearly the best of the 28 nations competing, three strokes clear of runners-up Mexico and host nation Australia. For their trouble, each of the new champions earned $1,120,000.
More importantly, this was Belgium's first-ever victory in the event, 63-years on from the Benelux nation's previous best effort—the T-4 finish from Flory Van Donck and Arthur de Vulder in 1955. And even more impressively, it was achieved in an atmosphere that, while never unfriendly, was nevertheless distinctly pro-Aussie.
Indeed, five-shots back with one round to play, the home pair of Marc Leishman and Cameron Smith did their best to impress 2019 International Presidents Cup captain, Ernie Els (who was on-site to announce his first assistant captain, 2006 U.S. Open champion Geoff Ogilvy). Their closing seven-under-par 65 was equaled only by defending champion Denmark. The Mexican pair of Australian Open champion Abraham Ancer and Roberto Diaz may have had the last chance to catch the eventual winners, but it was the Aussies who pushed the Thomases hardest. Not until Leishman failed from four feet for a birdie on the 16th green that would have closed the gap to two shots did the air go out of the home balloon.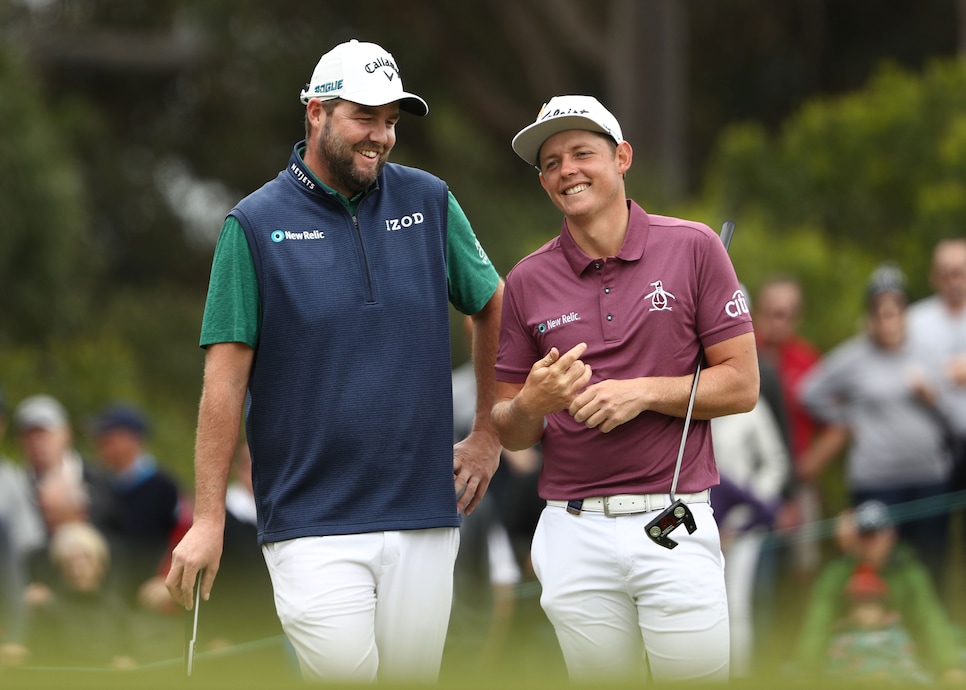 Robert Cianflone/Getty Images
"I think we played pretty good golf," Leishman said. "But Belgium was clearly the best team all week. We did what we had to do today and put them under pressure. But they were just too good. And yes, I would love to have that putt on 16 again. I tried to hit it on the left edge and pushed it a little bit. It was just not a great putt."
In victory, the Belgians were clearly, and rightly, proud of their achievement, but remained skeptical of the wider impact it would have in a nation where cycling and soccer are the main sports. Even outdoing the national team's third-place finish at this year's FIFA World Cup isn't going to change that immutable law. Asked what might be happening on the streets of Antwerp and Brussels in the wake of this maiden triumph, the smiling response was short and to the point.
"Nothing," said Pieters, 26, who starred alongside Rory McIlroy in the 2016 Ryder Cup at Hazeltine. "This will go very under the radar. Hopefully it will make the news and kids will think of us as cool guys and that golf is a cool sport. But it will not be as loud as the soccer World Cup."
Which is a pity. With their outstanding play, the Thomases are deserving of much praise and publicity. One of only three teams to break par in all four rounds (the second day was a brutal mix cold, strong winds and squally showers), they performed at the highest level. Only six times did the long-time friends—they first met at age 8 and attended the same high school—drop a shot, four of those coming in their closing 68. They even managed to impress each other during their joint effort to play that final round as if they were "two behind" rather than five ahead.
Quinn Rooney/Getty Images
"I told Thomas when he hit that drive on 18 that it was the shot of a man who is going to win next year," said Pieters, whose subsequent approach finished no more than a yard from the cup. "I could tell how much adrenaline was going through his body by how far it went."
As for the American pair of Matt Kuchar and Kyle Stanley, it was largely a week to forget, even if three of their four rounds were in the 60s. Like so many, they were de-railed by the bad weather on Friday, shooting a seven-over-par 79 that was the biggest contributor to their distant T-16 finish alongside Wales, 14 shots behind the Belgians.