PONTE VEDRA BEACH — He said no to one of the biggest tournaments in the sport. He declined an opportunity to compete against the strongest field in golf, at a glitzy golf course, for a gazillion dollars. It's the type of opportunity Thomas Pieters had been dreaming of since he was a kid back in Belgium, and he eschewed it to ski the Alps with his buddies.
Pieters looks around at the 50-odd media scribes buzzing about, the television cameras, the perfectly manicured lawn outside TPC Sawgrass' clubhouse that's nicer than the greens at your local muny. "Thinking about it now, it's the dumbest thing I've ever done probably," he said. "I mean, look around, this tournament looks unbelievable. And I said no to it."
At just 25, Pieters was one of the hotter golfing properties in the world in 2017. Tall, good looking, fit, made-in-a-lab swing, and he'd proven he could hang on golf's nerviest stages. He won the NCAA individual title at Riviera during his sophomore year at Illinois in 2012. The next year, after winning the Big Ten championship, he decided one more year of school wouldn't do him much good and quickly earned his European Tour card. He won twice in Europe in 2015 and his huge natural abilities were too much for Darren Clarke to pass up; he selected Pieters with a captain's pick for the 2016 Ryder Cup. That week was a disaster for virtually every European except Pieters—he played all five sessions and spanked J.B. Holmes in singles to polish off a 4-1 record.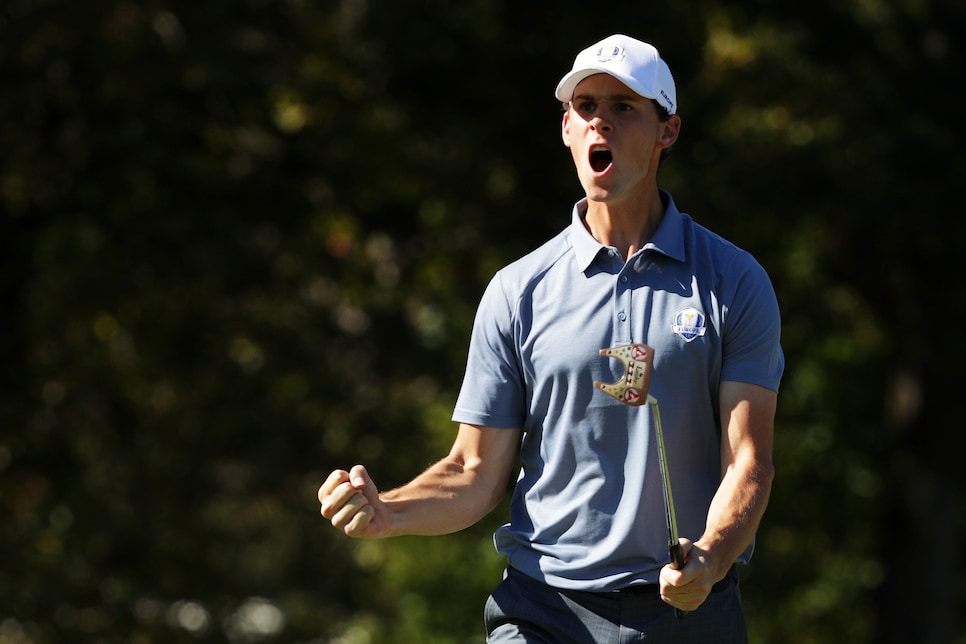 Thomas Pieters appeared destined for stardom after an electrifying Ryder Cup debut.
Streeter Lecka
Europe had uncovered its next Ryder Cup stalwart, a beacon to stand aside McIlroy and take the torch from the Westwood/Poulter/Casey/Rose/Stenson core. It seemed a surefire bet after the start of 2017—he opened the year with a runner-up finish back at Riviera, took T-5 at the WGC in Mexico and tied for fourth at the Masters. He'd cracked the top 30 in the World Ranking. Business was booming. And he was miserable.
"I hated my life at that point," Pieters, who will make his Players debut this week, says. "This is a lonely place for Europeans sometimes. Everybody has their cliques and travels with their families, which I get. I totally get. But I didn't know anybody out here. I had nothing to look forward to after rounds. Just spending so many nights alone in a hotel room, so many dinners by myself. It was different in Europe because I had the Belgians I could hang out with. Yeah, I was lonely and I was going back and forth so much, and I had just had enough."
Amplifying the aimlessness was a gnarly post-Ryder Cup comedown.
"My countryman [Nicolas] Colsaerts said the same thing: When you reach the Ryder Cup the feelings you have there, you never get them in any other tournament," Pieters says. "Not even a major if you're in contention. So, so different. You chase that, and then every week is kind of a disappointment in the lack of buzz. You don't get that feel. You start to lose focus and your week-to-week goals are like, ehhh."
His strong showings stateside in 2017 earned him his PGA Tour card for the following season, but he played just 11 events to avoid the dreaded transatlantic travel slogs. As such, he finished 154th in the FedEx Cup standings, and instead of playing in the Korn Ferry Tour finals to try to salvage his card, he retreated to the comforts of home. The next few years didn't constitute a total disaster; he'd throw in a solid finish on the European Tour here and there, and mostly stayed within the top 100 of the world. But this was a kid destined for greatness, and he'd faded into being just another good player on the European Tour. The most attention he got was for his predilection for snapping clubs in an aesthetically pleasing manner.
His golf may have dipped but his life improved dramatically. Pieters fell in love with his girlfriend Stephanie and, in late 2020, she gave birth to their first child—a daughter named Florence. Even these days, Europe's never far from his heart. He just closed on a house back home in Antwerp.
His European pursuits are the reason he's at TPC Sawgrass this week. He dropped as low as 131st in the world before winning the Portugal Masters last November, then winning the Abu Dhabi HSBC Championship—one of the tour's Rolex Series premier events—to leap all the way up to No. 31. He got a sponsor's invite into the Genesis Invitational, back at his dear Riviera, and missed the cut, but bounced back with a solid T-32 at the Arnold Palmer Invitational. And he did so with a smile on his face.
"I have a family now. I have something to look forward to off the golf course," he says. "[Matt] Fitzpatrick, he's been out here for a while, and he had those same feelings too. But now we get to share those feelings. It's so nice to kill a few nights by going to dinner, hanging out. "
Being in the top 50 around this time of year is something of a golden ticket; if he hangs on, which shouldn't be tough given the recency of his jump, he'll qualify for all the majors, the WGCs, the invitationals. And this time, he'll play.