News
Thomas Bjorn fills in the vice-captain roster for his European Ryder Cup team, with a few surprises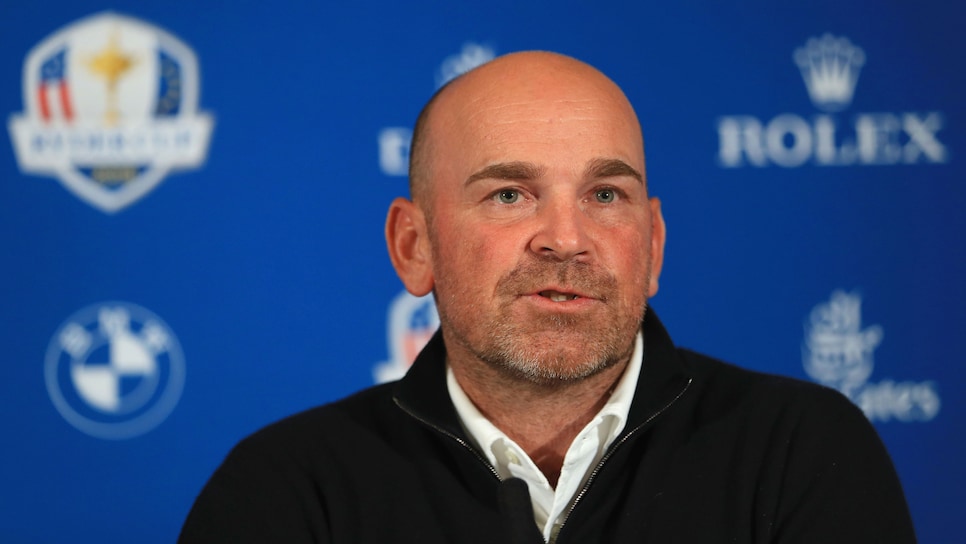 Andrew Redington/Getty Images
VIRGINIA WATER, England — And then there were five. Having earlier appointed Robert Karlsson as the first of his vice captains for the 42nd Ryder Cup, European skipper Thomas Bjorn has added four more experienced individuals to his backroom staff. Combined, Lee Westwood, Luke Donald, Padraig Harrington and Graeme McDowell—two major champions and two former World No. 1s—made 24 appearances in the biennial contest with United States. Throw in Karlsson's two starts and the quintet amassed a grand total of 56 points for the Old World between 1997 and 2016.
Perhaps the most surprising absentee from the group is former Open champion Paul Lawrie. The Scot served as assistant to Darren Clarke at Hazeltine National two years ago and, at 49, is much closer to the age normally associated with the role than both McDowell (38) and Donald (40). Given the European Tour's unofficial political system behind the scenes in matters Ryder Cup, it would appear that Lawrie's chances of making it into the top job in 2020, like those of his fellow Caledonian and major champion Sandy Lyle, have now disappeared. A more likely scenario would see Harrington and Westwood leading the Europeans in the next two matches.
Much less surprising was Bjorn's reluctance to answer directly whether or not Lawrie, or any other veteran not sitting alongside him at Wentworth, scene of this week's BMW PGA Championship, had received a phone call informing them that he had decided to look elsewhere for back-up at Le Golf National just outside Paris this September.
"This was the route I wanted to go," insisted the Dane. "But there's five that can be vice captains, and these were the five. People are very accepting of what the captain wants, and that's how I felt about it. Just because you're not sitting at this table doesn't mean that your voice is not heard. There will be things from other people that won't be in France that will impact how we do things."
Still, a good case can be made for all five of those chosen. Karlsson is one of Bjorn's closest friends on tour and can surely be relied upon to speak what the captain needs to hear rather than what he wants to hear. Westwood brings a wealth of experience to his new role, having played in the last 10 Ryder Cups. Harrington is a vice captain for the third time and is the only one of the five with previous experience. McDowell has twice won the French Open at Le Golf National, where the matches will be played outside Paris. And Donald, if nothing else, never played on a losing team in any of his four Ryder Cup appearances.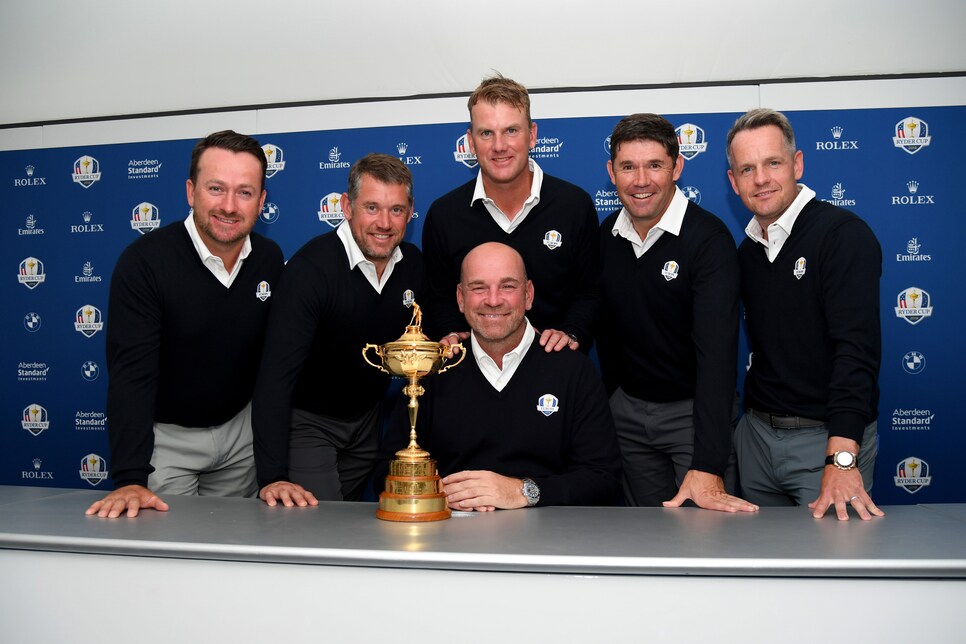 Ross Kinnaird/Getty Images
No one has more experience of the subordinate role that Bjorn though. Four times the 47-year-old has been an assistant, so he clearly knew what he was looking for in the men who will be his closest confidantes in France.
"The one thing I always prided myself on when I went in as a vice captain is I left my ego at the door," he said. "As an individual sportsman, you have an ego, and so you should have. To achieve things, you've got to be very special, and we all have it in one way or the other. But when you go into Ryder Cup week, it's about 12 players, and it's not about the six of us. We are there to work for them. There's nothing in it for us if we don't have that trophy on Sunday night."
Certainly, none of the five assistants were offended by getting the call to serve, even if the implication is that they no longer perform well enough to make the team as a player.
"I'm of an age now where my chances of making the team go down quite significantly," said Westwood, summing up the prevailing mood. "Despite having played in so many Ryder Cups, I'm keen to see another side of it. When Thomas asked me, I jumped at the chance. Playing in a Ryder Cup is very special. But to be involved with it is special, too. He's pulled together a good team with a lot of knowledge and experience. Hopefully, we can find the right words for someone less experienced that might be playing his first one—and hopefully not say the wrong things at the wrong times, as well."
Indeed, there is much pressure on Bjorn and his men to get things right. The United States currently holds the Ryder Cup, the Solheim Cup, the Presidents Cup, the Walker Cup and all four major championships. Only the Curtis Cup remains in "enemy" hands. So, if nothing else, Europe will have no trouble adopting their traditional role of underdogs come September.