That's Golf
Thomas Bjorn had a classic reaction to his unexpected hot start at the Irish Open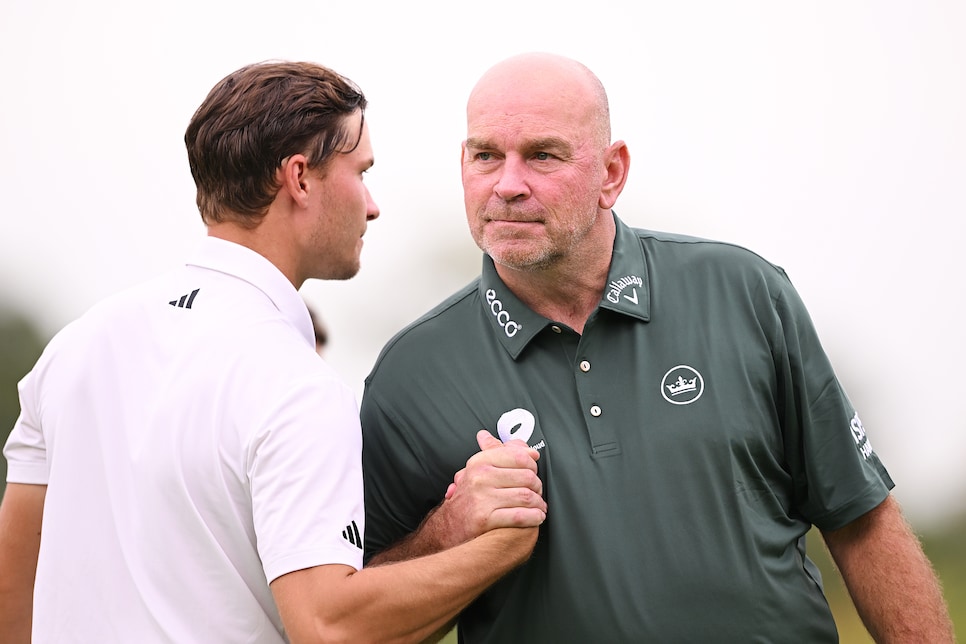 Rasmus Hojgaard and Thomas Bjorn shake hands on Day 1 of the Horizon Irish Open at The K Club.
Ross Kinnaird
Thomas Bjorn was a surprising name at the top of the leaderboard early on Day 1 at the 2023 Irish Open. But no one was more surprised than Thomas Bjorn himself.
It's been nearly a decade since the Danish golfer won his 15th and most recent European Tour title. And the 2018 Ryder Cup captain hadn't played in 10 weeks due to injury, causing him to fall to No. 1,232 in the Official World Golf Ranking entering this week.
Bjorn didn't play that way, though, racking up seven birdies to just one bogey on his way to an opening 66 at the K Club. And after he gave a fantastic—and funny—interview about just how low his expectations were at the start of the day.
"I said to Chris this morning when we walked to the first tee, 'Let's try to see if we can find a way to break 90,'" Bjorn said. "And after nine holes I said 'I've got to shoot 56 on the back nine to break 90 so I'm doing alright.'"
Amazing. And it's even better watching the veteran explain his great round. Or, rather, try to explain it.
Good stuff. As Bjorn also said, "Expectations sometimes get in the way of professional golfers. I had none."
The 52-year-old will try to keep that mindset heading into the second round, but that might be a bit trickier. He's currently tied for second place and just one shot behind Day 1 leader Shubhankar Sharma.
"It just shows you how silly this game can be," Bjorn added.