The Loop
This would have been brutal: Jim Furyk's 58 scorecard almost had incorrect score
It would have been sadly fitting in this summer of nonsensical golf rules imbroglios if the lowest round in PGA Tour history was undone by another rules snafu. You laugh, but it almost happened.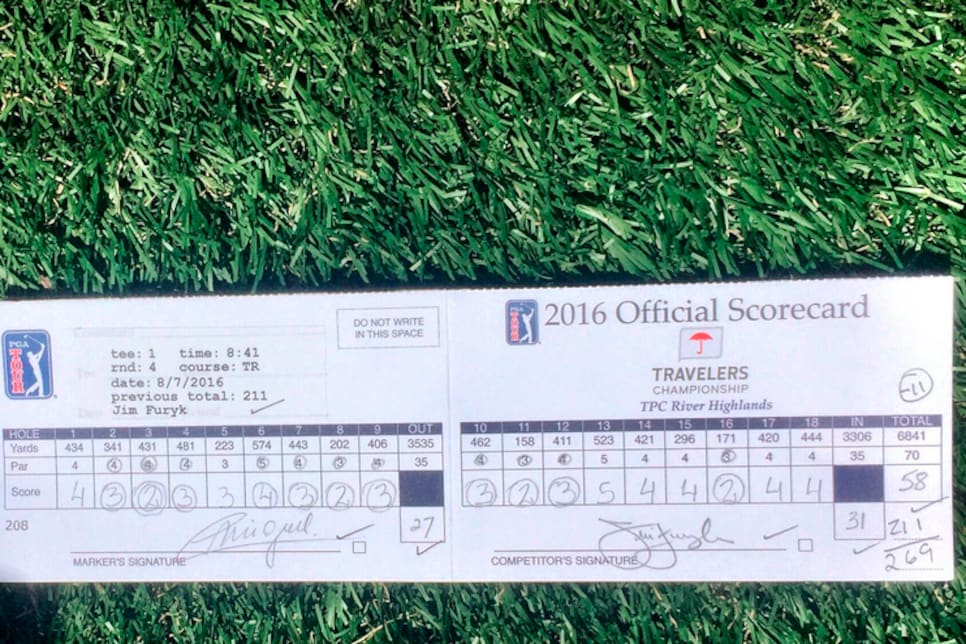 It has a lot of circles on it, as one might expect in a round of 12-under par. But you'll also notice that Furyk made pars on holes 13-15. And what's curious about that is if you look really close, you'll notice that Furyk was almost put down for a 3 by playing partner Miguel Angel Carballo on the par-4 14th (on the PGA Tour, as in most competitive golf settings, players' scores are kept by their playing partner).
Here's another look thanks to the PGA Tour.
To play that scenario out further, had Carballo not corrected the score and Furyk not noticed the discrepancy, the golfer would have signed for a 57, which would have meant an automatic DQ for signing an incorrect scorecard.
Arguably the greatest round ever, lost to a technicality? Talk about breaking the Internet.