The Loop
This Ryder Cup is Phil Mickelson's to win or lose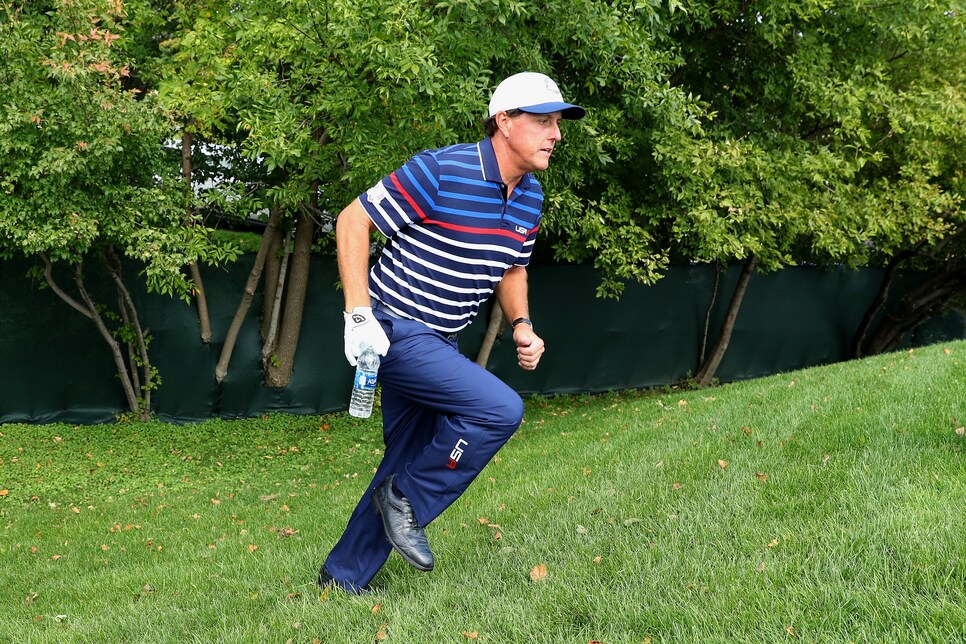 PGA of America via Getty Images
CHASKA, Minn. -- All Ryder Cups have contentious pre-tournament narratives. But never in the history of the Ryder Cup has one player -– or even a captain -- been on the spot as much as Phil Mickelson is this year at Hazeltine.
The closest was probably the "play-for-pay" controversy involving the suggestions of Mark O'Meara, David Duval and Tiger Woods before the 1999 Ryder Cup at Brookline. Everyone was mollified after the U.S. pulled out a miracle win, although the taint on those players hasn't totally disappeared. Losing, however, would have made them the scapegoats.
This year will be a referendum on the Ryder Cup Task Force. But it's not really the ideas being enacted by the group that have given offense. They are fairly benign, and frankly, not all that revolutionary – mostly involving giving the players more of a voice and encourage a collaborative culture, and starting a succession of vice captains who will become captains.
What was jarring was the way the Task Force rose out of the ruthless words of Mickelson, who opportunistically undercut captain Tom Watson in the raw immediate aftermath of the U.S. loss at Gleneagles in 2014. Mickelson hasn't let up in seizing de facto authority in the new direction.
Mickelson is the Task Force, in all its contentiousness. The only end that will justify the means will be victory. Anything else and Mickelson gets roasted.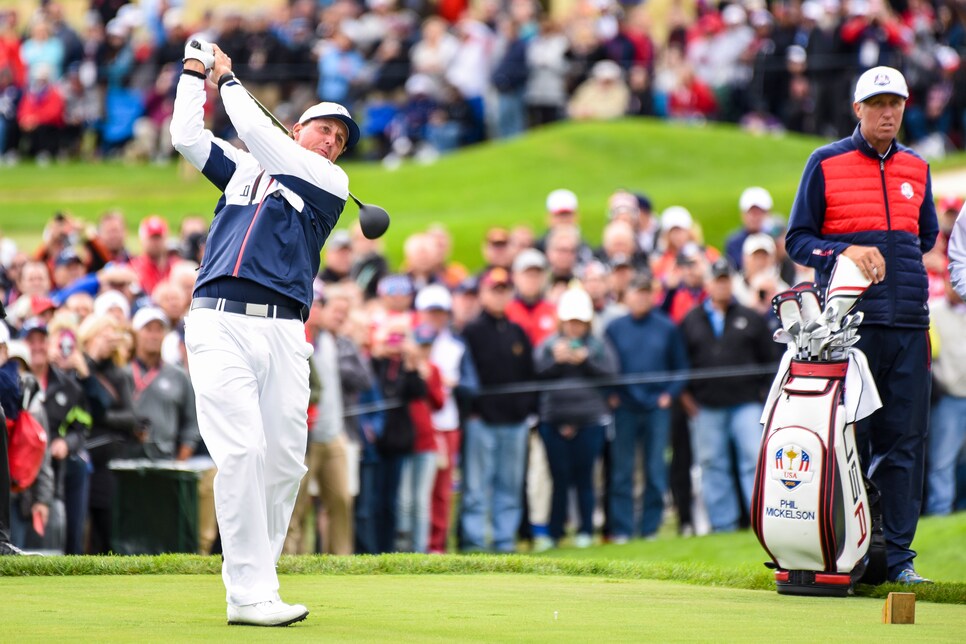 Captain Davis Love has allowed Mickelson to be the dominant public voice, and proclaimed him the team leader with huge decision-making input. At the same time, the players and even Love seem to realize that Mickelson likes to play with fire, and have given him a wide berth even as they followed. "Phil always has a theory," said Love. "Phil being Phil," summarized Brandt Snedeker. Maybe more tellingly, the controversy-averse Dustin Johnson said his only request in potential pairings was "anybody but Phil."
The underpinning of Mickelson's credibility is a time-honored equation of jockdom -- the more you win, the smarter you are considered. Phil has 42 wins and five major championships, second only to Tiger Woods as the best player of this century. He also gets some slack because he's long been the U.S. team's chief encourager, and many players are grateful for the confidence imparted through his well-considered compliments. Last but not least, Mickelson has a forceful, know-it-all persona who eagerly and assuredly conveys them in the public forum.
But there's no ignoring Mickelson's overall Ryder Cup record of 16-19-6, and the fact that the U.S. has lost eight of the 10 Ryder Cups he has played in. It's not one he can brag about.
Also time-honored is the a code in which especially leading Ryder Cup players have taken full accountability for losses and swallowed any public criticisms of the captain, of which privately there have been many.
In contrast, Mickelson has touched the third rail by blaming his performance on what he has considered a continuum of captains –- broken only by Paul Azinger in 2008 -- who were uncommunicative, non-inclusive and wrongheaded in their decisions. In his view, he was forced to spend too much time worrying about who and with what equipment he would play with, rather than focusing on polishing his game to produce his best golf. He's held up the European system as an ideal, even as European players themselves largely see the Task Force as overthought.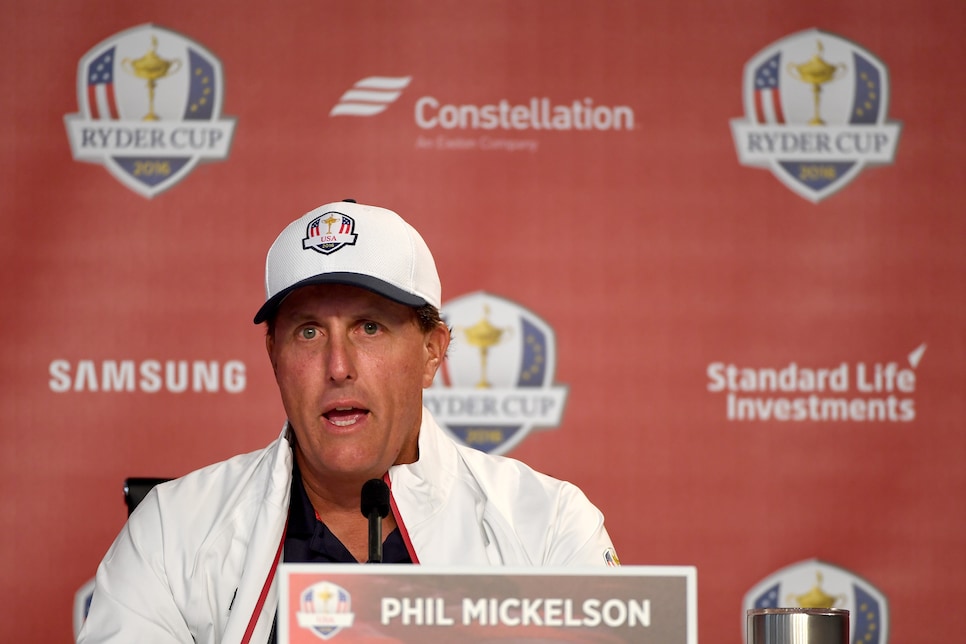 Mickelson doubled down this week. His big example zeroed in on Hal Sutton and the Americans' 2004 loss at Oakland Hills. After giving a long and detailed recounting of why his controversial pairing with Tiger Woods –- which resulted in two losses -– was in his view compromised, Mickelson concluded, "That's an example of starting with the captain, that put us in a position to fail and we failed monumentally, absolutely. To say, well, you just need to play better; that is so misinformed because you will play how you prepare."
Making the moment more off-putting was Mickelson's lame attempt at a disclaimer, which had echoes of a similar shuck and jive with Watson. "I actually loved how decisive captain Sutton was," he said. "I feel like that's a sign of great leadership, to be decisive."
After a wounded Sutton lashed back, even Mickelson soon realized he'd gone too far and hastily apologized on Thursday morning, professing a desire that the Task Force create an "inclusive family feel" among the ex-captains. "I feel awful that I created that negativity," he said.
On a fundamental level, Mickelson is working off a central premise that sounds good –- that you play like you prepare, and that if you are able to prepare the way you want, you will play well. That there is a controllable cause-and-effect that will produce a player's best golf.
It's an applicable premise in football, where plays can be scripted and rehearsed to near perfection. It has never been close to airtight in golf, a highly nuanced, feel-based game that has the smallest margins of error. Jackie Burke called golf "a stick and ball game of constant adjustment." Former tour winner Bill Glasson used to say that the key to playing professional golf was "finding the right swing thought on Tuesday."
While no one would deny good preparation increases the chance of good performance, the point is even the best preparers ever -- which have included the supremely talented Hogan, Nicklaus and Woods -- lost more than they won. And often didn't play well. Conversely, sometimes they won after terrible preparation. In profound ways, a player's best golf has always been and remains a mystery.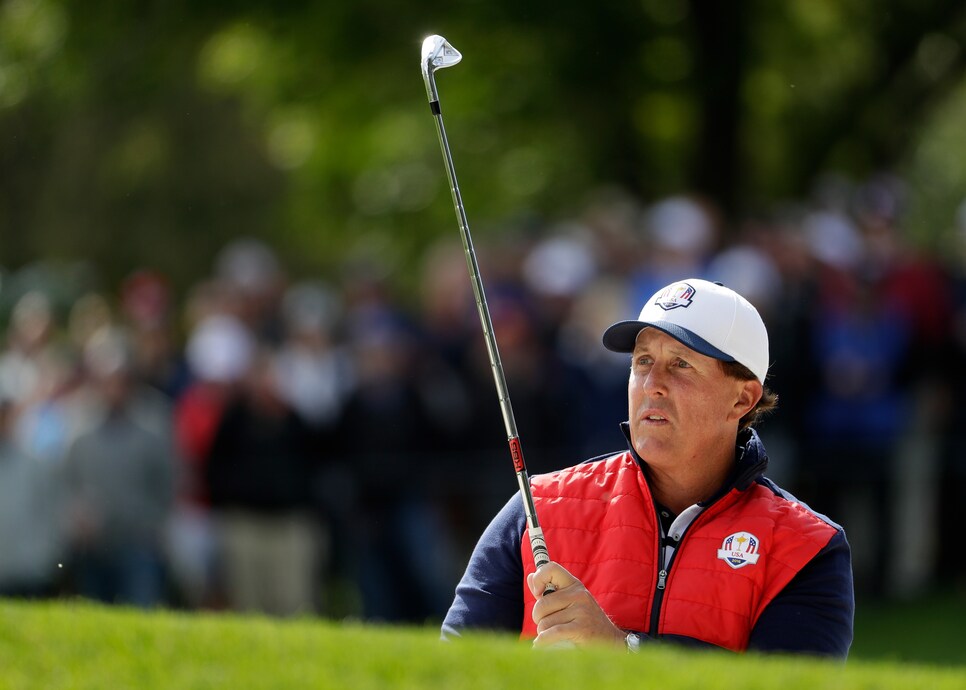 Mickelson is actually the best debunker of his own point. He has presumably been able to prepare exactly how he wants week to week for nearly a quarter century as a pro. For all his success, he's also missed 88 cuts. There's an argument that Mickelson, of golf's greatest players, has been the most erratic, his bad golf being the worst of all.
That, along with his rocky Ryder Cup record, is what gives traction to the old chestnut, "What will Phil do?"
So where are we? Well, when it comes to the Ryder Cup and the Task Force, Mickelson has gotten everything he wants. He has tried to create a safety net with the idea that the results are not as important as building the right patterns going forward. But if everything was so wrong before, and now it's so right, how can victory not be the logical result? Otherwise, the human cost of blowing up the old structure wasn't worth it.
Bottom line, the only way to validate the Task Force is to win. And that adds pressure to the American team, and especially to Mickelson.
"I've had to be accountable for that decision of which I was not part of," said Mickelson of the way he was led by Sutton in 2004. "That's a very frustrating thing. I don't know if you can imagine how frustrating it would be to care so much about something like I do about the Ryder Cup and be accountable for many of the decisions that have taken place when you're not a part of those decisions, and that's what I'm talking about, ownership."
Yes, that's the word. This year, Mickelson has been given control. Now he has to own the result.