The Loop
This picky American ate the food at the British Open and survived to talk about it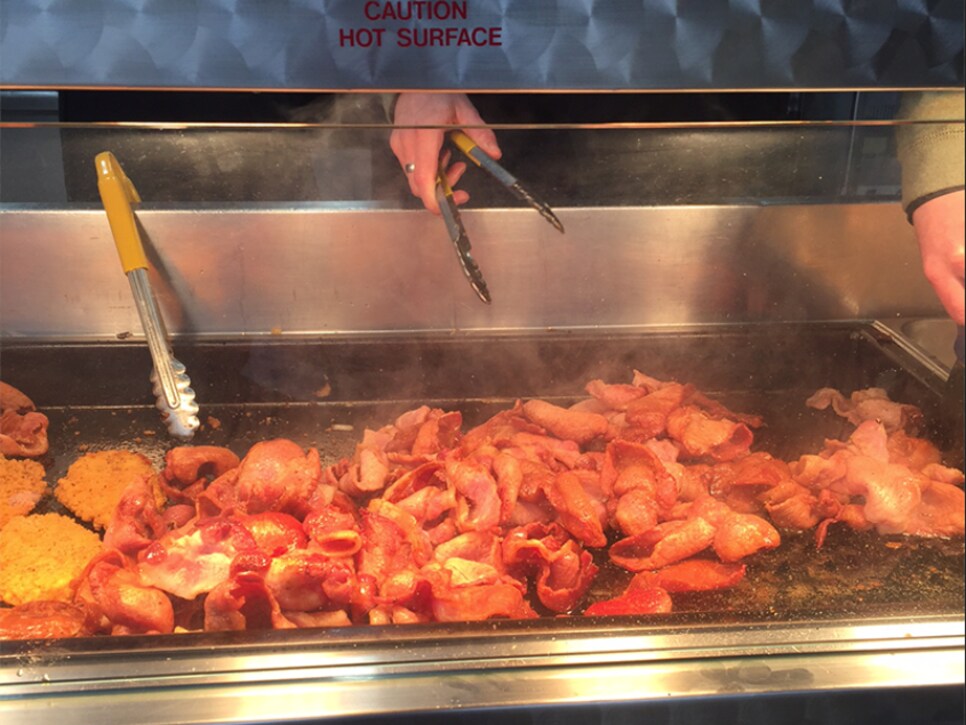 TROON, Scotland -- For a foodie like me, there was the fear of the unknown. Heading to Scotland for the first time led my stomach to ask some questions: Would I like anything over here? Is it all haggis and seaweed? The Open Championship at Troon seemed like it'd be an off week for my taste buds. So I packed a lot of nutrition bars and cookies in preparation.
Yet when in Troon ... well you've got to give the local fare a try. And so I made my way to the spectator village to see what the menu offered. Naturally, I was prepping myself for the haggis. I swear I was open to trying it. And yet the biggest surprise of the week was the fact I couldn't find haggis on the Open grounds. Tried as I did, the haggis escaped me. A small victory, perhaps ... but slightly disappointing in a way.
But I moved on. Compared to how we Americans tend to overindulge, and our fondness of foods we love, my hopes were set low. And yet the Scottish food over-delivered, as you can see by this review of the dishes I sampled: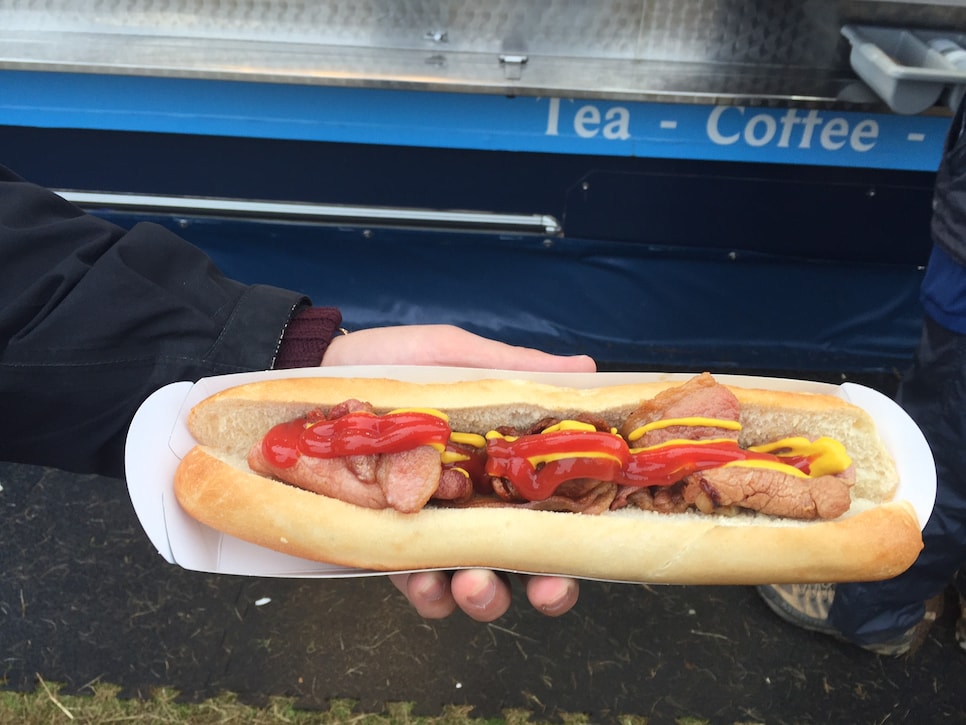 Bacon Baguette (£4): The simple ingenuity of each bite transported my pallet back to a Southern kitchen perhaps in Georgia or Texas. It's as basic as it comes. Just bacon on a long roll. But the baguette is slightly toasted and lightly buttered. And it's all about the bacon, which in Scotland, is more like Canadian bacon or ham. I added a bit of creamy burger sauce to give it an extra kick -- and made it the perfect, simple start to the day. A guy next to me put mustard and ketchup on his, which I thought was interesting (above). This is comfort breakfast for the Scottish. American grade: A-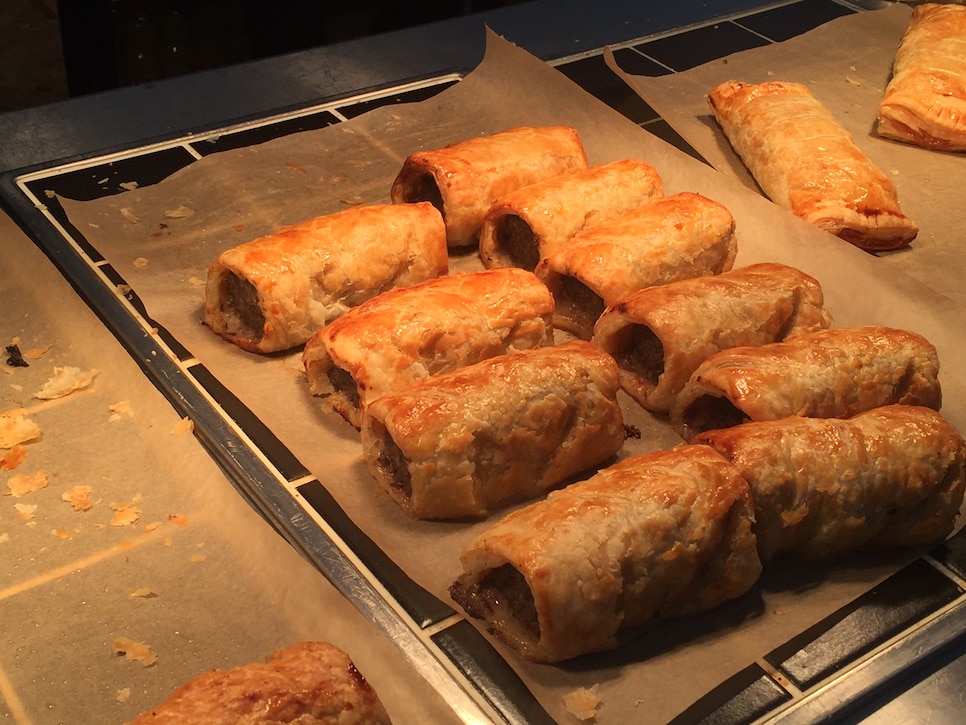 Lamb, Caramelized Onion and Mint Sausage Roll (£5): Why mint? This isn't ice cream. The lamb and sausage packs a punch. It's a burst of meat in each bite. Wrapped into a roll like the American equivalent of a stromboli or a chicken roll, I couldn't get over the mint. If you don't mind the mint flair, maybe it works for you. As for me, I'll brush my teeth to make my breath recover from sausage. American grade: C+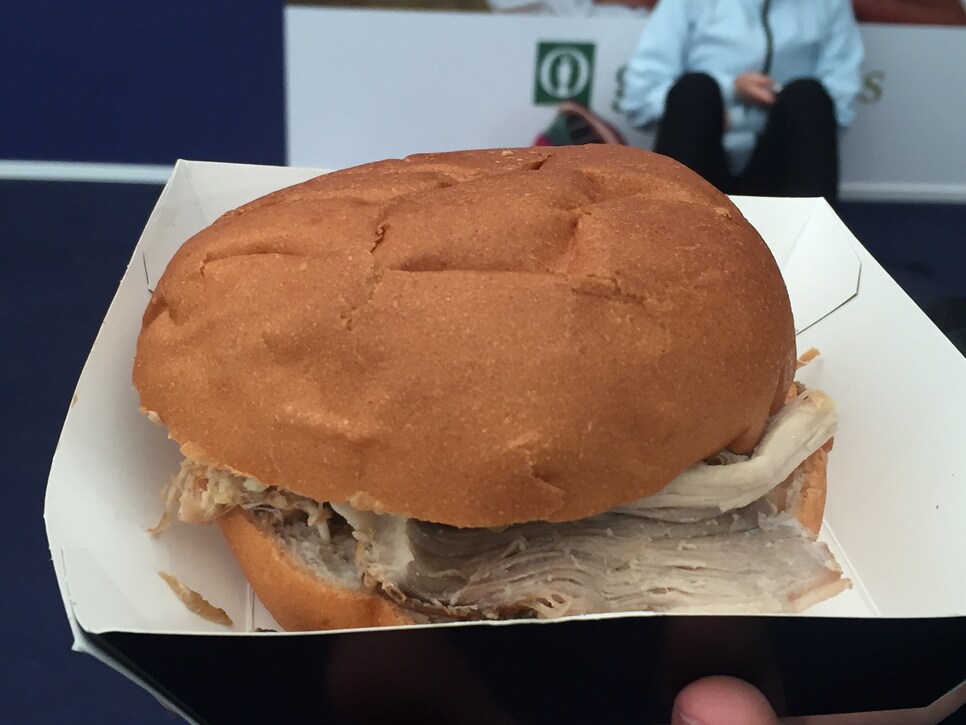 British Roast Pork sandwich (£7): This is the British version of pulled pork. And it's essentially Thanksgiving in your mouth. Just as tender as if you were eating a sandwich from a hole in the wall in Kansas City or Austin, this was pulled and slabbed on a soft brioche bun with tasty gravy added. I must admit, adding stuffing as a spread on the bun tasted different. But it was delicious. This is something you can picture the Pilgrims and Brits breaking bread over at Plymouth Rock. American Grade: A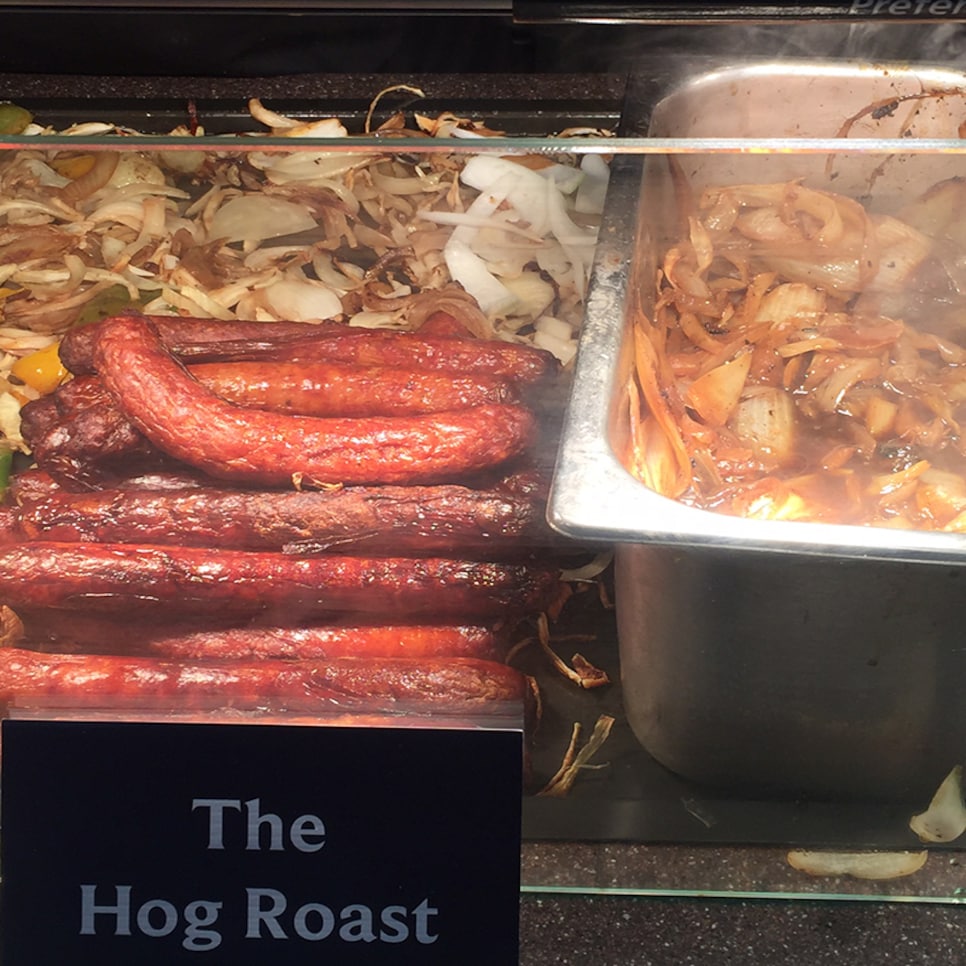 The Hog Roast (£6.50): This is where sausage meets hog. Maybe it was kielbasa and a hot dog. The hog tasted just fine, mild enough for any American but traditional for the Scot. It came with some onions on top. I went the extra mile and added firecracker sauce on one side and mustard on the other. Without the sauce, the hog tasted mundane -- but the kick of the firecracker made it tasty enough. American Grade: B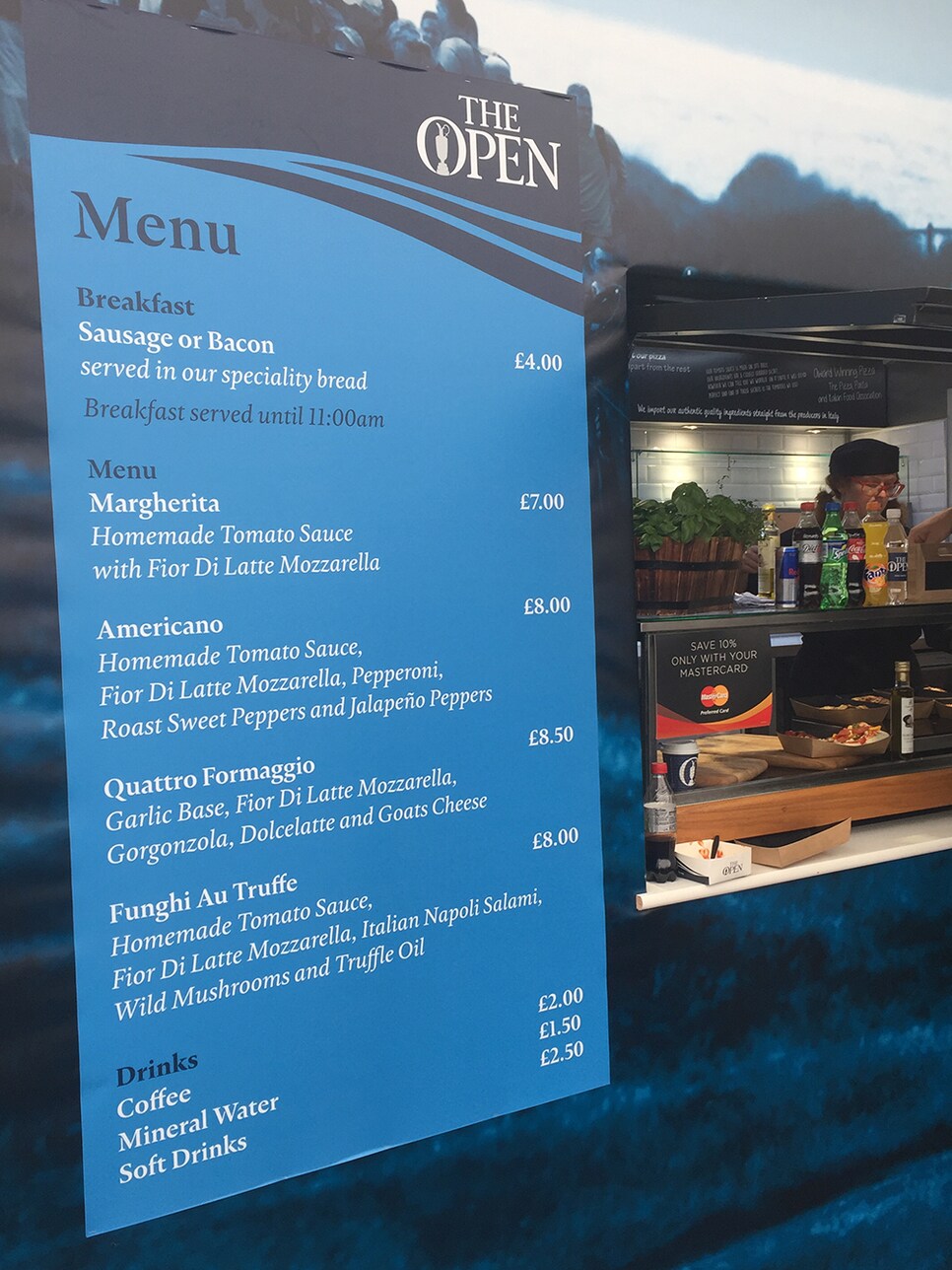 We skipped right over the pizza. As a New Yorker, we felt we had that right. Americans do pizza. We're here for the Scottish experience.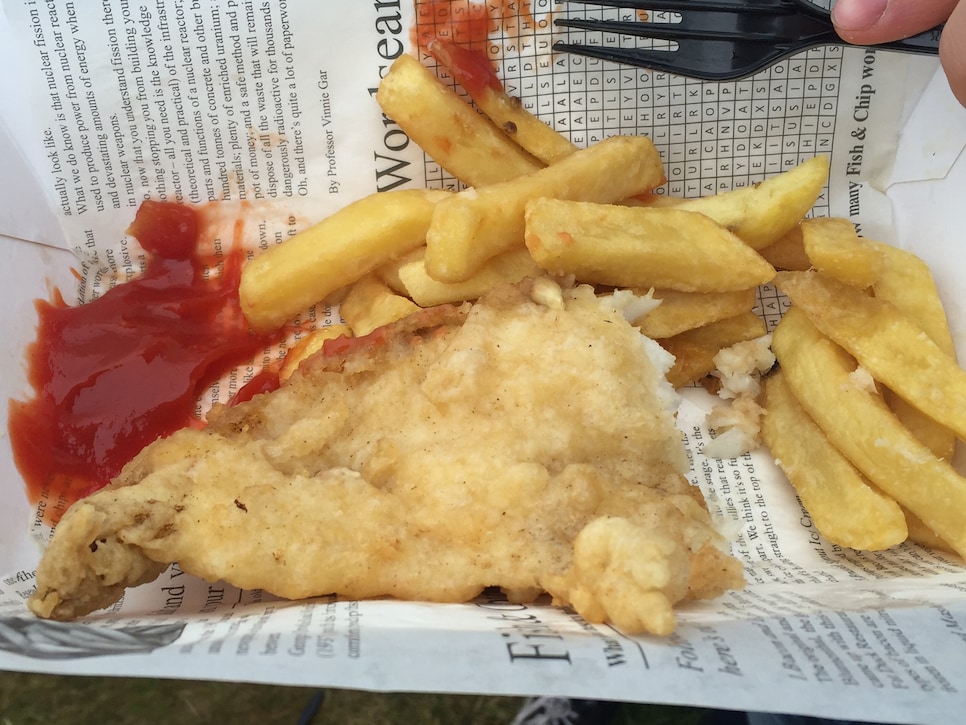 Fish and Chips (£4.50): This is the safest option for any American flying to the United Kingdom. It's hard to screw up fried fish and french fries (sorry, I'm calling them what they are). My colleague Ryan Herrington has had it for dinner every night this week. So I figured I'd try the concession stand equivalent of the British dish. I must've gotten a bad batch -- because the fish tasted awfully bland and the chips were barely cooked from frozen. Gnarly. When you're eating seven different foods for lunch, you're not entirely disappointed to come to a quick conclusion. So I'll applaud the fish and chips for letting me stop eating rather quickly. American Grade: C-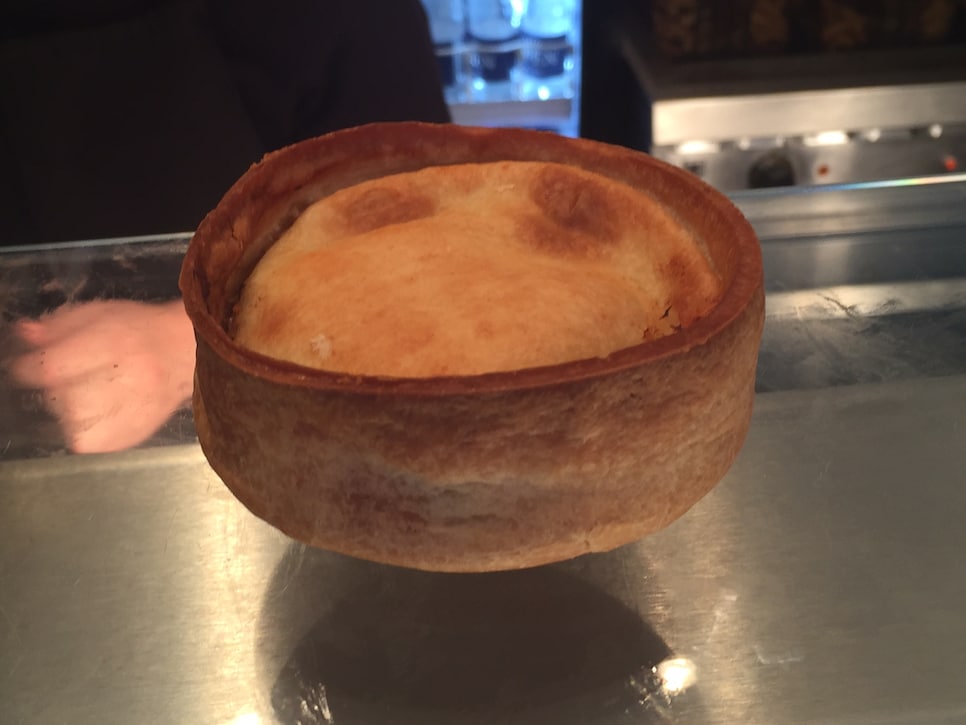 Scottish Pie (£6.50): I figured I'd end my trek with one traditional dish to help me recover from the disappointment of the fish and chips. To be honest, I didn't even know what a Scottish Pie entailed. I discovered it's meat wrapped in a crusted pie -- something you'd make out of Pillsbury dough. The best comparison to the meat is the dish known to some as scrapple in America. Sort of soft and subtle, made from a combination of meats at the bottom of the barrel. I'd call it a suitable replacement to a sandwich. American Grade: B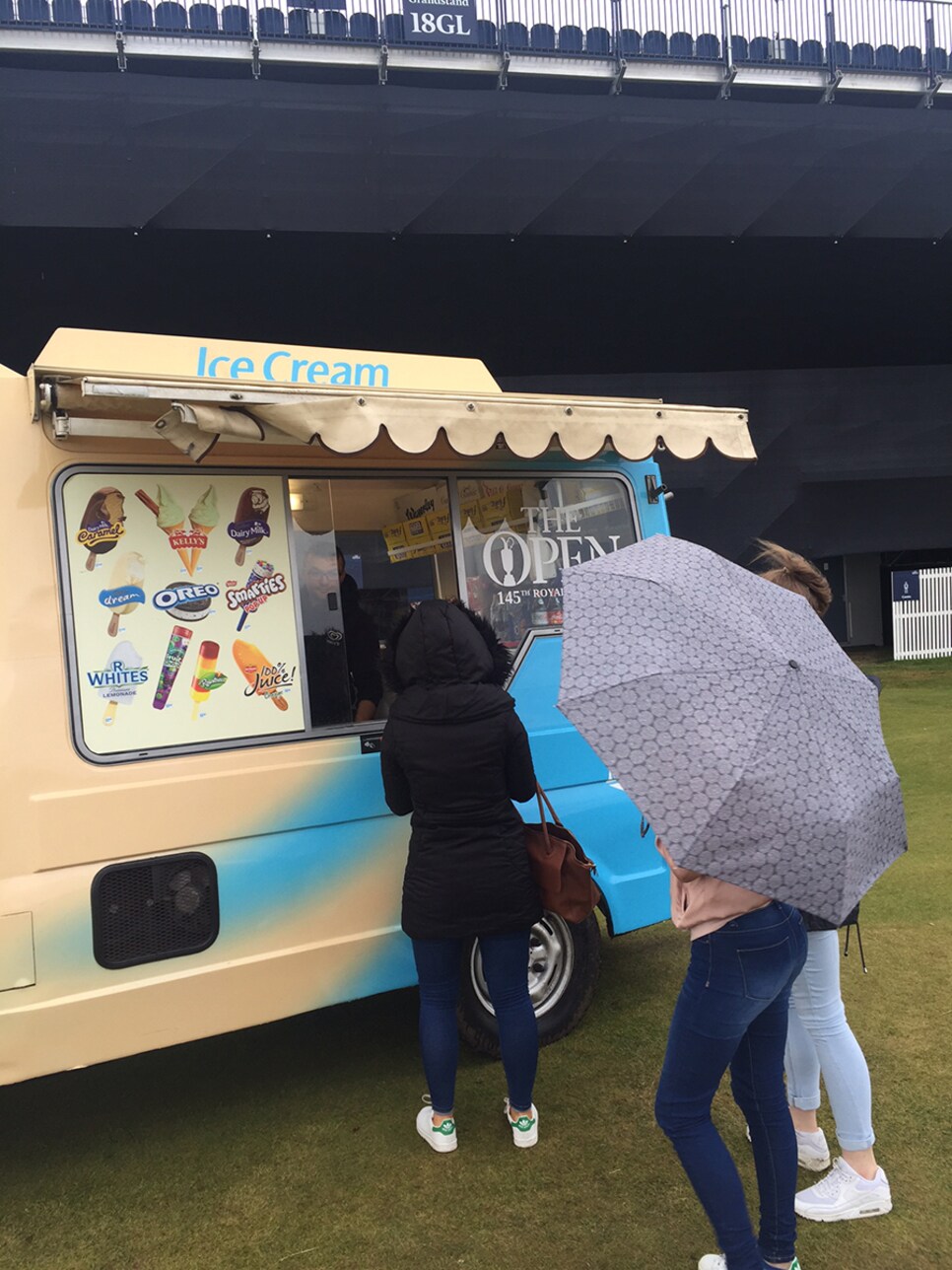 Kelly's Soft-Serve Ice Cream (£2.50): Let's be honest, it's tough to pass up ice cream. I mean, look how charming that little ice-cream truck is. It was delicious. A little too whipped-creamy tasting for me. I'd opt for American soft serve any day. But this was the perfect cap to my day.
Now I've overindulged myself like a true American. Where's the gym?