The Loop
This new golf movie has director (Terry Jastrow), star (Jeremy Sumpter) with game
The problem with golf movies often is believability, the result of an actor without sufficient golf skills, for instance, or a screenwriter or director who doesn't fully understand the game.
This is not an issue with the new golf film, "The Squeeze," scheduled to debut on April 17, the Friday following the Masters.
For starters, the film is based on a true story of an unknown golfer playing high-stakes gambling games, and it was written and directed by Terry Jastrow, whose golf credentials are impeccable. Jastrow attended the University of Houston on a golf scholarship at a time that the Cougars were the dominant golf team in the country. And in a 22-year career at ABC Sports, he produced or directed 62 major championships for the network (U.S. and British opens and the PGA Championships).
Jastrow, 66, cast Jeremy Sumpter, a bona fide strong player, as the lead character, Augie. Sumpter plays to a handicap index of +1.1 at Moorpark (Calif.) Country Club.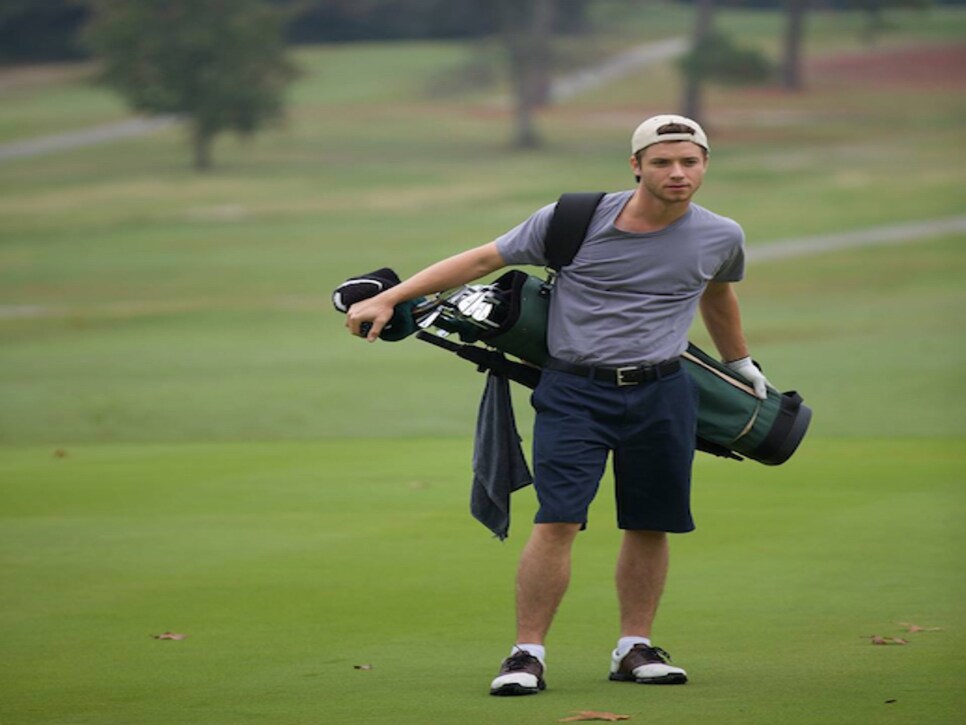 Jeremy Sumpter as "Augie"
"Golfers love movies with golf in them, but it's been so disappointing," Jastrow said, citing the case of Don Johnson and Kevin Costner in "Tin Cup." "Great actors, but the minute they pick up a club, you know you're not watching a great golfer, but an actor."
So Jastrow set out to find an actor with golf ability, "a low single-digit handicapper, five or less," he said. He narrowed the search to five candidates and took each of them to Bel-Air Country Club, where he is a member, and auditioned them on the golf course.
"You can tell whether a guy can play by the way he grabs the club," Jastrow said. "And Jeremy could really play."
Jastrow's search for investors took him to friend Tom Watson, who was reluctant pending proof that Sumpter indeed was a good player. So Jastrow sent video to Watson, who called back immediately. "I'm in," he said. Judy Rankin also is an investor.
The gist of the story is that a gambler traveling cross country discovers a local golf phenom in a small rural town who won his city championship by 15 strokes. The gambler convinces him to travel with him and play high-stakes gambling matches. They eventually wind up in Las Vegas, where he ultimately finds himself in a high-stakes game against a man with mob connections, a game of life or death, according to promotional materials.
The golfer in real life, incidentally, is Keith Flatt, whose wife Chris is the executive vice president hotel sales and marketing for Wynn Las Vegas (the final match in the movie was filmed at the Wynn Las Vegas Golf Course). Jastrow and wife Anne Archer are friends of the Flatts, and Keith matter-of-factly told him his story one day.
"This is a movie," Jastrow told him. Several years later, it has become one.