The Loop
This military veteran caddieing for Jim Herman at the PGA Championship is your inspiration for the day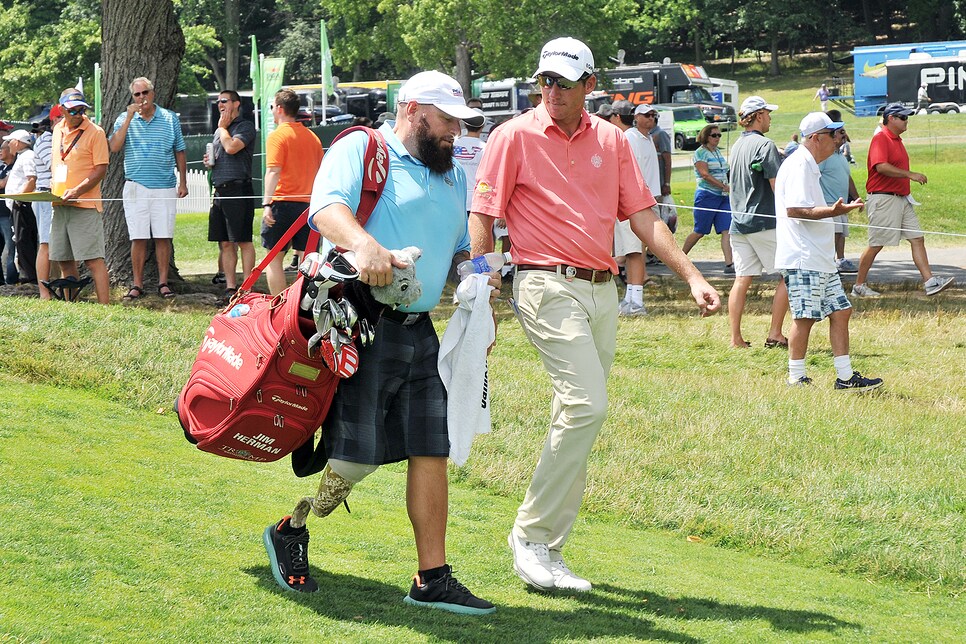 ©2016, Alex Stamoutsos/New Jersey PGA
SPRINGFIELD, N.J. -- One of the more impressive sights from Wednesday at the PGA Championship didn't even involve a golf swing.
Jim Herman, winner of this year's Shell Houston Open, had Chris Nowak -- a retired Marine who lost his right leg below his knee -- caddie for him in his Wednesday practice round at Baltusrol. Nowak is now an ambassador for PGA HOPE (Helping Our Patriots Everywhere), a program established by the PGA of America's charitable arm to help military veterans establish themselves back home after serving the nation abroad.
With Herman's regular caddie, Matt Achatz, not getting into town because of travel delays until later on Wednesday, the opportunity came up for Nowak to grab the bag.
Here's a look at Nowak walking the practice round with Herman.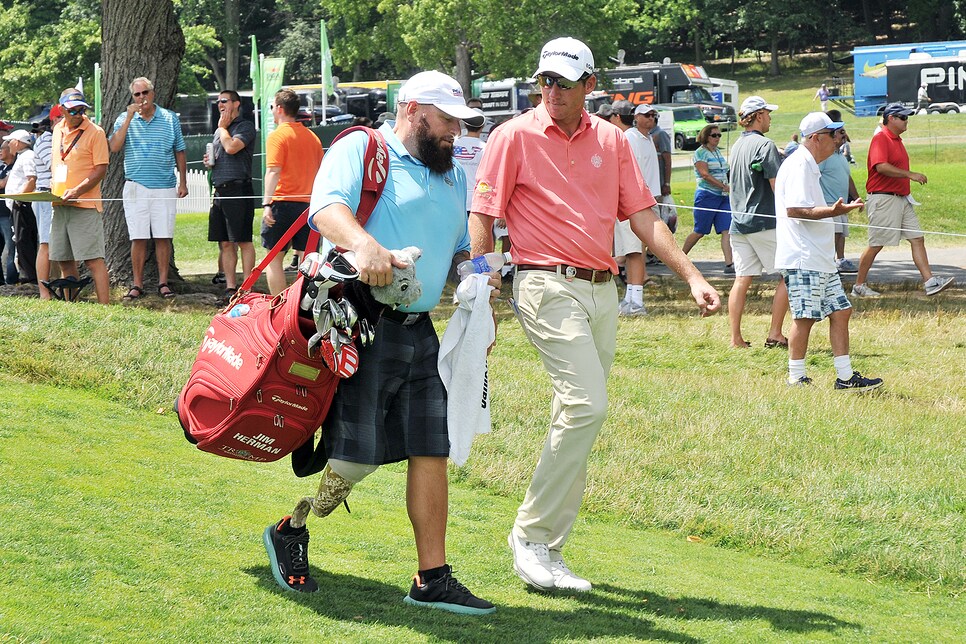 ©2016, Alex Stamoutsos/New Jersey PGA
On a hot summer day at Baltusrol, with temperatures into the 90s without the Heat Index, there was Nowak, with his prosthetic leg, carrying the staff bag of Herman around Baltusrol. And Herman is known for having one of the heavier bags on tour, too.
"It was a great thrill to be inside the ropes and witness the talent of Jim Herman and other players up close as they prepare for the PGA Championship," said Nowak. "I was also very humbled by the cheers and acknowledgment I received from the galleries all around the course. What a great feeling."
Herman's grandfather was a decorated World War II tank commander, so the PGA Tour winner has a strong appreciation for the military and gives back when he can.
"I was truly honored to have Chris on my bag for the back nine," Herman said. "It's a privilege for us to play golf for a living and have the opportunity to compete in major championships, while members of the military are putting their lives on the line to protect our freedom.
"It was the least I could do to share my appreciation for military veterans."
In case you're out at Baltusrol this week and complain about the muggy conditions, you can take some inspiration from Nowak.
©2016, Alex Stamoutsos/New Jersey PGA