The Loop
This is as close to "proper golf" as a U.S. Open can get
PINEHURST, N.C. -- For those of an American persuasion, the most obvious feature of links golf has often been a difficult one to grasp. Which is understandable. A game in which shots spend a large percentage of their time on the ground rather than up in the air is a foreign concept to those raised on heavily watered fairways and greens.
But links golf -- albeit a slightly modified version due to the relatively "sticky" Bermuda grass fairways at Pinehurst No. 2 -- is essentially what we are watching at this U.S. Open. The strategic aspect of golf by the seaside is here in abundance. With the fairways wide, the test from the tee is one of accuracy rather than mere straightness -- just as it is on the most famous links in the world, the Old Course at St. Andrews.
In other words, the middle of the fairway is not necessarily the optimum place to be. Far better to be in the spot -- maybe a few yards from the edge of the scrubland -- from where an approach can be struck straight down the throat of the distant green. Driving close to trouble therefore gains its due reward, accuracy trumping mere straightness.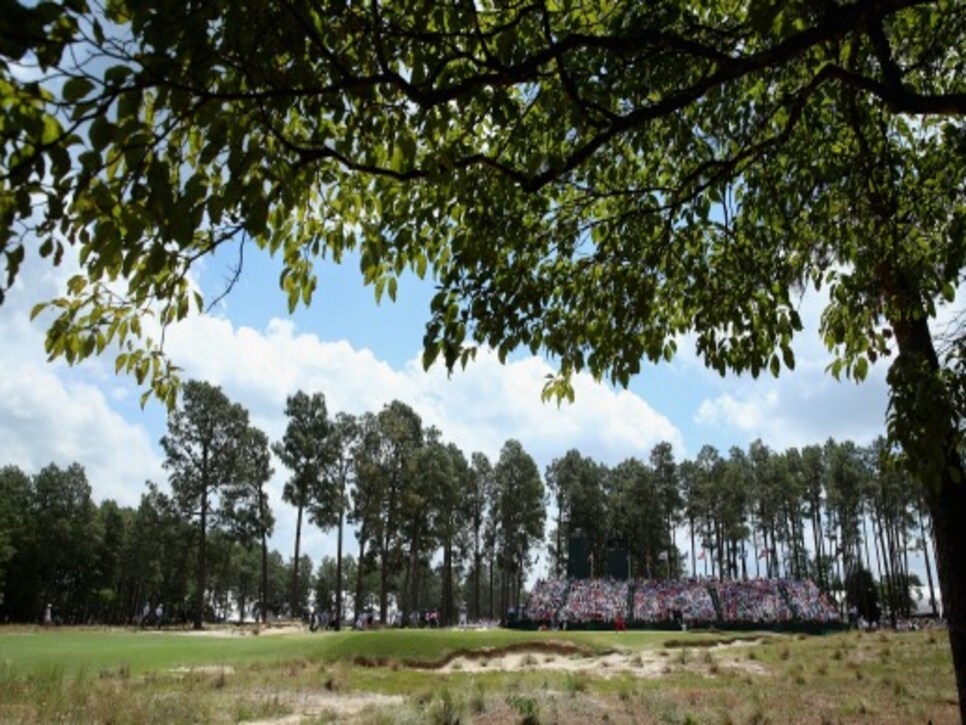 If that does happen, however, a ball's typical resting place is then covered in short rather than long grass. The clear philosophy here -- one most notably espoused by the magnificent sand belt courses in Melbourne, Australia -- is that it is better to challenge players with difficult shots from "easy" lies rather than easy shots from difficult lies.
All of which means that correctly answering questions posed on Pinehurst's tees becomes much more important. Good decision-making is a big part of golf here. Finding such diminutive greens from the "wrong" spots on or off the fairways is not a sustainable formula for ultimate success in this championship.
The more thoughtful player instinctively understands all of the above --- our less cerebral participants a lot less so. For example, Bubba Watson's pre-tournament frustration at not being able to hit driver whenever he wants did not augur well for his chances this week. As on a proper links, frustration and/or impatience are hardly attributes one would ordinarily ascribe to potential champions.
The avoidance of the big number is another huge factor in success on any links. And so is luck -- both good and bad. Golf, as many grizzled old Scotsmen have pointed out over the centuries, is a game that was never meant to be fair -- something that is never more obvious than at Pinehurst.
"If you want to see some disasters, get a hot dog, a Snickers and a Coke and head down to the fifth, because that's as hard as it can get," said world No. 2 Henrik Stenson after his opening 69. "The margins are so slim on that green. I hit a lovely 3-iron in. At one point I was about 15-feet away for eagle. But I ended up with an extremely difficult bunker shot from about 25-yards up a hill. I hit that to a foot, but if the ball goes another foot, it's off the green on the other side."
So get used to what you have already been watching. In all likelihood, things will only become even more extreme as the championship goes on. Barring heavy rain, the fairways will get firmer (and so, in effect, narrower), the greens will get harder (and so more elusive) and more and more balls will be running inexorably down banks and into awkward spots. Bubba may hate it, but that, folks, is "proper" golf. Great, isn't it?