The Loop
This has been so fun, what's another day (or two)?
__Update, 2:24 p.m.:__A familiar scene by now but no less impressive: moments after getting his heart trampled on again in the U.S. Open, Mickelson paces through his post-round media duties, then patiently works through the crown signing autographs.
Mickelson never lost his composure when talking about another near-miss in the Open -- it was his fifth Open runner-up and fourth in New York --  but on a few occasions when he talked about what lies ahead with wife Amy, he was clearly struggling with his emotions.
__Update, 1:22 p.m.:__So there you have it. A major championship marred by chaos and crummy weather gives way to one of the most compelling U.S. Open back-nines in recent memory, which then leads to....Lucas Glover as your 2009 U.S. Open champion.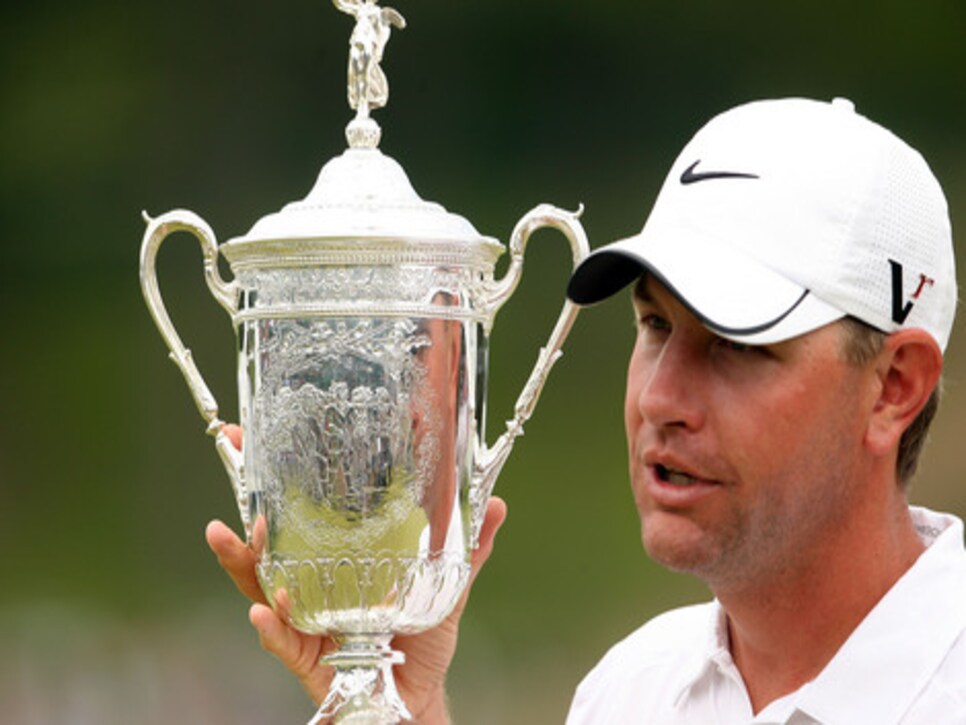 That's not to detract from what was ultimately some gritty play late by Glover, most notably his birdie on 16 and his par on 17. But perhaps unfairly, this is the second straight major that will likely be defined more by who didn't win (Kenny Perry at Augusta, Duval and Mickelson here) than by who did (Angel Cabrera then Glover).
Update, 1:20 p.m.: A lone, last chance at drama is lost when Ricky Barnes' birdie putt on 18 inches by. That leaves Glover an inconsequential 5-foot par putt, which he rolls in for his first major title and second win overall. A relatively tepid celebration ensues.
__Update, 1:11 p.m.:  __Glover pars 17 and then finds the 18th fairway safely. Up ahead on the 18th green, Duval's birdie putt slides by. In the crowd, in the words of a colleague, "the disappointment is palpable."
Update, 12:56 p.m.__: Glover may have one hand on the trophy. After Mickelson's wedge into 18 flies 20 feet above the hole, and Duval can't get up-and-down on 17 when his par putt lips out, Glover lands his tee shot on 17 safely on the fat part of the green.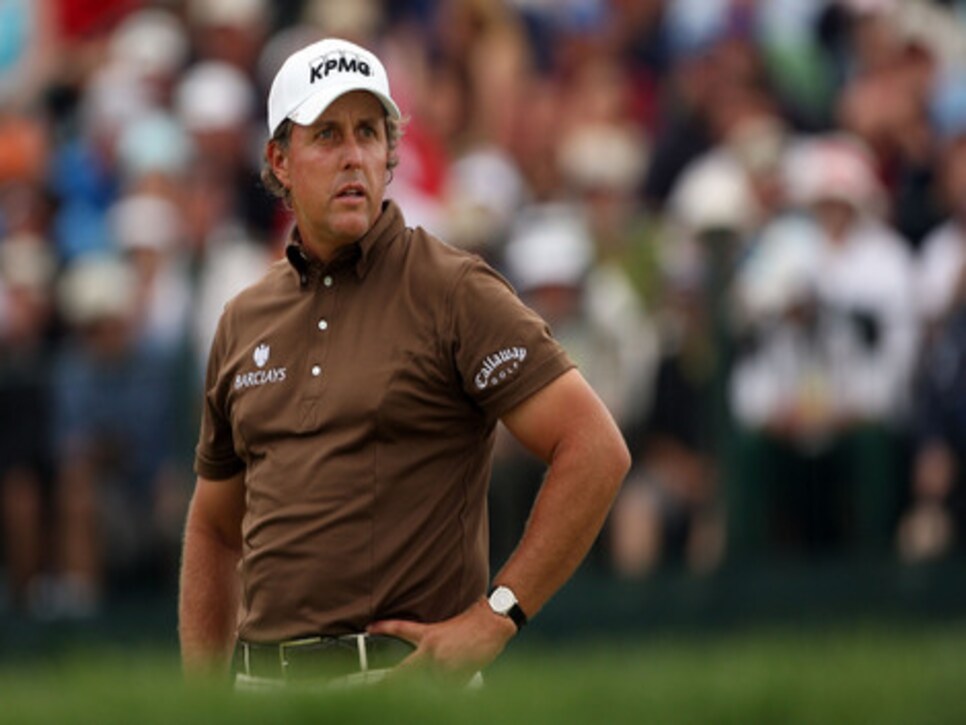 That was despite the efforts of one fan to sabotage Glover's shot. As his ball was in the air, the fan yelled, "Get in the bunker!"
Update, 12:52 p.m.: Glover rolls in his six-footer on 16 to reclaim the lead at four under. On 18, now two shots back, Mickelson hammers his drive to leave himself a mere flip wedge into the green.
__Update, 12:48 p.m.:__Mickelson misses his six-footer for par o 17 to fall back a shot. Playing in the group behind, Duval sends his approach just shy of the green and into the rough.
Update, 12:43 p.m.: Duval rolls in his third straight birdie putt on 16 to to tie for the lead. In the 17th grandstand, where moments earlier they were serenading Mickelson with "Let's Go Phil!", more pandemonium ensues.
Do I dare suggest this Open is better than last year's?
__Update 12:36 p.m.:__Game back on. Glover three-jacks on 16 for bogey, and Mickelson rolls in a clutch five-footer for par on 16 to tie for the lead. In the grandstand on 17, they're pulling for a Mickelson-Duval playoff. It's worth asking if they'd still feel that way if they stopped selling beer...
Update, 12:24 p.m.: __Duval -- remember him? -- rolls in a birdie putt on 15 to get to two under. David Duval has a chance to win the U.S. Open. Amazing. Somewhere Ian Baker-Finch is heading out to hit balls...
Update, 12:15 p.m.: Mickelson jabs a three-footer for par past the hole to fall back to three under, a shot behind Glover. But remember, Glover has the same tough holes in front of him.
Update, 11:57 a.m.: Mickelson crosses Round Swamp Road for the final four holes. He lands his tee shot on 15 in the rough, but with a decent lie.
As an aside, the record will show that on a radio interview this week I said Mickelson was "doubtful" to contend this week given everything he has going on his life. That was just my zany sense of humor, of course. I knew all along.
__Update, 11:45 a.m.:__Mickelson hammers in the eagle putt and is now tied for the lead with five holes to play. Hey, is anything else on? Rachel Ray? "Bewitched" re-runs?
Meanwhile, useless factoid: the last time a major ended in regulation on a Monday was the 2005 PGA at Balustrol. The winner that week? You guessed it.
Update, 11:42 a.m.: __Woods makes nothing coming in, and has to settle for an even-par total of 280 (three shots higher than his winning score here in 2002). A telling insight from Golf Digest's Jaime Diaz, who has covered Woods his entire career: "That's the worst I've seen Tiger chip in key moments. A lot of times when he had to get it up-and-down, he didn't. That one on 15 sums it up."
__Update, 11:35 a.m.:__Look out. Mickelson just sent his approach on 13 to about four feet, setting up a short putt for eagle which would tie him for the lead. We are entering goose bump territory.
Update, 11:27 a.m.:__ Mickelson just drops in a monster putt on No. 12 to get to four under, and is headed to the par-3 13th.
__Update, 11:22 a.m.:__The good news for Ricky Barnes is he's temporarily cured his smother hook to the left. The bad news is he just pushed the ball way right instead. Glover still holds a one-shot lead on No. 11.
Update, 11:14 a.m.:__ Suddenly daylight is an issue, or at least the figurative kind. With a mediocre chip leading to a bogey on the par-4 15th -- his fourth there this week -- Woods is back to even and probably needs a couple of birdies coming in.
Update, 11:00 a.m.: Mickelson catches arguably the break of the tournament. His approach on No. 10 ventures way left and seemingly into the junk, but it catches a patch of matted-down fescue, and he's able to not only get it on the green, but spin it back to a foot. With the par, he remains at one under. The sequence conjures up a piece from earlier in the week about how much luck factors into majors.
__Update, 10:54 a.m.:__Meanwhile, a thought: after all the talk about this being such a disappointing major -- one prominent writer said privately it was "the worst major ever" -- is it really so bad now? Crowded leader board, including Tiger and Phil, and still nine more holes to play. Heck, I wouldn't even complain about a playoff. OK, so maybe that's the coffee talking...
Update, 10:49 a.m.: Don't look now. Tiger Woods birdies the par-3 14th to get to one under and within four, his second straight birdie of the day. That noise you heard was Lucas Glover's stomach churning.
__Update, 10:39 a.m.:__Ricky Barnes' swing had what could be described as Arnold Palmer quality earlier to this week, but it is now so disjointed he is venturing further into Charles Barkley territory, his powerful lunge looking more like he just wants to get it over with. He just made his fourth straight bogey to fall back to three under.
Update, 10:33 a.m.:__ David Duval will..not..go...away. He just dropped in a bomb on eight to get back to even par. And now there's Phil Mickelson who just knocked his approach to two feet on nine to set up birdie and pull within four.
Update, 10:29 a.m.: Peter Hanson and Ross Fisher both stand at one under and are within four strokes of the lead. Look on the bright side, if there's a Ross Fisher-Peter Hanson playoff, we won't have to worry about fighting the traffic home.
Update, 10:23 a.m.: As the board gets tighter, it's worth mentioning this report from Geoff Shackelford about the USGA moving the tee on the 18th up to play a mere 354 yards -- making it one of the few birdie holes on the course. At this point, it is certain to be a factor.
Update, 10:19 a.m.: A bogey for Barnes means he and Glover are again tied for the lead at five under. Hunter Mahan, one of the few players under par for the day, is now just two shots back.
__Update, 10:08 a.m.:__Johnny Miller makes note of Ricky Barnes hitting the ball "left-to-left" after he yanks a 5-wood on six. Finally a pro with my ball flight...
Update, 9:54 a.m.:__ Regarding Barnes "holding steady,"...uh, never mind. From the fairway on five he pulls his approach left and into the gunk. Suddenly a handful of other names on the leader board have entered the fray, including Bubba Watson and Mike Weir each at one under. Barnes is now at six under after a bogey.
Update, 9:43 a.m.: After all the talk about low scores earlier in this week, it seems as if everyone is backpedaling in unison. Mahan, Fisher, Woods. Mickelson hits it so far left with an iron in his hand on six that he has to take an unplayable lie. Who would have thought the only guy who would hold steady is Barnes, who just made his fourth straight par to start his round?
Update, 9:33 a.m.: Not the best advertisement for Nike spikes: Glover's right foot slides like Wayne Gretzky's off his tee shot on No. 4 and he barely makes contact. He is in trouble again. Meanwhile, the Ross Fisher train rolls to three-under after birdieing four.
__Update, 9:23 a.m.:__We are in throat-tightening territory already. In rapid succession, Glover pulls his tee shot left into the rough on three, Barnes sends his ball into the bunker and Phil Mickelson has to grind out a par on the par-5 fourth. Seemingly the only player moving in a positive direction is Hunter Mahan, who birdied four to get to three-under.
Update, 9:16 a.m.: __David Duval catches a brutal break on the par-3 third when he pulls his tee shot left and up against the lip of a bunker. He kept his second shot in the bunker, then sent his third shot over the green and into the rough en route to a triple-bogey six. Perhaps that Duval pick in your office pool is losing its luster.
Update, 9:09 a.m: __We're off and running. Ricky Barnes went to bed facing a seemingly impossible chop out of the fescue on No. 2, but somehow hacked it out onto the green and then went on to barely miss the putt for birdie. He and Lucas Glover both made par to remain in the lead at 7-under.
Earlier: __The finish line is in sight. A thin light has appeared at the end of the tunnel. The green is within reach with a 3-wood.
If you can think of anymore "this-tournament-is-almost-over" cliches, feel free to chime in. The point is that after all the delays, suspensions, and ruined pairs of shoes, this epic, comically wayward major championship is moving toward a conclusion, with a winner conceivably being crowned in time for all of us to watch "Days Of Our Lives" (not that we watch "Days Of Our Lives" or know when it's on or anything).
It all should make for compelling theater, so check back for more updates as we go...