The Loop
This feels like a snub: World Golf Hall of Fame schedules its induction ceremony when one of its inductees might not make it (Updated again)
One of the things those pros who play women's golf complain about frequently is their feeling the movers and shakers in the sport ignore them when it comes to planning the big events in the game. They have new ammunition in that assault now that Dame Laura Davies might miss her induction into the World Golf Hall of Fame.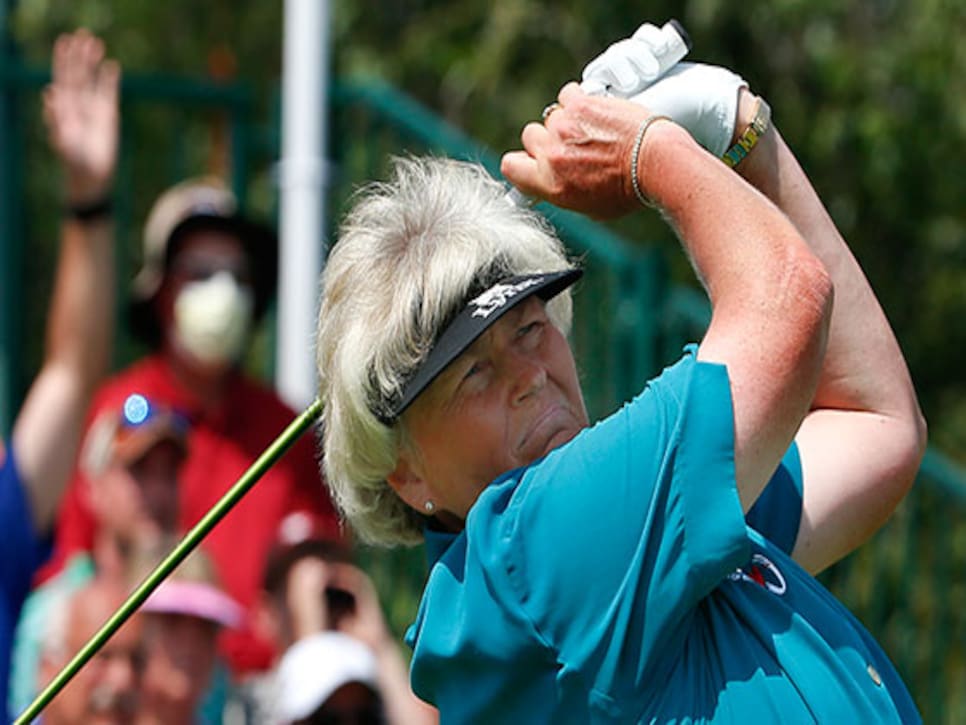 On Sunday at the U.S. Women's Open in Lancaster, Pa., -- about 65 miles from Philadelphia - Hall of Fame member Karrie Webb pulled me aside to complain that the induction ceremony today in St. Andrews, Scotland, was being held the day after a women's major championship ended 4,000 miles away.
"That's just not right," Webbie said to me. "This mean so much to Laura and they don't even care if she can make it. They've taped an acceptance speech from her in case she's not there."
And now it seems as if she won't be there. Davies, 51, made the cut at the Women's Open, finishing T-47 and Webb was T-14. Dame Laura had a 10 p.m. flight Sunday night from Philadelphia to Scotland and easily made it to the airport on time, but the flight did not leave on time and was eventually cancelled. The Hall of Fame ceremony, which will be televised live on Golf Channel, is scheduled for 6 p.m. Scotland time (1 p.m. EDT).
Absolutely no one doubts that Dame Laura is a Hall of Famer. In fact, for years she refused to be voted into the WGHOF, choosing instead to try to play her way in by earning the 27 points needed to qualify for the LPGA Hall of Fame. She currently has 25 points. But this year, under the revised WGHOF selection process, Davies was voted in and she accepted. But now it seems she won't be there to enjoy the honor.
Even if Laura makes it on time, Webb feels the timing was insensitive to the women's game, pointing out that it is part of a pattern in which the USGA has scheduled U.S. Women's Open qualifiers the week of a women's major.
Last night, while at dinner following In Gee Chun's victory in the U.S Women's Open, I got this direct message on Twitter from Webb:
"Hey Ron. Just to let u know Laura's flit is 2 hrs delayed tonight! So disappointed for her."
And then an hour or so later as I was watching baseball in my hotel room this DM from Karrie arrived.
"Flit now looks like it's cancelled. So now no chance! U can quote me if u want. I've had enough of discrimination in my sport. And supposedly my world golf HOF!"
Davies, an Englishwoman, is truly a landmark player in the women's game who was a pioneer in making the LPGA a global tour when she won the U.S. Women's Open -- the first of her four majors - in 1987, one of her 86 career wins. Webb, an Australian, extended that globalization, winning seven majors including the U.S. Women's Open in 2000 and 2001.
Perhaps a miracle will happen and Dame Laura will still show up tonight for the ceremony in St. Andrews, but that still doesn't change the essence of Webb's complaint: When planning big events in golf, remember the women.
__UPDATE:__PGA Tour Radio has reported that Arnold Palmer, in a move befitting a King, is arranging for his jet to take Davies to St. Andrews from London's Heathrow Airport.
REPORTED: Arnold Palmer, always a gentleman, sending his plane so Laura Davies-after dealing with delays-will be there for WGHOF Induction
__SECOND UPDATE:__Despite the best efforts of many, Davies didn't make the ceremony, instead settling for a pre-recorded video message from Lancaster, Pa.