News
This booth isn't selling a product. But it could be one of the PGA Show's most important exhibits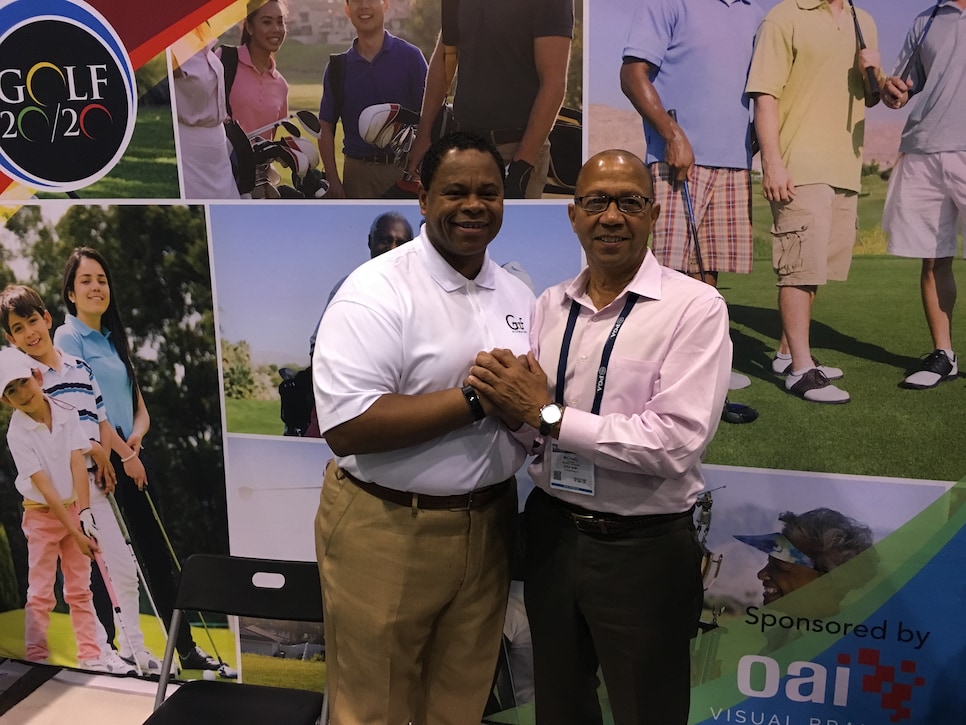 ORLANDO—Away from the department-store exhibits of industry titans, tucked in the back of the convention center near the restrooms, in a mostly empty aisle, sits a booth. It's nondescript, spartan compared to the flashy trim of other stations, although it doesn't need shiny colors or bright lights for good reason: it's not selling a product. Maybe that's off given this entire rodeo is devoted to golf commerce.
But it -- "it" being the Golf 20/20 Diversity Task Force -- could be one of the show's most important booths.
"It's time golf gets with it," said Dr. Michael Cooper, chairman of the Task Force. "There's an entire community hoping to be embraced."
Growing the sport is the conversational fulcrum of the PGA Merchandise Show every year. Merchants use it in marketing pitches, general managers and pros cite it as a key to survival. The theme has merit; unfortunately, it's often applied as a blanket term, long on platitudes and short on specifics.
Golf 20/20 is different. The Task Force's vision statement is, "For golf to more closely reflect America from a socio-economic and demographic standpoint," with its mission to promote and increase inclusion across the sport.
"From merely playing to opening someone's eyes to the opportunities the game has to offer, we're trying to provide a funnel where there once wasn't," says Craig Kirby, founder of the non-profit "Golf. My Future. My Game," one of the organizations under the 20/20 umbrella.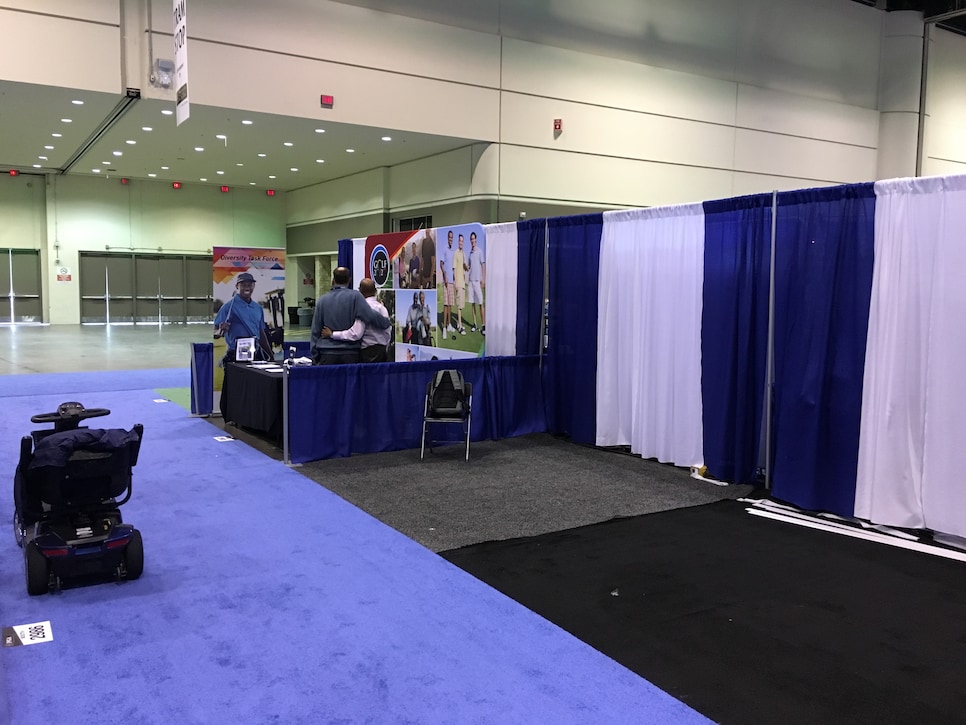 According to a 2015 study on the game's diversity, males comprised 77 percent of rounds played. By race, the breakdown is 80 percent caucasian. Regarding industry workforce, the scale's especially out of whack: 90 percent male, 88 percent white. Only four private American clubs are owned by African Americans.
That golf is restrictive is not news, and yet, that such figures remain unchanged two decades after Tiger Woods won the Masters, is a failure in Cooper's estimation.
"You think, 'How is that possible?'" Cooper says. "It's more than just, 'We need to change this.' There's an urgency to what we're trying to do."
The work of "Golf. My Future. My Game," provides a start. Kirby, a political strategist, and a small team have created recreational programs and clinics in schools and community organizations in the Washington, D.C. area since 2014, with a Baltimore endeavor beginning this spring. Women-centric conferences have been promoted to give a voice to their plight. Money has been raised so kids in the program have their own set of clubs. On Thursday, a nationwide partnership with CaddieNow was announced to serve as a conduit into minorities getting a job.
"A lot of the kids we deal with, when they wake up, don't know how they're going to get their next meal," Kirby says. "Being able to caddie and get $50, $60 in real cash goes a long way."
Speaking of jobs, Kirby's worked with historically and predominantly black universities, such as Howard and North Carolina Central, to implement "Golf 101" classes, not only to educate students about the importance of the game as an apparatus for business dealings, but to develop prospective employees for golf-related companies.
"There's more avenues to professional than being a player," Kirby says. "What if a black kid is interested in agronomy, wants to design a course, or hopes to work in public relations for the tour? To say nothing about handling yourself on a course and the business window that opens."
The portfolio, in actions and scope, is impressive. It's also merely the foundation for what Golf 20/20 wants to do next.
The organization has earmarked four strategic areas for action: workforce, suppliers, recreational and competitive. Each arena has a target outcome and measure. For example, the competitive sector calls for increased participation from females and minorities, along with increased dialogue in the industry regarding these efforts. The ambition: raising competitive females rounds from 25 percent to 35 percent, non-white participation from 13.4 percent to 25 percent by 2020.
The objectives are admittedly aggressive, but the infrastructure is coming into form. Collaborations with the AJGA and high school associations are leading to exemptions and opportunities for minorities. Relationships are being made with non-traditional golf entities (think TopGolf) to attract participation. The chairs of the strategic area objectives were picked to bring their business acumen, helping companies realize that a diverse supply chain can help reduce costs and improve quality, service and profits.
"The resources we have will make an impact, not only on the game but in individual communities," Cooper notes. "We have a wealth of experience and manpower at our disposal, and when you get people like that involved, you can do a lot of good."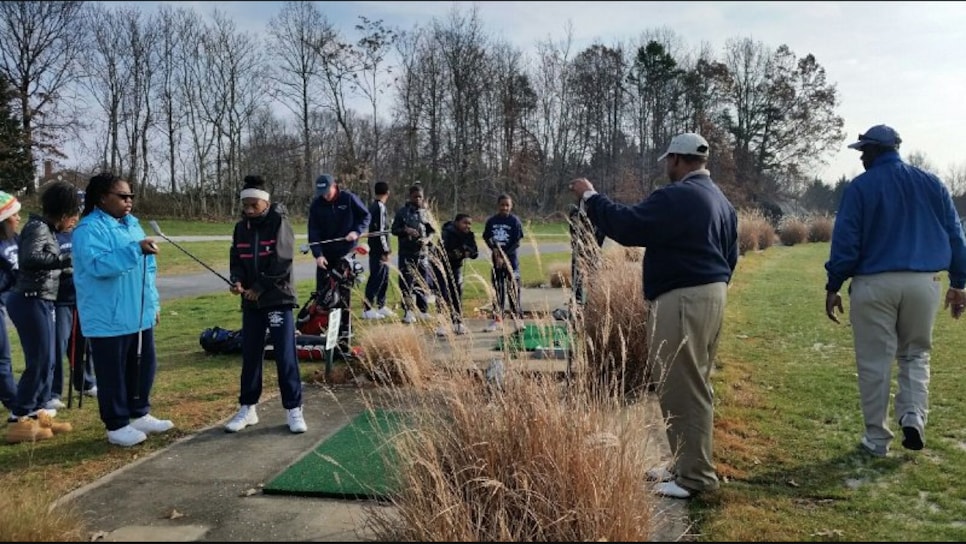 That includes Cooper, who was named the group's chairman in April and appears to be the consummate professional for the role. He has spent over 35 years in the industry, serving as the director of southeast regional affairs with the First Tee, and director of diversity for the World Golf Foundation. Equally paramount, Cooper grew up playing Pipe O' Peace Golf Course (now known as Joe Louis Forest Preserve Golf), one of the few Chicago munis that catered to minorities.
"I struggled, I lived it," Cooper says. "I'm the youngest of seven. I know my life is different than the other six, and that's because of golf.
"Whether that sticks with others like it did with me, we have to get people exposed to it."
But obstacles do remain, which is one of the reasons why the group is at the show. The group is looking to raise awareness and resources for the project, hoping whatever word is spread will plant a seed at the grassroots level.
"You can't be bought if you're not on the shelf," Kirby says. "This is letting people know, 'We're here.' And we're going to do everything we can to make golf better."
Who needs a big booth or decoration with a message like that.