The Loop
Think playing the bagpipes is easy? Think again
GLENEAGLES, Scotland -- Having covered my fair share of team golf events over the years, I've also heard my fair share of bagpipe music. Call it a perk (or maybe quirk) of the job, listening to the obligatory group of kilted men and women blowing away audiences by, well, blowing away.
While I had no misconceptions that playing the instrument was easy, I now know from experience just how hard it actually is. Waiting to perform at the opening ceremony of the Ryder Cup on Thursday, members of the Vale of Atholl bagpiper band offered to show me some of the finer techniques when it comes to piping. I figured, why not. When in Scotland …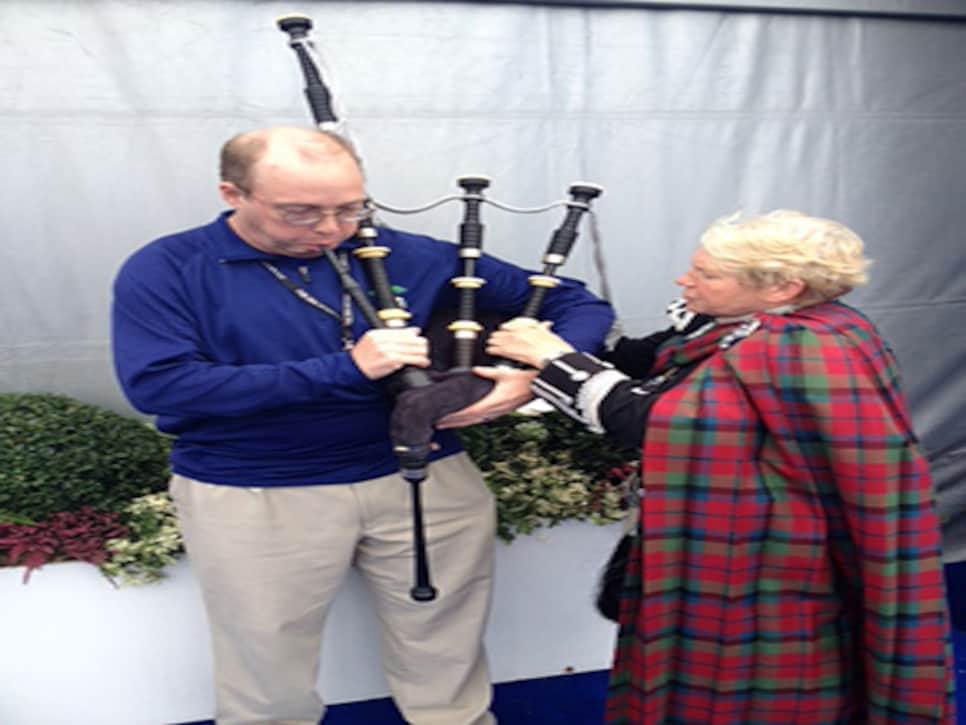 Having been accused of being full of hot air a time or two, I thought keeping the bag inflated wouldn't be an issue. Little did I know you need eight deep breaths to actually fill the thing in the first place and the lungs of a marathoner to keep it full.
Duncan, who was taught by his dad to play in the late 1950s, says the biggest misconception about playing the bagpipes is that it's all about -- watch out, piper term coming at you -- "the puffing." On the contrary, the 63-year-old claims: "The finger technique is where the real music comes from. And that can take almost two years to learn properly."
In addition to playing regularly in the band, which has performed around the world, Duncan also teaches the instrument to prep school students. He's also a judge at various bagpipe competitions. He knows his stuff.
Same for McNab. As she watched me give it a go, she never once held her ears. I thought that was nice. And afterward, she even gave me a nod and a "not bad." I know that was a lie.