The Loop
A 14-year-old hit a drive 281.5 yards at the 2015 Drive, Chip and Putt
AUGUSTA, Georgia -- For the second year in a row, boys and girls ages 7 to 15 put on a skill clinic under what should be immense, even overwhelming pressure.
The second annual Drive, Chip And Putt's long drive competition gave everyone two shots at a landing area widened by 10 yards from the inaugural DCP.  Even with patrons, family, friends and live television looking on, these clutch performances should put in perspective any petty driving triumphs you might have planned to brag about.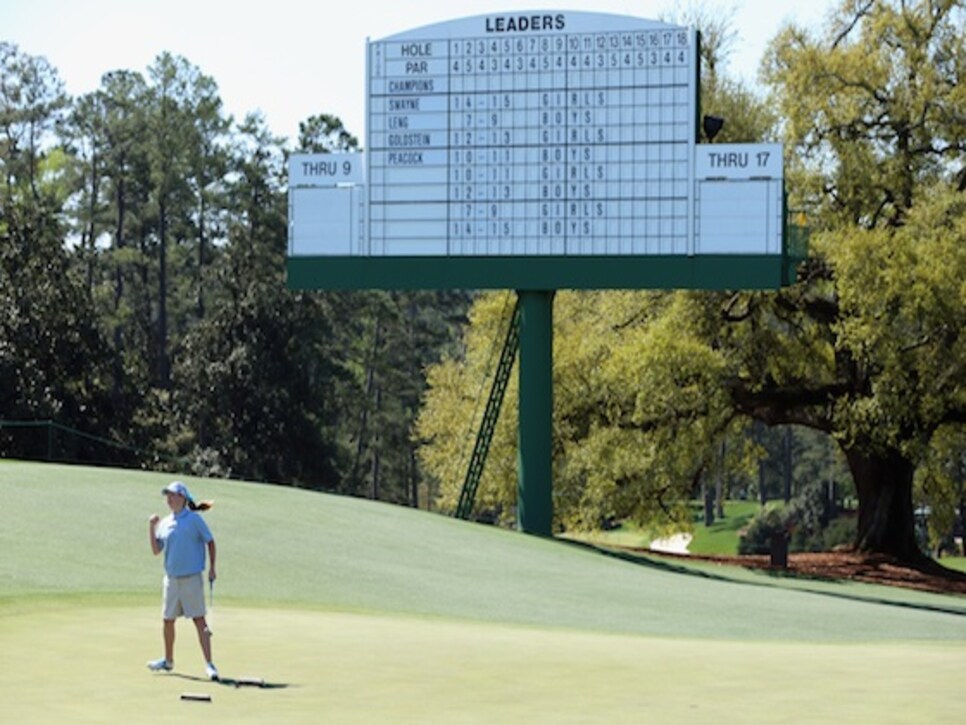 Boys 14-15 winner Matt Camel, 14, hit his first drive outside the boundaries, then pumped a 281.5 yarder to win his division. Runner up Grant Herrenbruck, 14, also missed his first but finished with a 280.7 yard effort to barely miss catching Camel.
14-15 Girls contestant Emily Lauterbach, 14, hit her second drive 243.5 yards to win the driving discipline. Runner-up Jessica Ponce (14) drove her second ball 240.7 yards.
Connery Meyer, 13, of Marietta, Georgia won the boys 12-13 with a 262.9 yard effort.
12-13 Girls winner Morgan Goldstein, 13, of Las Vegas drove her second ball 243 yards. Goldstein went on to win the Chip and Putt portions after only attending last year as a spectator to watch her brother. Oh, and Morgan is also playing in the inaugural USGA Four-Ball this May.
Satchel Pierce took the Boys 10-11 division with a 233.6 yarder. Oh to be 11 again.
The Girls 10-11 winner, Julia Misemar of Overland Park, Kansas, won with a 227.5 yarder to win her flight by a whopping 24 yards.
Gripping the club cross-handed, 9 year-old Logan Metcalf won the Boys 7-9 with a 186.9 yard drive after his first effort went 161. Don't try that at home.
Maybe most amazing of all, Victoria Matthews of Great Falls, Virginia hit her first drive 191.8 yards, easily double her weight.