"I always putt well to Tom Petty."
This is what I said while lining up a putt on the 18th green around 9:15 Thursday night. It was my fifth shot -- or maybe it was my sixth, I forget now -- and the cover band was doing a passable version of "American Girl." I could see my ball and the hole, but not much else. There was a distinct possibility someone's approach shot could fly in from the fairway and knock me out cold.
It's been a good golf season playing some fancy country clubs and bucket-list destinations, but I'm not sure any round was more fun than the one played under the stars at my modest home course this week. The club was hosting its second annual Night Golf event, where we were furnished with one glow-in-the-dark ball and where six holes were lined with glow sticks.
Mixed in with the band playing on the patio were the sounds of others golfers -- dads with their kids, elderly couples together for a moonlight stroll -- but mostly you only saw balls streaking through the air like shooting stars. There was a rough system in place to space out the tee times, but even then you couldn't quite see if the group in front of you was out of range. No matter. The one time I mistakenly hit my approach shot while the group ahead was still on the green, I chunked it 20 yards into the bunker. Did I mention the night was a blast?
What made the night golf experience so rewarding is we were stripped of all expectations. You had no sense for where the ball should be in your stance, or what the yardage was, but you also couldn't see bunkers and water hazards and all the other things that turn most golfers into neurotic fools. On the greens, there was a glowstick tied to the flag and in the hole, but anything having to do with slope and speed was a mystery. Yet in simply focusing on rolling the ball toward the light, I probably putted better than I usually do (a low bar, I admit).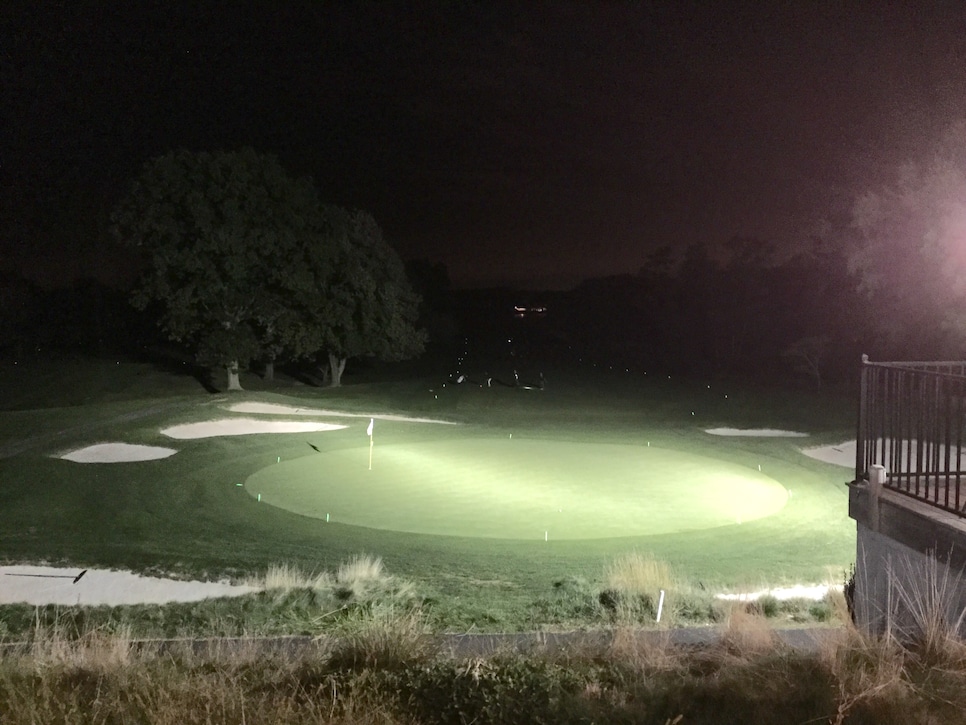 Maybe it was harder to find your equilibrium hitting a full shot, but even after a collection of chunks and skulls, the one clean shot that floated through the night sky felt like poetry. My buddy Rob, a 10 handicap, holed two shots, one a wedge from 105 yards, the other a chip from the fringe. He finished one-over par, which led to the inevitable jokes about how we should play in the dark more often. I, for one, wasn't kidding.