The Loop
There's a winner already at the U.S. Women's Open
It's only Day One of the competition, but the winner of this year's U.S. Women's Open has already been declared -- Saucon Valley's Old Course gets that honor.
Built in 1922, the Old Course is part of a 60-hole complex that includes two other 18-hole tracks, the Grace Course and the Weyhill Course, both worthy of holding national championships according to Mike Davis, Senior Director, Rules and Competitions for the USGA. There's also a six-hole beauty.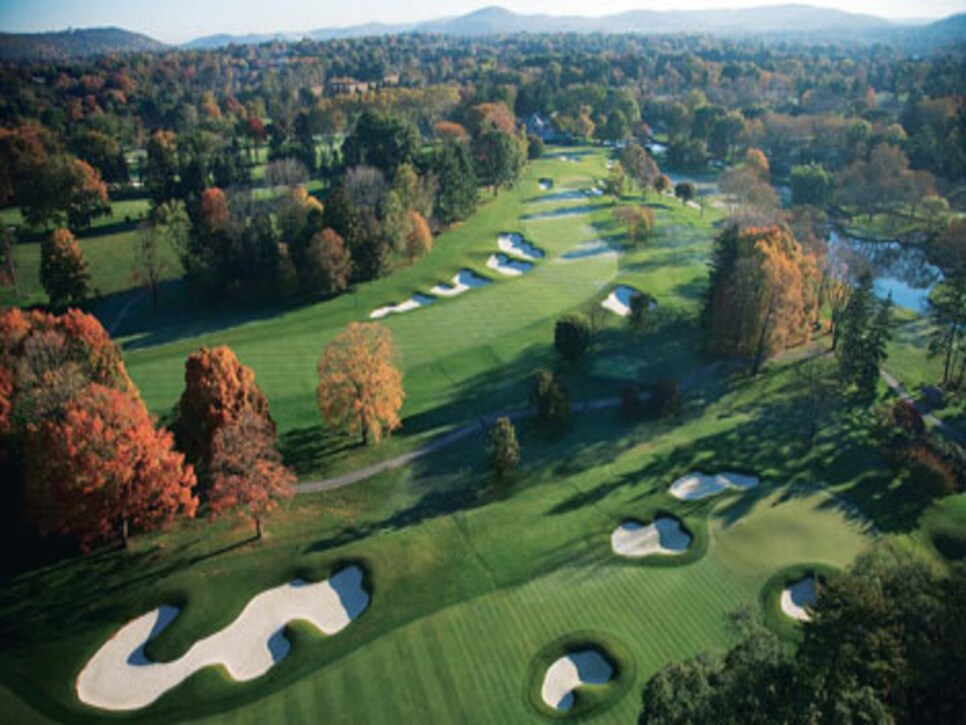 (Photo Credit: Stephen Szurlej)
Saucon Valley, the preferred club for Bethlehem Steel executives in the heyday of the corporate giant, has a world-class tennis facility, Olympic swimming pools and indoor squash and racquet courts. But the star today is the newly renovated Old Course, recognized as Best New Remodel for 2008 by Golf Digest. The original Herbert Strong design, tweaked in the late 1930s by Perry Maxwell, underwent a facelift, in preparation for this Open, under the direction of Tom Marzolf, an associate of Tom Fazio. The Marzolf renovation involved a redo of the bunkers, adjustments to five greens and extensive drainage work.
The course is long, playing at 6,740 yards, par 71, and the greens are tricky and undulating. "And probably the biggest thing, if we're lucky, and we have been so far, to get firm conditions. It's so wonderful when we can dial in how firm the conditions are versus letting Mother Nature influence them," comments Davis. He is obviously referencing the staggering rains that plagued the Open at Bethpage.
There's universal respect for the course by the players. "You have to really think your way around the golf course. That's what U.S. Open golf is all about. And yes, the greens are difficult," says Cristie Kerr, winner of the 2007 Open at Pine Needles.
Anna Nordqvist, a rookie who recently won the LPGA Championship, chimes in, "It's a really good setup, pretty long. You have to put it on the right spots on the green."
Paula Creamer, hoping for her first major, says, "I wouldn't change anything. It's a golf course where you've got to hit great tee shots. You've got to hit it in the right part of the greens. And you have to be a good speed putter. There are a lot of putts out there where two-putt is a good score."
Will the Old Course yield to the talents of the world's greatest women golfers? It will be hard to beat Inbee Park's nine-under-par at Interlachen last year.