News
There isn't much glamour on the PGA Tour Latinoamerica. But there is plenty of hope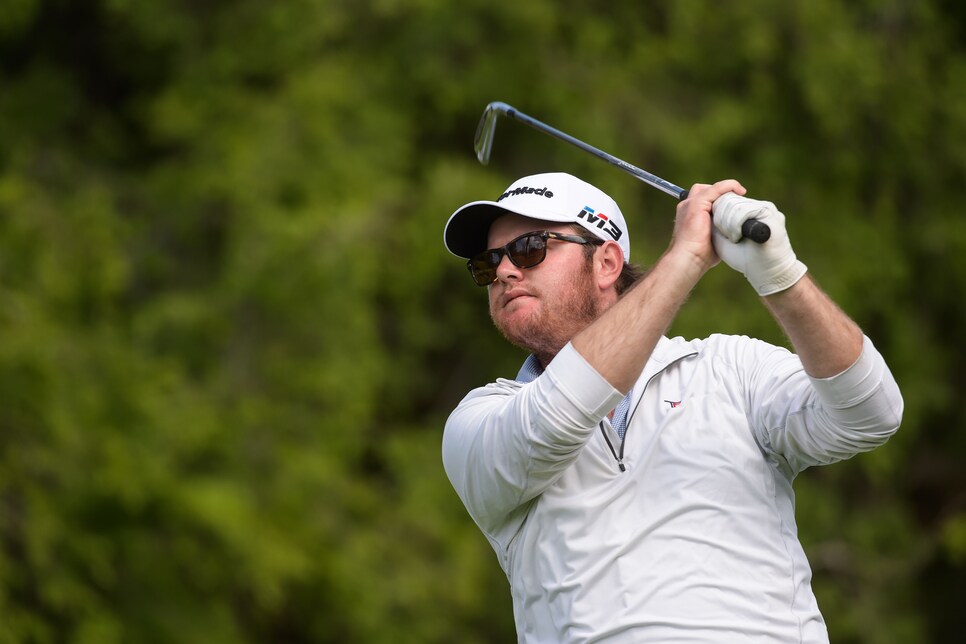 Photo By: Enrique Berardi/PGA Tour
DORAL, Fla. — If Harry Higgs never hits another shot, his golf life will have already been better than most. The 26-year-old SMU alum counts Cypress Point among the favorite courses he has played, and he once pegged it up alongside former U.S. president George W. Bush. He played with 43 at Preston Trail, an old line Dallas club where legend has it that Mickey Mantle made his way around all 18 in the buff, and where women and anyone under the age 21 still aren't permitted. It's a rule that has been applied to everyone from Byron Nelson to Jordan Spieth, the former on one occasion respectfully asked to depart for showing 17-year-old phenom Scott Verplank around the place. For good measure, Higgs says that if he were not a professional golfer, he'd like to be a senator, governor or the President; his first tee entrance song would be the Star Spangled Banner; and that he'd like to trade places with any billionaire with a private jet.
For now, though, the former college teammate of (and close friend with) Bryson DeChambeau is happy to settle for fully exempt status on the Web.com Tour after securing his 2019 card by winning the PGA Tour Latinoamerica Order of Merit on Sunday. The margin over second-place finisher Nicolás Echavarría was small—$64—but large enough to propel Higgs one step closer to the PGA Tour.
To secure the top spot, Higgs stiffed a nervy 94-yard wedge shot to a back pin with water long to four feet to set up birdie on the par-5 18th at Trump Doral's Golden Palm Course. Higgs' tie for fourth in the season-ending Shell Championship—the only event on the faraway tour to take place in the comforts of the U.S.—earned him just enough dough to put those lofty political aspirations on hold for a little while longer.
The affable and lumbering 6-foot-2, 235-pound Higgs has a sense of humor, a useful trait when enduring "three-country-days," as he calls them, schlepping at one point earlier this season from his base in Dallas to Sao Paolo, Brazil, via Toronto, all in the name of saving $1,800 on flights (only to miss the cut), not to mention endless lightning delays in Costa Rica. But he's got a little game, too.
In October, Higgs won in Peru, with DeChambeau texting him words of encouragement the night before the final round, telling him that he was more than good enough to smoke the competition at that level. It was the kind of boost Higgs, who had only mild success at SMU (his best stroke-play finish was a runner-up and most notable triumph a match-play victory over current PGA Tour pro Tom Lovelady in the NCAA quarterfinals), could use given that at one point during the season, his second on the LAT, he'd missed six of nine cuts. But he was also trending in the right direction with a T-19 and T-10 in Mexico and Chile the two weeks prior.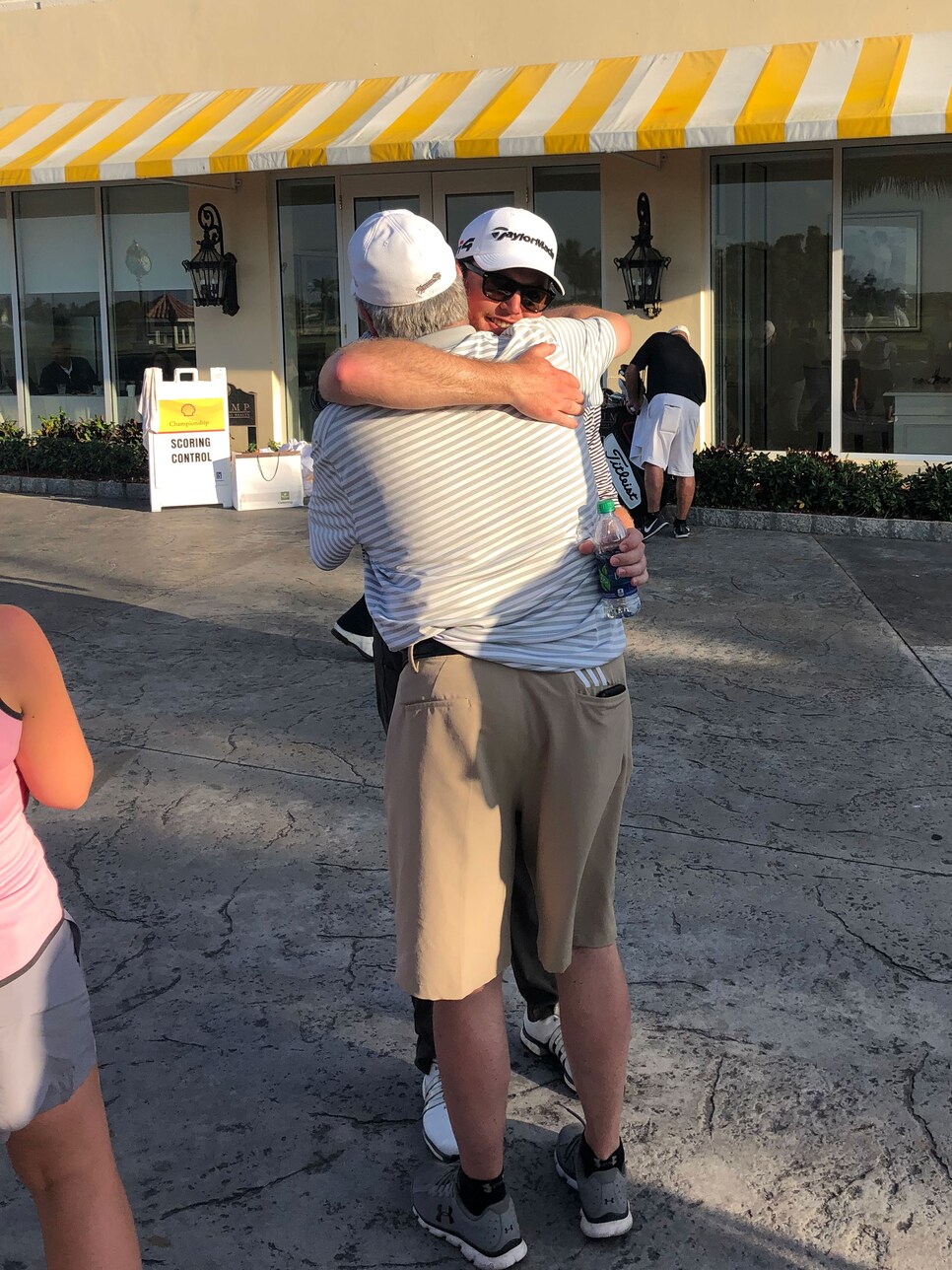 In Peru, it all finally clicked. Higgs shot 65-68 on the weekend to win by two. From there, he kept the accelerator down, finishing third and T-2 in his next two starts before adding the T-4 at Doral. On Sunday, he rallied from a shaky start that included three bogeys and a double in his first eight holes with four birdies over his final nine, including two on his last three. Doing so allowed him to cancel his Sunday night flight to Phoenix for this week's Web.com Tour Q School, with a few frosty Blue Moons and a night celebrating in Miami a welcome replacement.
"I got a little lackadaisical on the front and let some bad habits creep in," Higgs said, adding that he'd lost some confidence in his green reading after the first couple of days. "But the last shot in, it was a perfect number and a shot I'd hit a million times so I told myself you just need to replicate that. And the four-footer, I must have had a thousand of those this week."
When it dropped, Higgs' dad Mike, a senior-level healthcare exec in the Kansas City area who was joined by about a dozen other family members (Harry's brother was on his bag), let out a sigh of relief and fought back tears of joy before embracing his boy in a big bear hug. As one LAT player put it, cruising this wild circuit in exotic destinations is fun, but you don't want to get too comfortable.
"He wrote on a mirror in his bedroom at home that he was going to win the money list this year," Mike said. "This was his goal going into the year and he never forgot it. He did good."
Welcome to pro golf's hinterlands (even if a Western 'burb of Miami is anything but), where the golf itself is still good, pressure still high and margins as thin as the air atop the Andes. But unlike other small tours, the PGA Tour Latinoamerica has some sexiness, with stops such as Costa Rica, the Dominican Republic, Ecuador, Guatemala, Honduras, Jamaica and Nicaragua among them.
There's also hope: Each of the last two years, the LAT's money winner has notched a victory the following season on the Web.com Tour, and winning on that tour often leads straight to the big show. It's not the easiest or most glamorous path but it is a path, and there are some significant events along the way. The Argentine Open, for example, has been around since 1905 and its past champs include Roberto De Vincenzo, Jimmy Demaret and Tom Weiskopf, along with Angel Cabrera and Eduardo Romero, both of whom are still regulars. Similarly, the Mexico Open, another tour stop, boasts winners by the name of Trevino, Casper, Lema and Crenshaw.
It's also a pretty good place to hone one's skills for the trade of professional golfer. From the beachside paradise of the Dominican, to the Quito Tennis and Golf Club more than 9,000 feet above sea level in Ecuador, players learn to play in all sorts of conditions.
"Before this tour, I had never been outside the country except to Cabo [Mexico] and Puerto Rico," said Austin Smotherman, a 24-year-old who played the tour this past season. "Out here, you learn pretty quick you have figure out how to shoot a score. We deal with so many things—altitude, grass types, course conditions, weather, language."
Or in Smotherman's case, numbers.
Like Higgs, Smotherman is also part of the SMU clique, second behind DeChambeau in scoring average for the Mustangs in the 2014-'15 season. Smotherman teamed with DeChambeau in the inaugural U.S. Amateur Four-Ball that spring, advancing to the Round of 16 after tying for fifth during the stroke play portion of the event.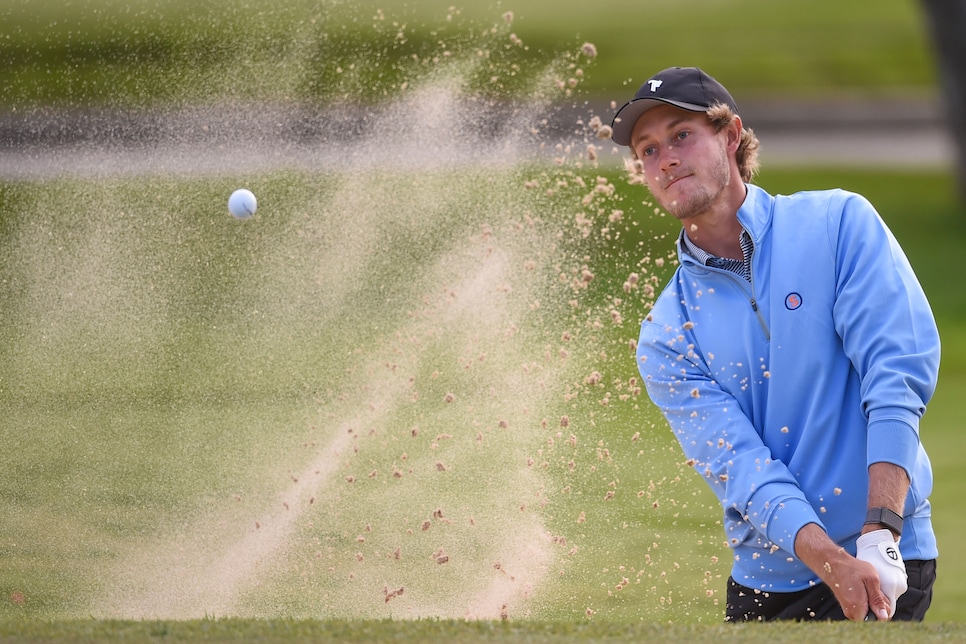 By the time Smotherman rolled into Trump Doral last week, he was also playing some of his best golf of his professional career with three finishes in the top seven and a T-19 in his last five starts. At the Shell, he could have finished last in the 51-man field and still earned enough money to wind up in the top five in the Order of Merit, which guaranteed partial status on the Web.com Tour in 2019.
The opening round was a haze of six birdies and five bogeys, though, and when his wife, Jessica, asked him what he'd shot, he blurted out two under. She looked at him quizzically. The door to scoring had just closed behind him and with it possibly his chances of getting off the LAT. Smotherman had signed an incorrect scorecard—his playing partner marked him down for a 3 on the par-4 eighth instead of the 4 he made—and was disqualified. It meant no chance of winning the tournament or the Order of Merit. Even worse, he would not grab even last-place money, leaving him a few anxious days of waiting around to see what his fate would be.
"I saw my score on No. 8 immediately in my head, but I didn't see it when I sat down in scoring," Smotherman said. "I was in groove lately, too. I was bummed. We went to a friend's hotel room, had a few beers and some wine, ordered pizza and stayed up all night playing cards."
DeChambeau, who lived with Smotherman and his wife in a spare room in their Dallas townhouse last year before buying his own sprawling pad in the area and returning the favor by letting the two crash at his place this year, was playing in Tiger Woods' Hero World Challenge in the Bahamas when he heard what happened and called to try to lift his buddy's spirits.
"He just tried to cheer me up," said Smotherman, who's blonde hair and surfer boy looks belie that of someone who grew up in Sacramento, where he met his future wife when he was a freshman at a rival high school. "He told me, too, how he has his caddie double check his numbers on the card. You can bet I won't make that mistake again."
For the next three days Smotherman did all he could to not think about the blunder and what the result would be. He played the resort's Silver Fox course, shooting four under on one breezy afternoon, worked out, went to the mall, practiced more. Still, the phone and the leader board updates were never far from his grip. He'd worked out the math on what needed to happen along with Matt Gilchrest, who along with Smotherman and Higgs often play together at Trinity Forest in Dallas, where they're occasionally joined by DeChambeau or Jordan Spieth.
In times like this, and on trips to foreign lands, it helped to have good friends at his side.
"We'd play tournaments and see the broken Trinity Forest tees left behind on the tee box," Smotherman said. "It's like Higgs is here with me or whatever. It helps a lot."
It helped, too, that the math worked out in Smotherman's favor. Michael Buttacavoli, who grew up in nearby Miami Beach, shot a final-round 67 to win the Shell by one. The victory moved him to third in the Order of Merit and by way of other players' results, Smotherman finished fourth, good enough to get his partial status before catching a flight to Web.com Q School to try to improve his standing. DeChambeau texted more positive missives again.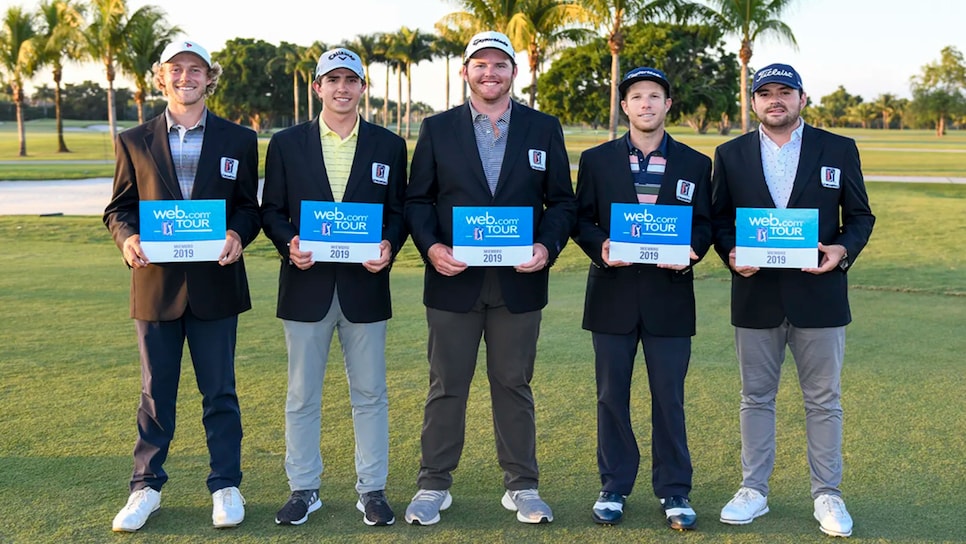 "Bryson's always spurring us on," Higgs said. "Just being around him, if I can believe in what I'm doing half as much as what he does in the different way he does things, I'll be alright.
"He's winning, and I've won. I've had dinner at his new house, though, and can tell you I'm winning on the wrong tour."