News
Jay McLuen died twice (and was revived twice) in 2017 and is now playing the Sanderson Farms Championship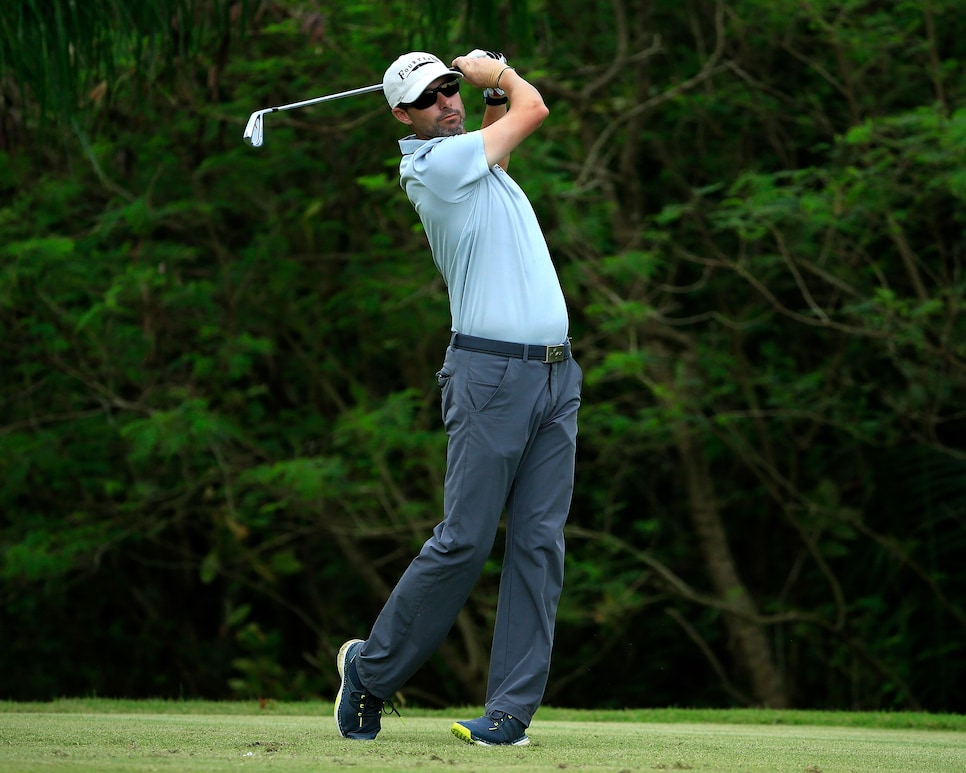 Jay McLuen is not going to win this week's Sanderson Farms Championship. That's not a knock on the 40-year-old pro golf journeyman; only once in the last 10 years has a Monday qualifier won a PGA Tour event (Corey Conners, 2019 Valero Texas Open). And from the sound of it, McLuen is OK with that, even professing to have a more modest goal.
McLuen made it into the field after winning the Monday qualifier at Deerfield Golf Club in Canton, Miss., with a 66. This will be the 13th time he's played in a PGA Tour event, the first coming in 2013. He's made three previous cuts, with his best finish a T-16 at the 2013 OHL Classic at Mayakoba.
Suffice to say, the low round came out of nowhere. McLuen admits he's played poorly all summer. "It hasn't been healthwise or anything like that," he said. "I just haven't hit it good for like a year. And I've worked harder then I have ever worked."
When a practice round at Deerfield was going slowly, McLuen decided to quit after 10 holes. "I was playing terrible," he said. "I went and hit balls for three hours. It didn't get much better. I was just like, 'Well, I'm here, I'm going to go tee it up tomorrow and go see what happens.' What do you know? I shoot a 66 don't make a bogey and get through easily. It's a dumb game, man."
One, however, McLuen is very grateful still to be playing. Truth be told, he probably should have died nearly three years ago. It was Oct. 7, 2017, two days before he was supposed to play in Web.com Tour Q School, and he was sitting on his couch with his kids, watching cartoons when he went into full cardiac arrest. "There were no warning signs, no nothing," McLuen told PGATour.com. "Luckily, my wife [Reye] called 911 right away, and the paramedics were able to revive me."
But on the way to the hospital, his heart stopped again, paramedics needing to shock him seven times before bringing him back again. He spent less than a week in the hospital, got a pacemaker and thankfully has never had any issues again.
Tragically, McLuen faced another life-and-death situation in May. Jay was working under a 2,000-pound bush hog clearing mower, lifted up on hydraulics, trying to get some barbed wire untangled from machine. He asked Reye to hand him some wire cutters, but as she was doing it, the lift gave way and the mower collapsed on the two of them. Jay was able to yell for his 7-year-old daughter, Miller, to get help from neighbors, but Reye was pinned so tightly she couldn't breathe.
When the neighbors used a tractor to lift the bush hog, Jay got out and performed CPR on his wife until an ambulance arrived. "She was in cardiac arrest, had a collapsed lung but she made it through all that," he said.
That night in the hospital, it looked as though Reye wasn't going to make it. In the midst of the COVID-19 pandemic, Jay wasn't allowed to stay with her. But a day later she started breathing on her own, four days later she was out of the hospital and today she's full-recovered.
Regardless of what happens this week, McLuen has things in perspective.