News
The X-Man cometh, Rahm returns to form and another rules controversy: What you missed this weekend
Welcome to the Dew Sweeper, your one-stop shop to catch up on the weekend action from the golf world. From the professional tours, trending news, social media headlines and upcoming events, here's every golf-related thing you need to know for the morning of July 10.
Schauffele earns breakthrough at Greenbrier
A month ago, Xander Schauffele looked like he was returning to the minors at season's end. Now the 23-year-old rookie is heading to the 2018 Masters thanks to a one-shot victory at the Greenbrier Classic.
On a mostly quiet afternoon at Old White TPC, Schauffele -- who popped up on the public's radar at Erin Hills -- stole the show by sticking his tee-shot on the par-3 18th to three feet, the tap-in birdie putting him at 14 under. Robert Streb missed his birdie putt on the 17th to tie the lead, and failed to find the green on the final hole, giving Schauffele his first tour win.
"I think it honestly just changed my life, really," said Schauffele, who struggled for most of 2017 until his U.S. Open performance. "I need a little bit of time to take it all in."
The X-Man became the fourth rookie (Wesley Bryan, Cody Gribble and Mackenzie Hughes) to win on tour this year, and moves into the FedEx Cup top 30.
Sadly, Schauffele did not triumphantly cross his arms towards the heaven after securing the trophy, a missed opportunity if there ever was one. Luckily, with his athleticism and short-game touch, Schauffele should have plenty of follow-up chances.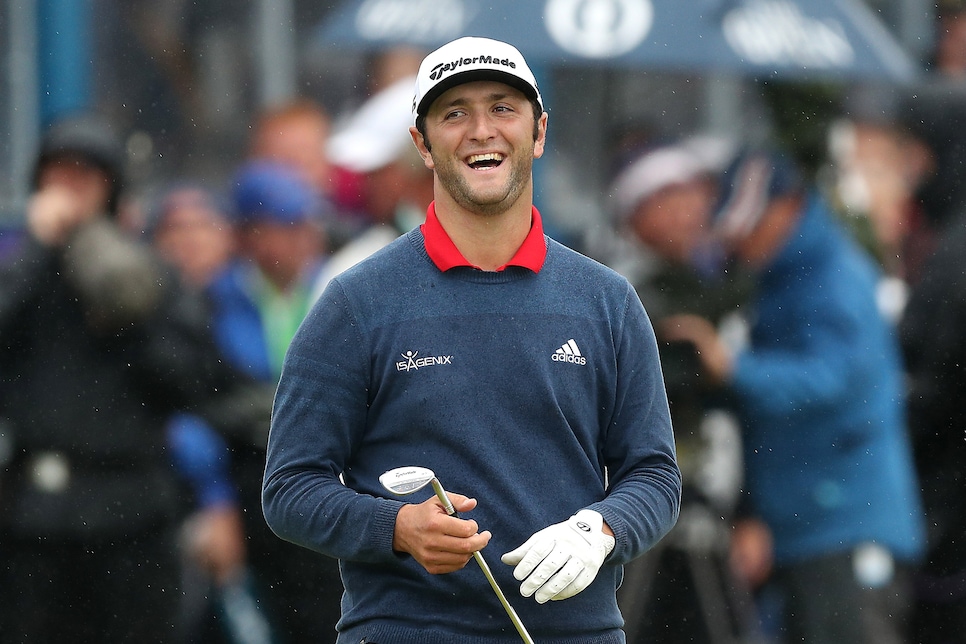 Jon Rahm's star power radiated through the first half of 2017. The past six weeks, however, had clouded his shine, dogged by poor showings -- and worse, juvenile behavior -- at the Players, Memorial and U.S. Open. But the 22-year-old alleviated any worries of self-destruction by lapping the Irish Open field. A final-round 65 gave the Spaniard a tournament-record 24-under 264 total and a six-stroke victory over Richie Ramsey and Matthew Southgate at Portstewart Golf Club in Northern Ireland.
Rahm jumpstarted the round with a hole-out eagle from 150 yards on the fourth, and put the tournament on ice with four consecutive birdies starting on the seventh.
"I've been saying, I haven't played my best golf and today, for 15 holes, I played the best golf I can ever play on the golf course with the weather that we had," Rahm said. "Obviously the bonus of holing out on four was great."
It was Rahm's second professional win, and earmarks the Arizona State product as one of the claret jug favorites at Royal Birkdale in two weeks.
Unfortunately, Rahm made social media news Sunday morning for a different reason...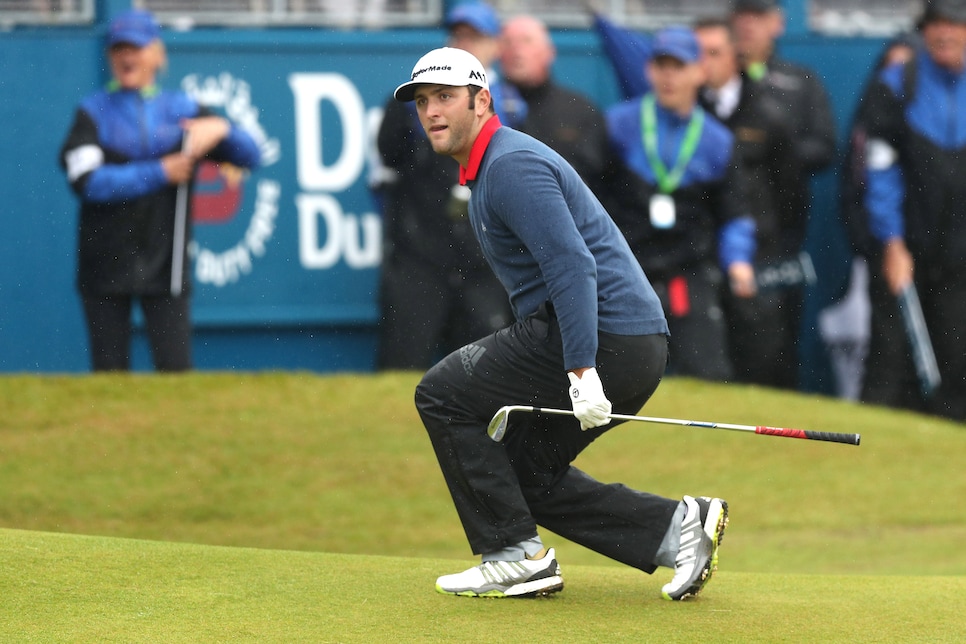 Rahm's bad mark raises rule controversy
On the sixth green, Rahm had to relocate his ball mark, as it was sitting on Daniel Im's putting line and would have obstructed his putt. When he replaced his mark, however, Rahm appeared to fail to return it to its original location, moving the ball slightly closer to the hole.
Unlike Lexi Thompson's kerfuffle, Rahm had to move his original mark a putter-head's length to get out of Im's line. Because of that action, Rahm was given latitude in replacing his ball. Moreover, a rules official -- as well as Rahm and his partner Im -- determined Rahm used "reasonable judgement" to return the ball to its original spot. (Note to guys: Keep that "reasonable judgement" line in your back pocket. If you have a girlfriend, trust us, it will come in handy.)
While vague, this is the new standard prescribed by the USGA and R&A in the wake of Thompson's ruling regarding expectations for players when they replace a lifted ball. Though it caused a raised eyebrow or two, Rahm was working inside the framework of the rules.
But still, damn. Almost made it an entire week without issue. I was just about to propose that tours should start posting "It's been X days since our last rules controversy" signs on first tees, too.
Hey, speaking of rules...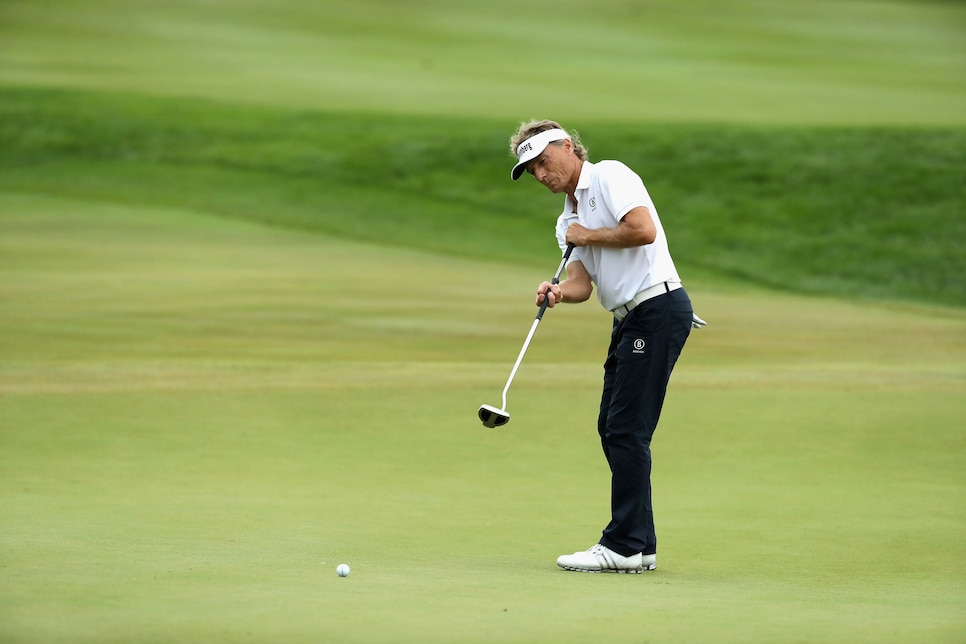 Langer, McCarron fire back at critics
"On several occasions, I have been in contact with the USGA and rules officials on the PGA Tour and PGA Tour Champions, each time I have been assured that my putting stroke is within the Rules of Golf," said Langer. Added McCarron: "I have extended many invitations to demonstrate and teach people how to use a long putter without anchoring."
Surprisingly, the USGA added its voice to the discussion, remarking it had "seen no evidence of a player breaching the Rule." And really, it's the only one that matters. For all the photos and videos that support the anchoring claims, if the governing body is giving the go-ahead, the argument is moot.
Oh, and that sound you hear is Keegan Bradley grabbing his long putter out of the garage.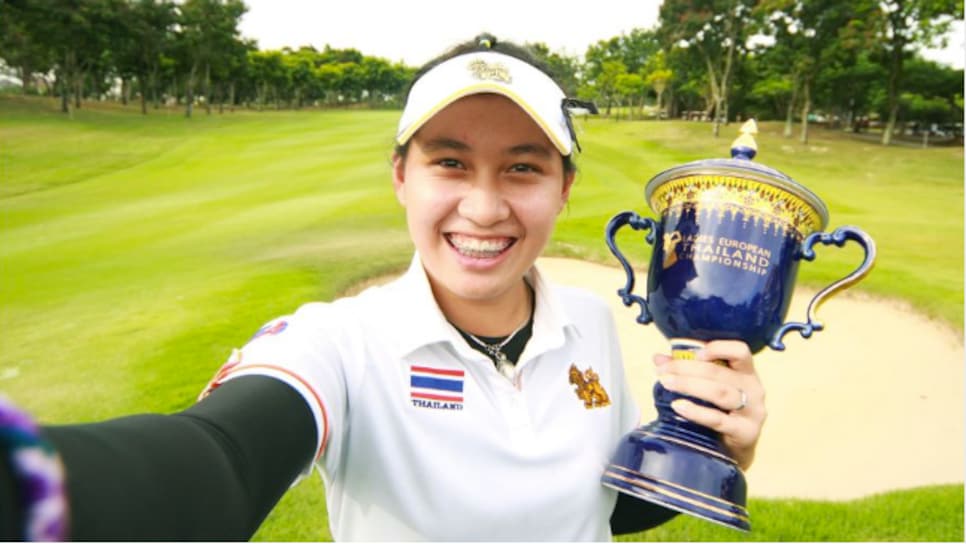 14-year old amateur becomes youngest winner at professional event
Most 14 year olds are consumed with three things: 1) praying they aren't tormented by the senior class 2) exploring the beauty of pirated music 3) see No. 1. Atthaya Thitikul has a slightly different mindset. Thitikul became the youngest winner in Ladies European Tour history by beating Ana Menendez at the inaugural Ladies European Thailand championship.
"I'm so happy and proud of myself," said Thitikul, whose even-par 72 equated to a five-under score for the week, two better than Menendez. "I did not look nervous, but of course I felt nerves on the first tee and on the first hole. I did not think about the score. I committed to every shot I hit and stayed relaxed."
Brooke Henderson held the previous record, winning an event on the Canadian Women's Tour in June 2012 at 14 years, nine months and three days. Thitikul is 14 years, four months and 19 days.
The craziest thing? Thitikul's far from a child prodigy, just becoming a scratch golfer within the past year. At this progression, she'll be winning the U.S. Open before going on her first date.