Fails
The worst high-five fails in PGA Tour history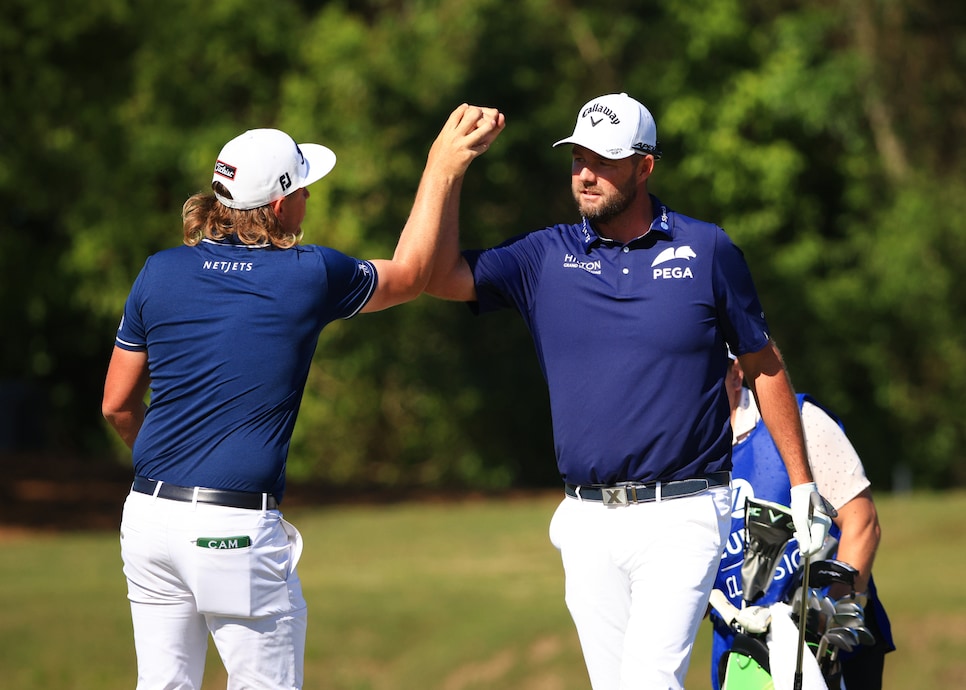 Originally, we put together this list on National High Five Day in 2017, but in the wake of Cameron Smith and Marc Leishman mangling one during Sunday's final round of the Zurich Classic, we figured we'd bring it back.
Plus, National High Five Day was oddly on April 15th (Maybe you high five your accountant on Tax Day?), so we're still pretty close. And failing to connect on that exact day is actually fitting based on how often PGA Tour pros—despite obviously being gifted with incredible hand-eye coordination—fail to properly connect when performing this simple celebration.
So let's take a look back at some of the worst high fives in golf history. But first, let's start with Smith and Leishman having a classic high-five/fist-bump mixup:
Tough scene. But the Aussie duo can feel better knowing there have been worse high-five fails. Much, much worse ones.
Who could forget Tommy Fleetwood managing to hit himself in the face (thanks to his caddie) after making a clutch birdie at the 2017 WGC-Mexico Championship?
Ouch. Seriously, Tommy? How is this possible?

If you're thinking, Yeah, but the Brits aren't good at high-fiving, well, maybe there's some truth to that. But American golfers are just as bad. Remember Tiger Woods' In Your LIFE! chip-in at the 2005 Masters. Of course you do. It was so good, though, that golf fans forget about his embarrassing exchange with caddie Steve Williams right after:
That was almost enough to ruin the entire moment. Phil Mickelson and caddie Jim "Bones" Mackay have botched their share of high fives through the years as well.
And here's Louis Oosthuizen and his caddie after the South African made his albatross on the second hole in the final round of the 2012 Masters:
The dude had just holed a 4-iron from TWO HUNDRED AND FIFTY-THREE yards and yet he couldn't land a high-five from point-blank range?! That's just mind boggling.
In celebration of this great holiday regular day, we'll be on the lookout for more high-five fails. Odds are, we'll see some more at this week's Valspar Championship. After all, Zach Johnson is in the field.