Just what makes players special is usually a mystery, even to them. Tiger Woods seems to have been an exception, having consciously borrowed a la carte from a personal menu of favorites. "It was never one person," he said in 2002. "I've tried to pick like 50 players and take the best out of them and make one super player."
Jordan Spieth is also one super player, although there is no evidence that he's consciously borrowed from anyone. That he understands and trusts his own gifts is reflected in the way this year's Vardon Trophy winner scores.
Whereas Woods, for example, borrowed from golf's tried-and-true formula for being a dominant player -- kill the par 5s, effectively shrinking par 72s to par 68s -- Spieth doesn't have the power to rely on those kinds of easy birdies. Although he was first on the PGA Tour in percentage of birdie or better on par 4s, and second in that category on par 3s, he was 39th on par 5s.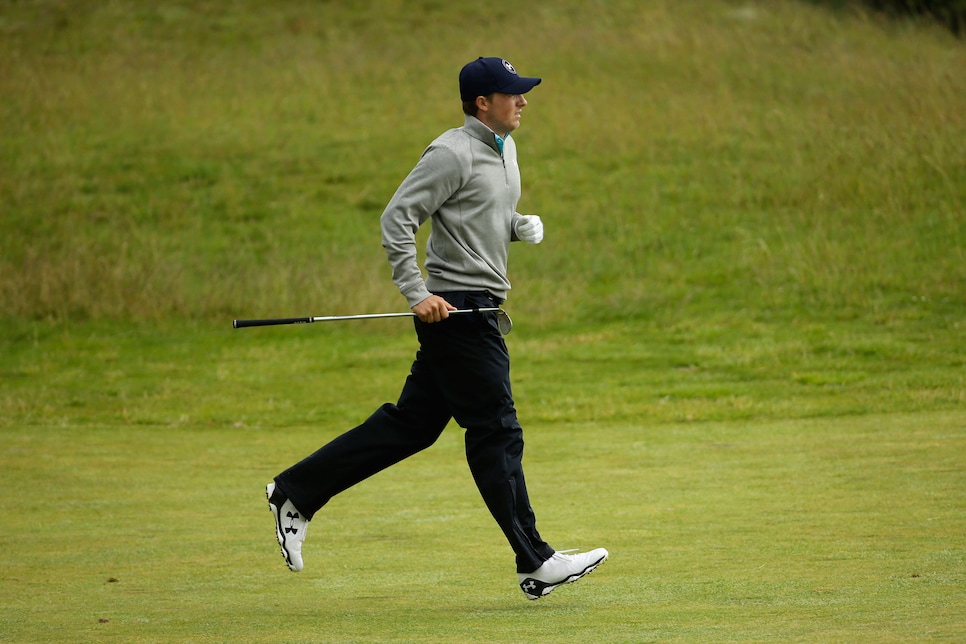 Spieth's way of going consistently low suggests sleight of hand. He's not long (ranked 78th in driving distance with an average of 291.8 yards), nor particularly straight (80th in hitting fairways), and doesn't hit a ton greens (49th). But Spieth still managed to finish fourth in strokes gained tee to green, which was even better than his rank (8th) in strokes gained putting.
How? Well, for example, Spieth was first in proximity on approaches from the rough. In part, that speaks to Spieth's technique from taller grass, but what it really shows is that he has an innate sense of where to miss. It's the trait of the born competitor, the athlete who truly understands what's important to win the game.
To me, Spieth's best qualities evoke athletes from other sports. At the moment, his putting is eerily good. He led in several putting categories, but the stat that resonates most is his conversion rate of better than 25 percent on putts between 15 and 25 feet -- first on tour by a lot. It's an ability that currently separates him from his peers in the same way NBA MVP Stephen Curry has separated from his.
While some are bothered by Spieth's tendency to react vocally to his shots, I find it a signal of a player immersed in the moment and determined to never let up. Take away the profanity and churlishness (perhaps a big ask), and Spieth reminds me of John McEnroe. Like the tennis bad boy, Spieth uses exasperation, self-castigation and body language to rid himself completely of an unsatisfying shot, so that when it's time for the next one his mind is clear. People forget that for as tortured as his self-talk seemed, McEnroe almost always played better after venting.
Golf is better for Spieth's special qualities, but he's got to be of careful of where they can take him.
Spieth has already established himself as one of golf's best post-round interviewees ever. He unfailingly provides clear, detailed, thoughtful, and considerate answers. My favorite such "explainer" was Hall of Famer pitcher Jim Palmer, who shared his thinking behind what he threw in a way that raised the baseball IQ of everyone listening.
Golf is better for Spieth's special qualities, but he's got to be of careful of where they can take him. Unlike power, a strength that makes for tour longevity, Spieth's talents are those that tend to have a shorter shelf life.
Magical periods of putting among the game's very best tend not to last beyond a few seasons, as Arnold Palmer, Lee Trevino and Tom Watson can attest. Even Woods, who made more bombs over a longer stretch than anyone, has seen his putting decline.
Intensity is tricky. Those who burn the hottest tend to burn out the soonest. Curtis Strange won with ferocity, but it aged him prematurely as a player. Johnny Miller, always a close student of the strengths and weaknesses of extraordinary players, noted at the Tour Championship that Speith "is kind of twitchy for a 22 year old."
And while giving quality interviews creates goodwill with sportswriters and fans, the cumulative effect from the volume of questions demanded of a top player is inevitably draining. The adjustment is usually shorter, safer responses (see Phil Mickelson). But those wired to give fuller answers can become resentful of the process, even to the point of losing their zest for tournament golf.
Spieth might fall victim to part or all of the above, but he also possesses some protective armor that goes deeper than his clothing line. Very simply he seems prepared -- aware of the possibilities, confident in his plan, supported by a stable team. Most of all, he's proved himself a natural-born competitor who knows golf is a game of constant adjustment, has an appreciation for his special qualities, and deeply trusts his ability to find a way.