The Loop
The U.S military is not just an excuse to work on your short game (but there are worse places to start)
Joining the U.S. military because of the golf is kind of like choosing to become a doctor because of the free tongue depressors - it's not really part of the equation. Still, it often goes unnoticed just how many golf courses are operated by the Pentagon, one of the small fringe benefits that comes with a career in military service.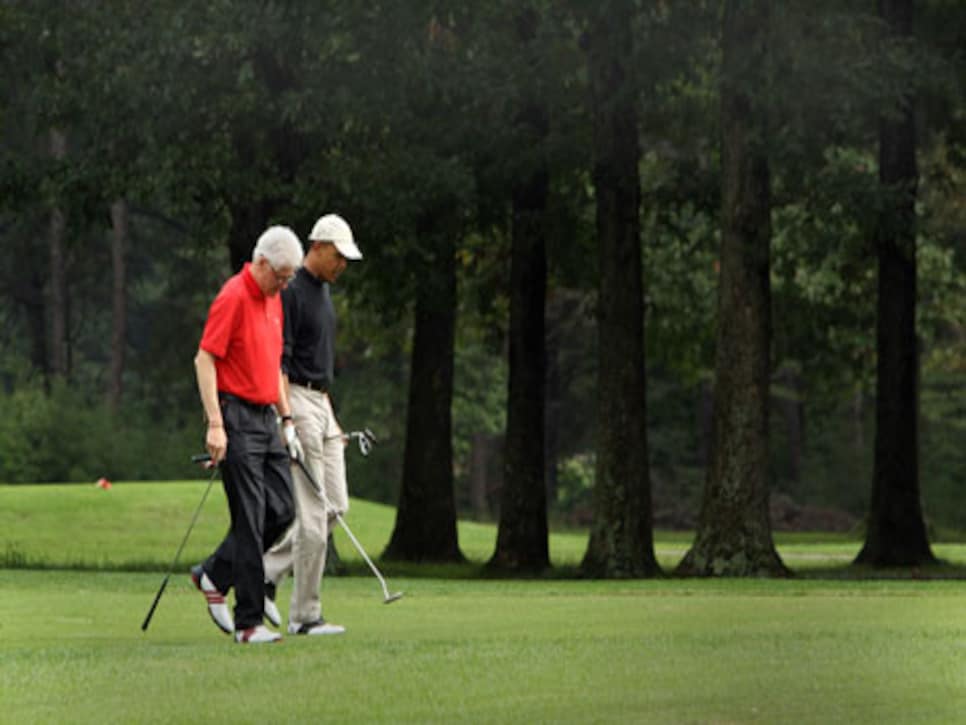 *Andrews Air Force Base in Washington, D.C., a preferred venue of President Obama, is one of 194 courses operated by the Pentagon around the world. *Photo by Getty Images.
According to a report in Mother Jones, the Pentagon operates 194 golf courses, consisting of 2,874 holes, around the world. This is less than the 234 figure that has been widely reported (and criticized), but it still puts the U.S. military up there as one of the biggest operators of golf courses in the world. While the majority of courses are in the U.S., a number are scattered abroad as well, including seven on bases in Germany, a two-hole "course" in Mosul, Iraq, and what's known as the "World's Most Dangerous Golf Course" -- which is really just one par 3 at Camp Bonifas, situated in the demilitarized zone separating North and South Korea.
As far as notable American military courses, you are likely familiar with Andrews Air Force Base, the 54-hole facility where President Obama has played many of his 157 rounds in office (according to the official Obama Golf Counter). Then there's the 27-hole Navy Golf Course in Seal Beach, Calif., where a young Tiger Woods was taught the game by his father, Earl, a Vietnam veteran who retired as an Army lieutenant colonel.
So is this to say the U.S. government is blowing our defense budget on tee markers, lawn mowers, and ball washers? Not exactly. As the Mother Jones report cites, military courses are expected to be generally "self-supporting," meaning they should rely on their own revenue to remain afloat (the vast majority of courses, in addition to discounted fees for military personnel, allow outside play at a higher rate). And if they can't, as Pelican Bay Golf Course in Florida proved last year, they can be closed.
Of course, budget considerations and all, there's a case to be made that golf is a valuable source of recreation for the people who deserve it most. We're certainly not going to argue with that.