The Unwritten Rules Of Mixing Golf With Matrimony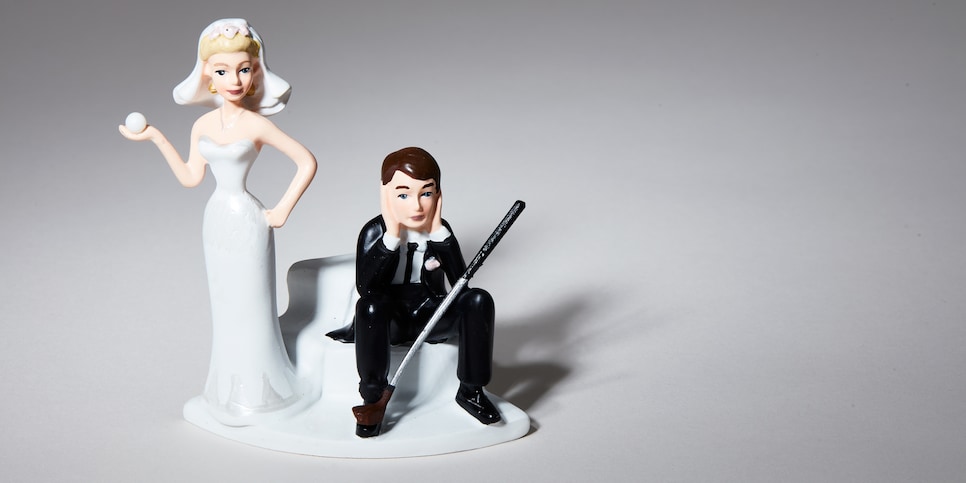 Photo By: Photo by Ivory Serra
Like most women, Jenna Yanchik wanted the wedding of her dreams. One with timeless style and the regal setting of a state affair against a backdrop of nature. Imagine her euphoria when the love of her life delivered all that and more.
The "love of her life" being golf, obviously.
"The Fox Chapel Golf Club was able to provide everything we wanted," says Yanchik, 29, about the Pittsburgh club. "The course is beautiful, and the clubhouse was the perfect spot for our reception."
Jenna assures us that her husband, David, is the apple of her eye. But Jenna is a golfer—a devoted one since 7 years old—and every partner to a golf-obsessed companion knows their love is a love divided, and tested. "There was the risk of having to lose to Jenna at golf at yet another course," David says of their wedding venue. Most of the golf he plays is with her.
Even if both partners don't share a passion for pars, love and golf can come together in harmony on the big day. Phil Auerbach, a collegiate golfer and the founder of Golf Coach Direct, persuaded his bride that "Augusta," the Masters theme song, should serve as their bridal party's processional.
"Jennifer absolutely loathes golf and has hated it even more since she's been exposed to me these last 17 years," Phil says. "But she loved the idea that something so meaningful to me would be a part of the ceremony. To her, it's almost as though her presence had reached the pantheon that is Augusta in my mind." At which he pauses, realizing he's now in scramble mode. "Even though she has surpassed it, of course."
Not all significant others are as understanding as Jennifer and David, nor should they be. Hackers might think a golf-themed wedding is a no-brainer to pull off, but one man's gimme is another's potential three-jack. Though you can likely guess where we fall on this debate, you should know what lies ahead, good and bad, before you mix golf into the nuptial process.
For the proposal, what better location than a golf course, where important life queries like "Trees are 90 percent air, right?" and "Why the hell do I even play?" are routinely pondered. As long as you're confident you won't need a mulligan, the classic methods are hiding the ring box in a cup, purposefully losing a bet and then dropping to one knee when it's time to pay, or popping the question when the final putt drops. The latter being exactly what PGA Tour pro Mark Hubbard did at the 2015 AT&T Pebble Beach National Pro-Am. On Pebble's famous closing hole, he called his girlfriend, Meghan, to join him on the green. Hubbard's mind-set? Man, it would really suck to three-putt right now. Especially because he had also arranged for the leader-board operator to flash his proposal to the gallery.
Or you can get Justin Thomas to help. Sean Powell, a fan from Sioux Falls, S.D., reached out to Thomas on Instagram with a request: "Any chance the reigning Player of the Year could lend a hand in a marriage proposal?" To Powell's surprise, Thomas responded within minutes, and in the affirmative. After two months of coordination with Thomas and the PGA Tour, Powell and his girlfriend, Andrea, were in the gallery at Charlotte. On the first hole, Thomas walked over to greet Powell and handed Andrea a golf ball inscribed "Will you?" Then Powell went down on one knee. Video captured Andrea nodding her head up and down, although it wasn't clear if the gesture was in response to Powell, or if she would accept a memento from a major champion.
"I thought he was just going to sign autographs," Andrea says. "Then Sean and Justin started talking like they were old friends that hadn't seen each other in a while. I was very confused and shocked—How do they know each other?— but the moment Justin asked if I was Andrea, I knew what was happening!"
"I'm really happy that I didn't screw it up for them," Thomas says.
Easier said than done. A starter at Miami Whitewater Forest Golf Course in Harrison, Ohio, recalls a poor bastard who lost an engagement ring hitting out of fescue. Nearby foursomes and workers helped search, but to no avail. "Found a bunch of ammo, though," the starter says, his filled shag bag proof that to golfers, many types of rocks are precious.
Corralling the wedding party for a morning round is also a sneaky way to get everyone on site hours before the ceremony begins.
Amen Corner has become a popular engagement spot, although the following suggests where the true love truly lies: According to a 2016 survey from the booking site Your Golf Travel, 44 percent of golfers would move their wedding date to play a round at Augusta National. Masters bids aren't the only casualty of Rae's Creek.
Golf has a history of deferring "I dos." After his U.S. Mid-Amateur victory in 2017, Matt Parziale delivered some news to his fiancee, Alison. His win earned an invitation to the 2018 U.S. Amateur in August, which happened to coincide with their scheduled matrimony. And, if she wouldn't mind ...
"Let's not talk about this right now," Alison said. (They eventually got married a few weeks early.)
Another part of planning not to be overlooked is the bachelor party. Destinations like Myrtle Beach, Las Vegas and Phoenix/Scottsdale have become meccas for pre-wedding celebrations. They boast accessibility, great weather and nightlife, to say nothing of their course portfolios. Not all attendees might be sticks or willing to drop serious coin, and there's no shortage of tracks to satisfy diverse desires.
As for libations, golf is just one item on the itinerary. Keep that in mind when your future brother-in-law grabs his second six-pack at the turn. He is not long for the weekend, and neither will you be at that pace. And far be it from us to dissuade growing the game, but the bachelor party should not double as introduction to the sport. Spending your round telling friends to keep carts off greens and managing death stares from angry groups is not how to let loose in your last days of freedom. With a mixed group, consider a Topgolf visit to get your fix.
Courses have been hosting weddings since before the balata ball, but they're not without surprises. Some know him as the greatest receiver in NFL history, but Jerry Rice has built a curious reputation in retirement as a wedding crasher at California courses like Pebble Beach and The Bridges. An avid golfer, Rice's wedding adventures are littered across social media, most sticking to a general sequence: After playing, Rice will invite himself to the proceedings, greeting the couple and showing off the moves he learned in "Dancing with the Stars."
"It's so exciting to see their reaction," Rice told the website The Ringer. "It's usually, 'Oh my God, I never thought I'd run into Jerry Rice on my wedding day.' " An endearing tradition, although perhaps self-serving. Even on the bride's day, athletes still crave the spotlight.
There's crashing, and then there's upstaging. In 2014, Natalie Heimel and Edward Mallue Jr., captains in the United States Army, were informed the day before their wedding that their site—the 16th hole of the Hawaii Marine Corps Base Kaneohe Klipper Golf Course—was no longer available for the ceremony. Actually, the entire course was off-limits because President Obama was coming to play. The ceremony was moved to another section on the base, and the couple later received a phone call from the Golfer-in-Chief apologizing for the inconvenience. Heimel told the president: "We were able to watch you golf." Obama summed up their experience as victims and spectators of his game: "That must have been kind of painful."
Celebrities and presidents are rare, yet crashers tend to be the rule at golf-course weddings because clubs remain open to the rest of the membership during the ceremony. That might not seem like a big deal now; it will when your vows are interrupted by a string of profanities from a missed putt off the 18th green. ("Something blue," indeed.) The number of stories concerning golfers walking into receptions and confusing the bar as their own is too high to count.
To be fair, golfers aren't the only ones guilty of wandering amok. Wedding planner Ashley Czaplicki of Aced Events, which caters to weddings in the New York Metro area and Connecticut, has had couples find hazards. "I had a photographer take the bride and groom on a golf cart to explore and get the best shots possible," she says. "It was a mad-goose hunt for my staff and me to locate them when it was time for their grand entrance. We had three pros searching for them." The reception was delayed—as was likely the afternoon tee sheet—as the distracted couple zoomed around.
Many courses will allow wedding parties to play before the reception and, at least at Manchester Country Club in New Hampshire, during. Sensing the game was integral to its wedding experience, Manchester installed a simulator, boasting a first tee no storm could close. It's an accessory that has been warmly received by wedding guests—perhaps too warmly. When asked if the simulator ever presents a distraction—who needs the "Electric Slide" when an electronic round at the Old Course in St. Andrews beckons—Manchester manager Joëlle Sarette Creamer exhales. "It is very popular," she says. Empty dance floors are not her favorite look. (Someone give her Rice's phone number.)
Golf is a good release for pre-nuptial nerves, and corralling the wedding party for a morning round is also a sneaky way to get everyone on site hours before the ceremony begins. Make sure family members on both sides are invited; the last thing you want to do is piss off a new uncle. And we can't stress this enough: Double-check that your better half is OK with it. The wedding-planning website The Knot addresses the question of golf on the morning of, and the message board makes the golf-ball distance debate look tame. Horror stories abound of significant others showing up late, tired, sunburned and buzzed.
But they are just that, stories. There is a visceral experience a golf course delivers, to say nothing of the cost-effective packages and experienced staffs. "Country clubs are great venues because of the all-inclusive experience," Czaplicki says.
For Alexis and Daniel DiBiasio, the Country Club of Darien in Connecticut was not only where they got married, but where they grew up. "Daniel and I have both played golf here since we were kids," Alexis says. "Our summer dates were often nine holes in the evening." Many of the club's staff, who watched the couple grow from a pairing of singles to a twosome for life, helped to plan and execute their wedding. In fact, upping its wedding business was a catalyst for Darien's recent renovations to its clubhouse and banquet space.
The groom persuaded his bride that 'Augusta,' the Masters theme song, should serve as the bridal party's processional.
Showcasing the facilities to nonmembers is a smart move for the long-term vitality of any club. According to a Global Golf Advisors and Nextgengolf report, 64 percent of millennial golfers cited attending a wedding or a tournament as their primary influence in joining a club. In 2017, Bolingbrook Golf Club in Illinois hosted 103 weddings.
So yes, there are challenges when golf and a wedding mix. That includes the honeymoon. Auerbach managed to play 15 times on his trip. (Don't ask.) Others find their way to the course in a more creative fashion. Golf writer Chris Chaney found out his buddy was taking his trip to Hawaii, and asked if he was going to play Kapalua. No, his buddy replied; the wife deemed the $300 greens fee too much. So Chaney set up a GoFundMe page for his friend's fee, and money poured in from golfers around the globe.
"This is one of the best moments of your lives," a donator wrote. "Go out and enjoy it!"
For Jenna Yanchik, fun meant a round the day before the wedding with her father, who helped nurture her love of the game as a child. "It was extra special because it was the course where we had won a father-daughter alternate-shot tournament when I was in high school," she says. On the final hole of the tournament, her dad, Paul, faced a long putt for birdie. "I told him, 'Don't leave it short.' " He didn't, walking in his 25-footer with pride. A pride, she says, surpassed only when he walked her down the aisle.
MAYBE YOU TWO LOVEBIRDS WILL BUCK THE TREND
Are marriage and golf compatible? Put it this way: There are ample reasons to settle down, but lower scores and general golf contentment probably shouldn't be among them.
In a recent Golf Digest survey of 2,251 of our social followers about golf and marriage, the return is that married golfers play less, play worse and are less satisfied with the state of their games than their single counterparts. On the bright side, married people usually have better china.
It's not just that single golfers play more often—79 percent of single respondents said they play more than 20 times a year compared to 67 percent of married golfers. The bachelors and bachelorettes also comprise a higher percentage of scratch and single-digit handicaps. And when asked about their level of satisfaction with golf, it was again this group that responded more favorably.
But before you call that divorce lawyer, the good news: The overwhelming majority of married golfers—92 percent—said they are generally happy in their marriage, which is arguably the most important metric. (Reminder: We play golf maybe several hours a week, but we're married around the clock.)
As for the X factor of having a spouse who plays golf, don't think lulling your husband or wife onto the course is the answer. Less than a quarter of respondents whose spouses also play golf said they are happy with their golf, as opposed to 70 percent for those whose spouses don't play. Which is to say, you can love the game and you can love someone else, but you might want to keep the two as far apart as possible. — Sam Weinman
SATISFIED WITH YOUR GOLF LIFE?
It's not all about score, but just enjoying the game. Golf Digest surveyed readers about their overall golf contentment. The following groups responded yes to being "happy" or "very happy."
23% Married with a spouse who plays golf
70% Married with a spouse who doesn't play golf
75% Single
THE BEST MAN'S GUIDE TO WEDDING-DAY GOLF
Forget holding the rings or preparing a speech. The most crucial responsibility of the best man is planning the golf. Though simple in premise, the execution is anything but. We give you nine rules for teeing it up on the big day.
1.) Plan far in advance. Not all clubs allow the party to play. If a round isn't accessible at the wedding venue, grab a tee time close to the ceremony or hotel.
2.) Be liberal with the invitations. This is not a groomsmen-only outing. Include both sides.
3.) Book an extra group. Chances are a few stragglers with F.O.M.O. will want to play at the last minute.
4.) With a diverse collection of friends and family, don't be afraid to mix up the pairings. However, make sure the groom and his father are in the same group. It's a bonding moment they'll savor forever.
5.) Play early. Be off the course four hours before the ceremony begins. The groom might think that's conservative; we assure you, the bride does not.
6.) Pay for the groom. Pass the collection plate or take care of it yourself, but his wallet should never open.
7.) Unless the majority are regular golfers, opt for a scramble. Builds camaraderie, keeps all engaged and maintains pace.
8.) Relax the rules. Offer mulligans, roll the ball and be generous with gimmes. This ain't the U.S. Open.
9.) Curb drinking. A libation to ease the wedding jitters is one thing, but have respect for the ceremony.