The Loop
The Travelers: That's entertainment...or not
The entertainment value of a tournament post-major is generally dubious anyway, but this one that once was hosted by the late Sammy Davis Jr. came up a Candy Man short on Sunday. A little song and dance might have helped.
It's not that there wasn't great golf played in the final round of the Travelers Championship, just that it mostly was played out of sight. Hunter Mahan shot a 61 that didn't matter, Marc Leishman a 62 that did.
Leishman won the Travelers on the practice green, his round having been completed more than two hours earlier and thought not to have been enough. "I was pretty confident it wouldn't be," Leishman said.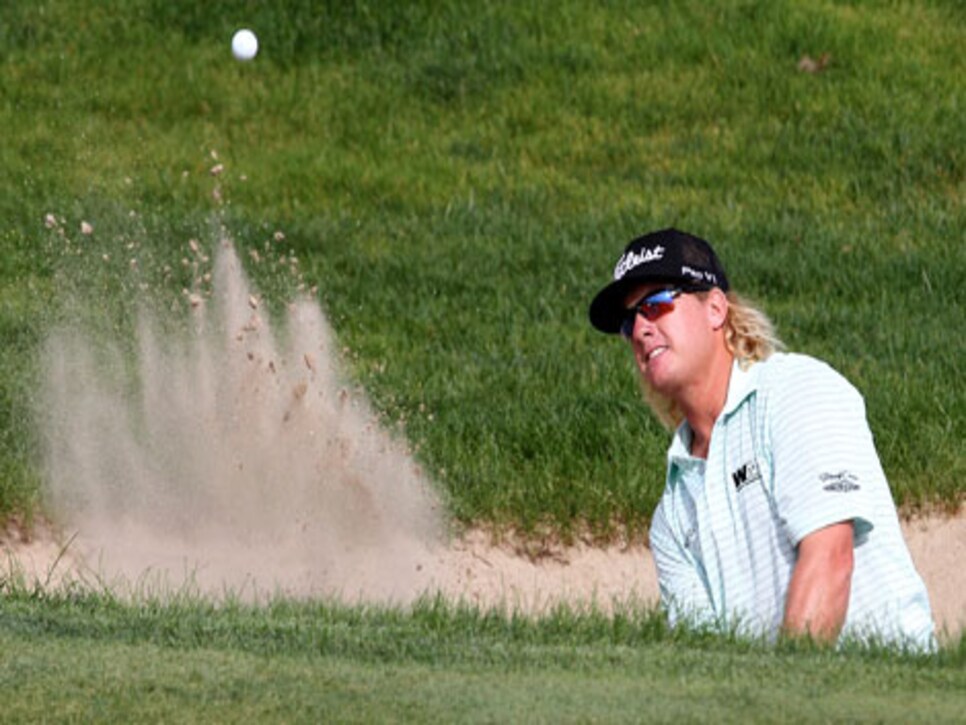 Charley Hoffman finished double bogey-bogey. (Photo: Getty Images)
The rest of the afternoon was largely unworthy of applause and played out like an extension of the U.S. Open at the Olympic Club a week earlier rather than as a respite from the torment an Open typically causes. As Casey Stengel once said in neighboring New York, New York, can't anybody here play this game?
The TPC River Highlands outside Hartford is amenable to theatrics, with the accessible par-5 13th and the drivable par-4 15th, but it has its angry side, too, and it was in a particularly foul mood on Sunday afternoon.
The winner ought to have been Charley Hoffman, who took a two-stroke lead to the 17th hole that has water guarding the entire left side of the fairway. A bailout left was the play, but instead he lost it right and into the water, leading to a double-bogey that left him tied with Leishman at 14-under par. His drive on the finishing hole also went well right, the catalyst for a bogey that ended his bid. One down.
Bubba Watson, showing signs of life for the first time since winning the Masters in April, was in contention when his tee shot at the short par-4 15th splashed down wide left. He salvaged par, but could not otherwise find the birdie he needed to tie Leishman. Two down.
South African Tim Clark, who had missed only a single putt from three feet and in all year, lipped out a two-footer at 17 that dropped him two behind Leishman. Three down.
Roland Thatcher eagled 13 and was one off the lead when his tee shot at 15 went dead left and into the water, resulting in a bogey. Still only a shot back heading to 18, Thatcher hit his second from a perfect lie there about a yard short, his ball landing in a bunker, requiring that he hole his third to tie. He made bogey. Four down.
So Leishman won via a less stressful route, posting a score and waiting for others to swing and miss. The victory was the first for the 28-year-old Australian, who finally delivered on the promise he showed when he was the PGA Tour rookie of the year in 2009.
Leishman, it should be noted, counts another Aussie, Greg Norman, as his idol. Norman won here, too, in 1995. But Norman is known as much for his pratfalls as for the otherwise stellar record that landed him in the World Golf Hall of Fame, and he'd have been at home among those kindred spirits littering the course on the back nine.
"It's a funny game," Leishman said. But a comedy of errors doesn't make it a comedy, nor does a one-stroke victory make it a drama. That leaves horror among the available genres.
Sammy Davis, where are you when we need you?