The Loop
The Tradition has major feel at Shoal Creek
When the Tradition was first held in 1989, the Senior PGA Tour was hitting its stride. Arnold Palmer and Gary Player were among the legends already out there, and Lee Trevino and Jack Nicklaus were close to turning 50. Positioned as sort of a springtime "senior Masters," the Tradition, played at Desert Mountain in Scottsdale, was designated a major championship. Nicklaus played a sparse senior schedule, but he won four of the first eight Traditions. That won't hurt a tournament's reputation.
But after 14 years in Arizona the Tradition was looking for a home. It landed in Oregon, first in the Portland area and later in low-key and scenic Bend. Players and their families had a great time, but it didn't feel much like a major.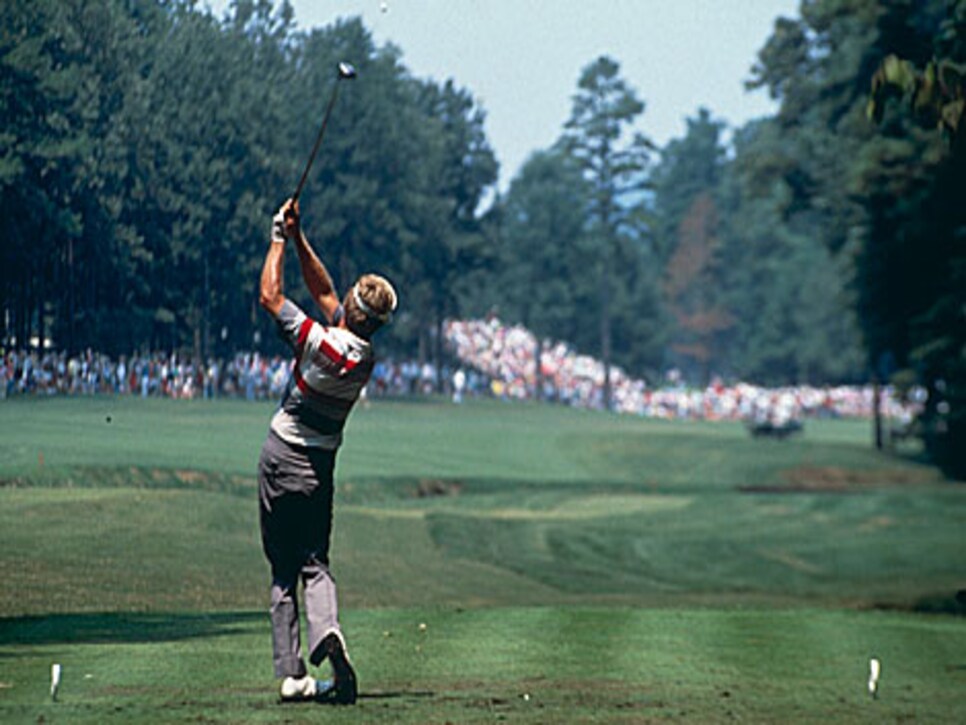 Wayne Grady won the last professional major at Shoal Creek in 1990.
Now the Tradition has a new sponsor, Regions, and has relocated to Shoal Creek in Hoover, Ala., on the outskirts of Birmingham. Because the tournament has a pro-am and no cut, skeptics will still have a hard time considering it a bonafide major. Still, with the area having been home to a long-running and lively Champions Tour event and Shoal Creek having hosted past majors, it's definitely an upgrade.
With Bernhard Langer still sidelined after thumb surgery, John Cook and Tom Lehman -- both two-time winners already in 2011 -- go in as favorites, but many eyes will also be on Fred Couples, a four-time winner as a senior rookie in 2010 still looking for his first victory this season. Couples finished second to Wayne Grady in the 1990 PGA Championship at Shoal Creek, so he should have pretty good memories of the course. A bigger question will be how Couples' back is feeling after three weeks off following his T-15 finish at the Masters.
While the 7,234-yard par-72 Jack Nicklaus design remains a solid test, Shoal Creek does not have the choking, pitch-out Bermuda grass rough that it had when the 1984 (won by Lee Trevino) and '90 PGA Championships (won by Grady) were held in August. It didn't take Kenny Perry, who shot 12-over 300 in 1990, long this week to realize this won't be the same kind of experience.
"There's no rough out there this year, so to me it's a big difference," said Perry. "The ball ball can get away a little bit [off the tee] and you can actually play some shots to these greens, second shots, now. The rough wasn't that tall [in 1990] -- it was only four or five inches -- but it just seemed [the ball] sank right to the bottom and you really couldn't get a club on it. If you hit it in the rough, you were trying to lay it up to a spot where you could get it up and down."
Nonetheless Perry, who is playing in his fifth senior event after turning 50 last year, believes Shoal Creek won't be a cakewalk. "You're definitely going to to man up and hit golf shots," he said. "You're not going to get away with anything out there. The guy who actualy hit it it the best this week is probably going to have the best chance of winning. This reminds me of a [regular] major venue, feels like a major venue. It feels like par is a good score this week."
Players not only packed their golf equipment this week but were asked to bring clothing for victims of the tornadoes that devastated parts of Alabama recently. Spectators also will be able to make donations to the relief effort.
Shoal Creek, which was also the site of the 1986 U.S. Amateur and 2008 U.S. Junior Amateur, has waited a long time to host another professional major. When Shoal Creek founder Hall Thompson noted the club's exclusionary practices -- no black members -- prior to the 1990 PGA, his remarks touched off a national conversation about discrimination in golf. At the time, Shoal Creek was far from the only private golf club in America without black members -- Augusta National didn't have any either, and one survey found 17 PGA Tour sites did not have black members -- but it became the lightning rod.
When a black businessman from Birmingham, Louis Willie, was made an honorary member at Shoal Creek, tensions lessened and the PGA was played without incident or significant protests.
Two decades later, one of Shoal Creek's current minority members, former U.S. Secretary of State Condoleezza Rice, a Birmingham native, is the Tradition's honorary chair. Early Thursday morning, she and Jerry Pate will hit ceremonial tee shots to get the tournament underway.
(Photo: David Cannon/Getty Images)