The Loop
The tooth is, there is no Rory-Tiger rivalry yet
Just when you're looking to sink your teeth into a good golf rivalry, a toothache turns up.
This, at any rate, was the reason Rory McIlroy eventually provided in the wake of his questionable decision to walk off the course midway through the second round of the Honda Classic on Friday. His chief foe, Tiger Woods, also failed to hold up his end of the budding rivalry, his indifferent performance producing a tie for 37th.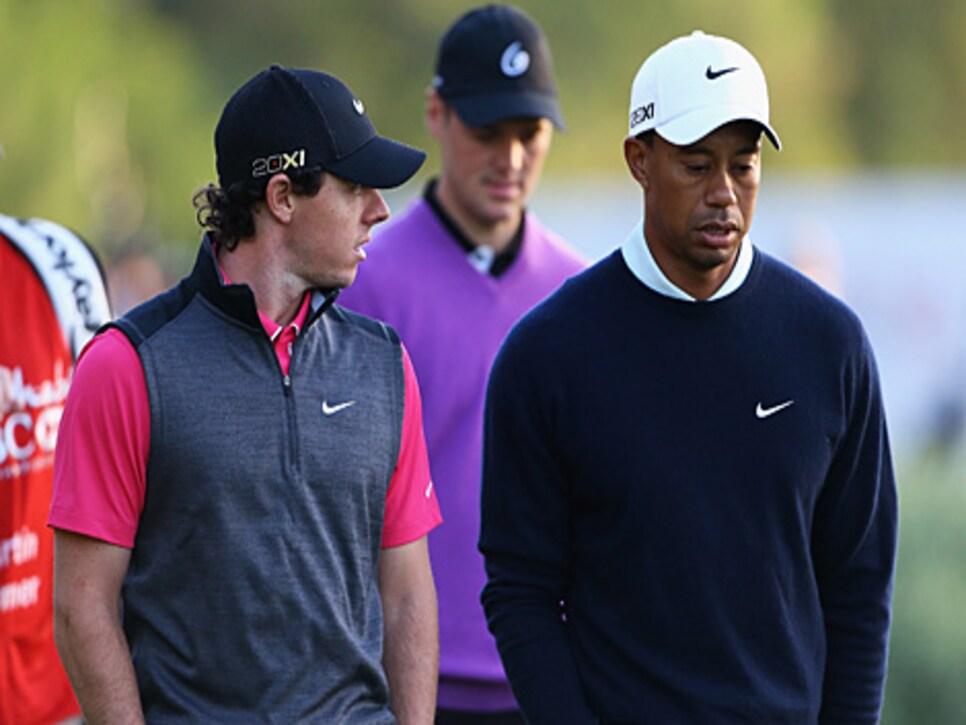 McIlroy might have been better served had he followed the example of actress Kate Hudson, the subject of another post at Celebrity Toothaches. "Kate Hudson Braves Tooth Pain For Fashion Shoot," the headline read.
Who can say whether one's pain threshold is reached quicker through golf or modeling? But McIlroy could have spared himself a bruise to his otherwise flawless reputation had he played through whatever was bothering him more, his score (seven over par through eight holes) or his teeth.
"I think if he'd have waited five more minutes he wouldn't have done that," Jack Nicklaus said on the NBC telecast of the Honda Classic on Sunday. "I think he's a good kid and I think he tries to do the right thing. Unfortunately, it probably wasn't at that time."
So the fledgling rivalry between McIlroy and Woods, friends and foes alike, Nos. 1 and 2 in the World Ranking, is still on hold. Golf rivalries usually are, hobbled as they are by an inability to materialize, at least on a head-to-head basis, with anything approaching regularity.
The Yankees and Red Sox play 18 times a season, often with an American League East title at stake, producing a bonafide rivalry. For Woods and McIlroy to get together requires a friendly game at home in Florida, as they played after each was eliminated in the first round of the WGC-Accenture Match Play Championship last month; an exhibition, as they played in China in October; or a fortuitous (or rigged) pairing, such as they received for the first two rounds at the Abu Dhabi HSBC Golf Championship in January, where both missed the cut.
In December, Nicklaus suggested that a rivalry would be good for both. "I think for Tiger, he probably needs somebody to pop him a few times so he gets a chance to go pop it back, you know what I mean?" Nicklaus said. "I think that's the way all sports work. It's kind of good for you to get drummed a couple times, and then all of a sudden you say, 'I'm not getting drummed anymore. I'm going to go drum that guy back.' That's sort of what rivalries are all about."
At this point, it's not a matter of beating one another, but beating themselves. Both are in the field at the WGC-Cadillac Championship at Doral this week, possibly for the last time before the Masters.
In the meantime, McIlroy, at a Tuesday news conference at Doral, is expected to explain himself further, to tell, as it were, the whole tooth and nothing but the tooth.