The Loop
The Tom Watson-Phil Mickelson encounter: 'I said hello...he said hello back'
Their paths, those of Tom Watson and Phil Mickelson, would eventually cross again, and they did on Tuesday night at the Champions Dinner at Augusta National.
Recall that Mickelson was critical of Watson's captaincy in the post-Ryder Cup news conference last September.
Golf Channel's Steve Sands conducted a lengthy interview with Watson on Wednesday morning and brought up the issue and their reunion.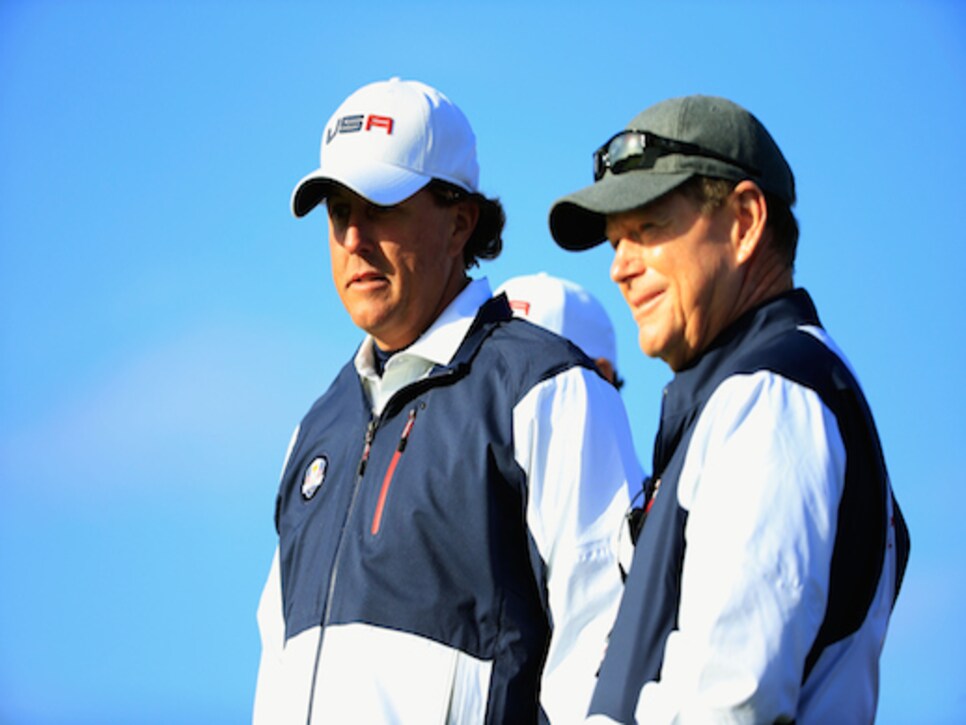 "If you dial back to Gleneagles it clearly did not finish the way you wanted to on the golf course," Sands said, "and then there were a couple of moments that perhaps weren't comfortable in the news conference afterwards. So, last night when you saw Phil Mickelson inside the Champions Dinner how was your interaction with him.
"I said hello," Watson said.
"I think golf fans were kind of wondering how everything would play out," Sands said.
"Everything's fine," Watson replied. "It really is."
The evening otherwise produced noticeably more warmth, more than in previous years, in fact.
"The conversations have been pretty stilted the past several years," Watson said. "Nobody really was willing to kind of speak up. [In the past] there was a tradition of conversation, and that tradition was kind of lost until last night, when people got up and spoke, and it was a special night.
"I think it was wonderful for the younger players to see that and to hear the stories from the older players. That's the way you pass down history and lore, by word of mouth. That's the old‑fashioned way, not by your cell phone and doing a Google. But to hear the stories direct from the horses' mouths is something very special, and that's what happened last night."