The Loop
The time PGA of America brass didn't let a little snow bum them out
Now that winter 2015-'16 is about to make its presence felt throughout the country, a nostalgic PR photo involving PGA of America officials standing in snow seems appropriate for comic relief from our outdoor hiatus.
This year is momentous for the PGA of America. It's the association's 100th birthday, and the big milestone has already had its first key timeline event. Jan. 17, 1916, was the day department-store magnifico Rodman Wanamaker (yes, of PGA Championship trophy fame) brought together a group of top golf professionals at the Martinique Hotel at Broadway and West 32nd in New York to discuss the benefits of forming an association. The next big date to note will be April 10, the day a century ago when the PGA of America was founded with 35 charter members.
But back to the snow pic. In early 1966, the PGA's 50th anniversary year, PGA officials met with the local Akron, Ohio, chairmen to see how plans for the PGA Championship, set for that July at Firestone Country Club, were progressing. (Al Geiberger would win by four.)
The local PR team decided putting the gentlemen in the snow with a "No Golf" sign (below) would be a fun way to get word out early about the upcoming event. Agreeing to do so were, from left, PGA president Max Elbin, tournament director Edwin Carter, general chairman William C. Richards, PGA treasurer Warren Orlick, PGA secretary Leo Fraser and Ray LaGoy, the Northern Ohio PGA section president.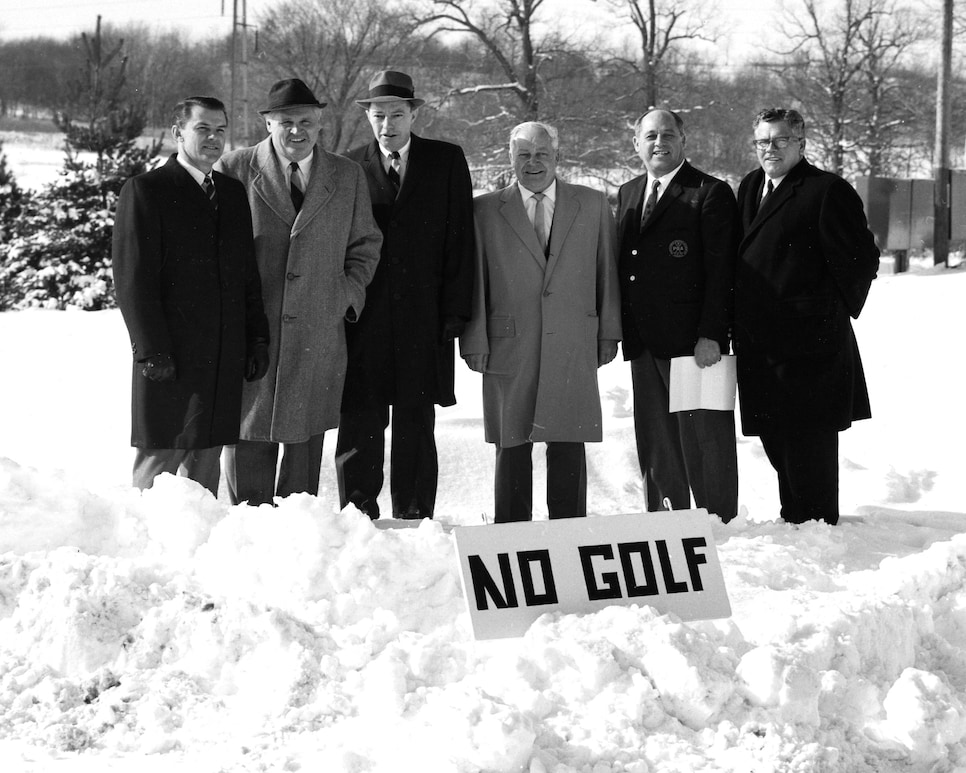 Even though the 1966 PGA was only the 48th playing of the championship due to years missed during World War I and II, it was labeled the Golden Anniversary PGA.
With this year's 98th PGA also scheduled for a late July start, at Baltusrol Golf Club in New Jersey, and the Northeast in line for a big snowstorm this weekend, might we see some anniversary promotion with a re-creation of the 1966 photo by Baltusrol's local chairmen?