The Loop
The Tiger Woods comeback that wasn't
An old standard, the no-frills bright red shirt and black pants, returned on Sunday, but missing the man who once made it a statement.
Tiger Woods' Sunday best was no longer good enough, rendering his comeback still a work in progress, however one defines progress. In the wake of a back-nine setback in the final round of the Wyndham Championship, it was more likely to recall the Waste Management Phoenix Open in January than the glory days at which his 54-hole position hinted.
It was a big tease, at any rate. Anticipation built through 18, 36 and 54 holes, as Woods maneuvered himself into position to win for the first time in two years and to remind the youth that has wrested the game away not to get too cocky.
Woods began the final round two strokes back and finished it four in arrears, ending not with an exclamation point but with the question mark that has dogged him since his season debut at Phoenix.
It was there that he introduced the possibility that the yips had taken over his short game. Starting with the Masters, he seemed to have alleviated that as a concern, but his once stellar short game, as good as there was in golf, is still an issue.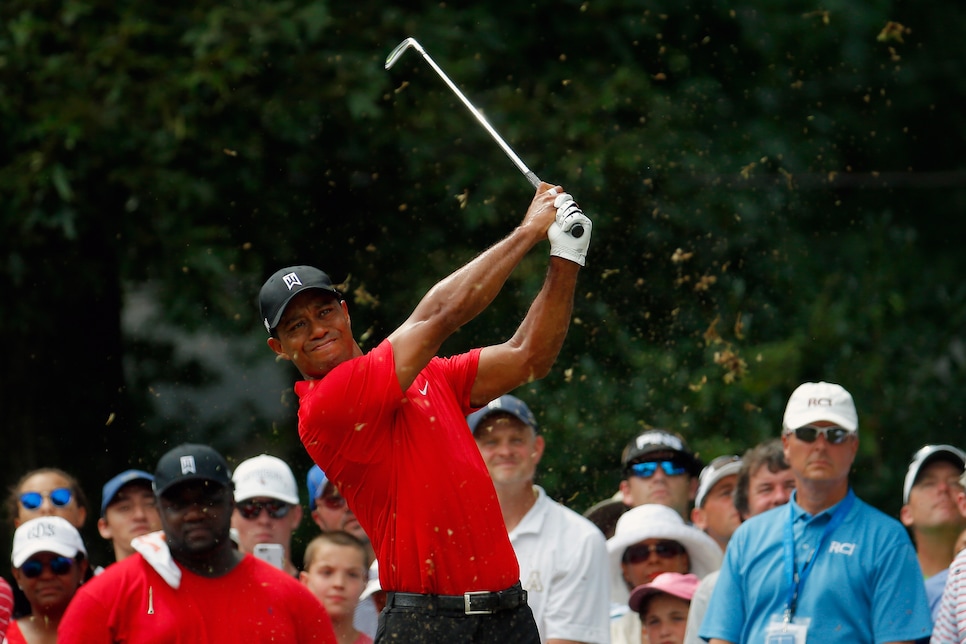 "His weaknesses, they're pretty obvious and they're pretty glaring," Golf Channel's Brandel Chamblee said after play on Saturday, noting Woods' pitiful short-game stats. His conversion rate has been well below 50 percent in sand saves, scrambling, scrambling from 10 to 20 yards and scrambling from 20 to 30 yards.
"It makes it very difficult when he's struggling tee to green because all of a sudden he's had to lean on this year the weakest part of his game. Throughout this week he's managed a way around that. When he misses the green, by and large, where he used to chip it, he no longer does. He goes to the putter. And you've got to tip your cap to him. You have to play around your weaknesses, especially when they're glaring."
Woods was unable to play around it on the back nine at Sedgefield Country Club on Sunday. He was still close enough to the lead when he missed the green left of the 11th hole. Attempting a long pitch and run, Woods instead shanked it over the green. He left his next pitch shot well short of the green and eventually made a triple-bogey seven.
On the par-3 12th hole, he missed the green wide left, then flubbed his second, en route to a bogey. He did close with four birdies on the final six holes — "once the tension level went down," CBS' Ian Baker-Finch said — to mitigate the damage.
The good news? He tied for 10th, his best finish in nearly two years. And the winner of the Wyndham was Davis Love III, who is 51 and a grandfather. Tiger is not yet 40. There's still time. That's something, at least.