The Loop
The Tiger effect: Frys.com Open tournament director expects to 'double last year's attendance'
Duke Butler, the tournament director of the Frys.com Open at the Silverado Resort in California's Napa Valley, could be excused his moment of reverie watching the Tiger Woods effect at the Wyndham Championship last week.
"We could easily double last year's attendance," Butler said on Tuesday. "We're looking at having 75,000 or more."
Woods has not yet officially entered the Frys.com Open Oct. 15-18, the opener on the PGA Tour's 2015-16 wraparound schedule, but it is presumed to be only a formality.
"I'm supposed to have a meeting with [Woods' agent] Mark Steinberg tomorrow [Wednesday, at the Barclays] to discuss the timing," Butler said. "We have an assurance he's coming."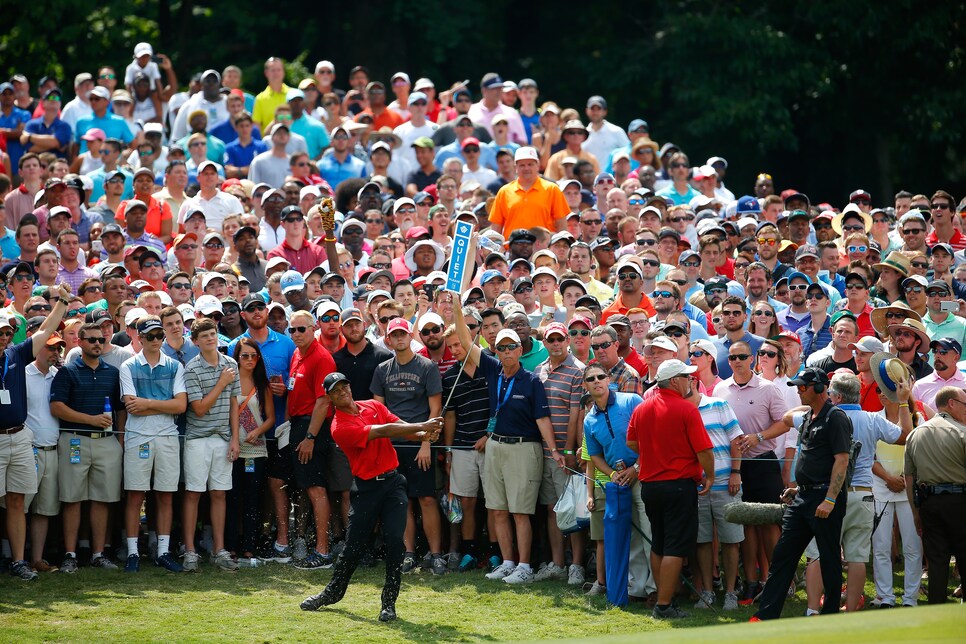 Woods, as well as Rory McIlroy and Justin Rose, played in an exhibition in Turkey opposite the Frys.com Open. In exchange for the PGA Tour release to do so, they agreed to play in the Frys.com Open once by 2015. This is their final opportunity to make good on their agreement, and McIlroy and Rose already have officially committed.
Woods has played in the Frys.com Open once before, in 2011, when it was at CordeValle Golf Club south of San Jose. A new venue and the largely new fanbase it would bring promises good crowds early and great weekend crowds should he be in contention.
"I had a similar one in Houston in 1986, the year that Jack Nicklaus won the Masters, maybe the most popular victory of all time in a major," Butler said. Butler was the director of the Houston Open then. "He made his next start at the Houston Open. That's a pretty close analogy. Jack was 46, but maybe was at the all-time peak of his popularity."
But can he again contend given that he isn't likely to have played a competitive round between the Wyndham and the start of the Frys.com Open? Butler said that the North Course at Silverado is not dissimilar from those he played at the Greenbrier Classic (the Old White Course) and the Wyndham Championship (Sedgefield CC), and he played decently at both places.
"I think it'll be that same type of course, very straight forward, on limited acreage," Butler said. "I think he would play reasonably well."
Woods has never played at Silverado, Butler said, and the first time he would see the course would be in the Wednesday pro-am (Oct. 14). The Tiger Woods Foundation has a fundraiser at Pebble Beach on the Monday and Tuesday preceding that.