Arnold Palmer Invitational
The teaching pro who conquered his nerves, made the cut and will earn at least $43,000 on Sunday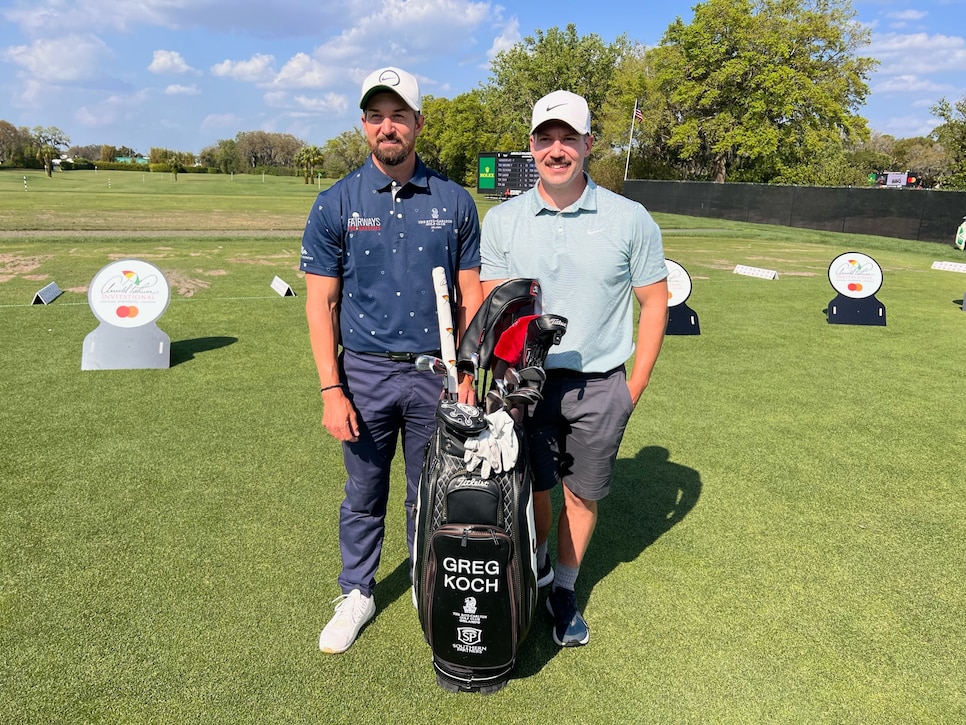 ORLANDO - At the $20 million Arnold Palmer Invitational at Bay Hill, prize money and the possible extinction of 36-hole cuts in some of the PGA Tour's biggest events next year dominated discussion this week. For that reason, Orlando club pro Greg Koch is savoring both.
The teaching pro from Orlando's nearby Ritz Carlton Golf Club endured the "most nervous" par save of his life to make the cut at Bay Hill. Now, he's guaranteed a payday of at least $43,000.
On Wednesday, it was revealed the PGA Tour will revamp eight of its $20 million designated events in 2024 to have field sizes of between 70 and 80 players and no 36-hole cut. The changes were welcomed by the tour's elite but criticized by the lower ranks. Exactly what events won't have a halfway cut is not yet clear, but Koch, 37, will always remember the first cut he made on the PGA Tour in his sixth career start. He had to work for it.
Koch, given an exemption through the PGA of America's North Florida Section championship, was playing Bay Hill's par-4 ninth (his 18th) on Friday night when darkness suspended play just after he'd hit his drive into the left rough. Koch, sitting on the cut line at two over par, then had to sleep on needing to return and make par from 210 yards to progress to the weekend at the event he'd grown up attending.
"I knew it was going to be a rough night," Koch, the pro at the Ritz Carlton for 14 years, said Saturday after a 76 left him at six over par. "I'm not really good at falling asleep with that many nerves, so I was up all night. I think I got like two hours of sleep."
Koch hacked a 5-iron down the fairway Saturday morning and was left with a 31-yard pitch over the left greenside bunker. No problem. He knocked it to 3 ½ feet and compared the anxiety to when he qualified for the 2021 PGA Championship at Kiawah via the PGA Professional Championship.
"[Saturday morning] was probably the most nervous I've ever been, standing over that putt," he said. "Knowing I had to make a three-and-a-half footer. If I didn't make it, I'd have to live with that forever."
Had Koch made an unlikely birdie on the ninth, he'd have moved the cut line to one over which would have knocked several pros out. But he made the par putt and the cut. Some of the world's best players failed to make the weekend, including major winners Collin Morikawa, Justin Rose and Hideki Matsuyama.

"[The satisfaction level] is through the roof, especially here at this tournament that's meant so much to me and my family being from Orlando and with this year being an amazing field," he said. "It's really special. It's my U.S. Open."
And it plays like a U.S. Open with Bay Hill's thick rough and lightning-fast greens. It pays like a U.S. Open, too. Being one of the PGA Tour's 12 designated events with a purse of $20 million, the Palmer winner gets $3.6 million, while last place receives $43,000.
Koch knows he has the game to lift himself higher up the leader board in Sunday's final round. He is tied 69th at six over alongside 2019 Open Championship winner Shane Lowry and Lowry's fellow Irishman Seamus Power, while Will Gordon is in last place at 13 over.
Whatever the pay check, Koch said it would be a huge help financially with his teaching and traveling to tournaments when he gets to play in North Florida Section events. He's also in the Valspar Championship in two weeks.
"Yeah, [the money] is going to help with all that," he said. "It changes a lot. The way I make my living is work [as a teaching pro] and then I play [tournaments], which can always bring a lot more money if I play well. This is a perfect example of, I played well, and I made the weekend. It's definitely a big a big help for us."
Koch, who played two PGA Tour events in 2021, as well as three last year that included the 2022 Palmer Invitational, always wanted to be a tour player. But he doesn't know whether he could stand the travel. It's just nice for him to know when he does tee up, he can mix it with the PGA Tour's elite.
"I'm not great at being away from my family. I don't know how they do it every week," Koch said. "But it's nice that I can teach and then I can still be competitive."