The Loop
The Surf Instructor: Taylor Kaluahine-Reid
Last week I was reporting an Away Game on the North Shore of Kauai--an island of 50,000 residents that gets over a million visitors a year. I played the Prince Course (No. 67 on Golf Digest's list of America's 100 Greatest), Wailua Municipal Golf Course (a $15 green fee makes it a better value than Bethpage Black) and Poipu Bay (until 2006 was the home of the Grand Slam of Golf for 13 years). I also had a tour of the new St. Regis going in where the old Princeville Resort was located (scheduled to open later this year), I took a boat along the Na Pali Coast and I took a two hour surf lesson in Hanalei Bay, one of the nicest bays and backdrops on planet earth. I was paddling around in the watery office of Taylor, my surf instructor. Taylor's the young Tiger of surf instruction--raw talent with a bright future.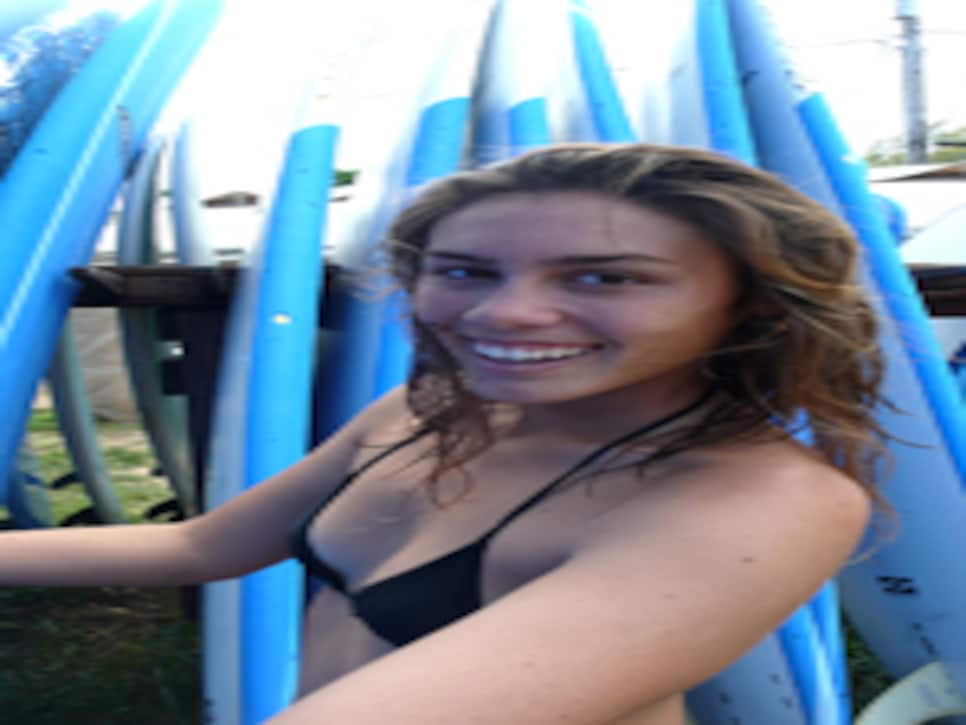 Hobbies: "I love to cook," she says. "I might want to go to culinary school. But I'm not sure what I want to do."
Short story: Born and raised in Princeville, Kaluahine-Reid has been surfing since she was five, when she rode on the front of her father's board. She's patient, thorough and does a great job of making relevant associations to help you understand what she's teaching. "Do you know how when you ride a horse, you look where you want to go?" she asked. "That's the same concept for surfing."
__What you learn:__Surf jargon, getting to know your board, how to paddle and how to stand up. Once you're in the water, the instructor is by your side as they teach you about channels, egg-beating your legs to turn the board and how to know when a bump in the distance will grow to be a wave.  Kaluahine-Reid says she has a 100 percent success rate getting her students up and riding, with only one exception. "He was 75-years old and overweight," she says with frustration. "And he had bad knees!"
Company details: Hawaiian Surfing Adventures in Hanalei Bay (hawaiiansurfingadventures.com; 808-482-0749). For a group lesson (four people per instructor) it's $65 for 2 hours (boards and surf shirts are provided). A semi-private lesson (two to three students) is $75/two hours. A private lesson is $95/two hours. Lessons are offered all year long. Waves are much bigger in the winter but Hanalei Bay always offers small wave options that are perfect for beginners. Return students can rent boards for $5 per hour or $15 for the day.
Taylor's tips: "Your position on the board is key. Keep your weight on the balls of your feet. Be committed to the wave--you've got to want it to catch it. And have fun. That's the most important thing."
Local Knowledge: Kaluahine-Reid strongly suggests hiking the Na Pali coast to Hanakapia, which is two miles from the end of the road on the North Shore. "But don't swim," she says. "The water is very dangerous on that beach."
Restaurant suggestions: "I like Postcards or Kintaros. Or Sushi Bushido, but that's just for you--it's a local secret."
Golf: "I was pretty good when I was playing a lot. I can hit a good drive because I'm strong from all this surfing."
Favorite Course: The Makai Course at Princeville. "The Prince Course is too expensive."