It's not surprising that ESPN's recent "30 for 30" documentary on John Daly, entitled "Hit it Hard," has connected. Daly checks off almost all the boxes—including uber-talented, entertaining, insouciant, rebellious, hard-living, charismatic and triumphant (enough)—that describe a sport's folk hero.
Some parallels come to mind from America's Big Three games: Mickey Mantle, Ken Stabler and Charles Barkley. To many, John Daly has been golf's equivalent. But Daly is a rung below.
Why? Well, athletes like the three above, whatever their excesses, were dedicated enough to their sport to be consistently good to great performers for many years. Their deepest appeal, to fans and their teammates, was that they seemed to have it both ways.
Despite winning two majors—both with prodigious exhibitions of talent—Daly really only had it one way. He was gifted with immense ability, which among other things allowed him to lead the PGA Tour in driving distance an astounding 11 out of his first 12 years. But there's a good argument that no golfer (and few athletes) ever wasted more of it.
In the documentary, Daly presents himself as a grateful survivor. Even so, he's never been a proactive one.
Daly's victory at the 1991 PGA at Crooked Stick remains, short of Tiger Woods' greatest performances, the best example of a player dominating a tournament that I have ever seen. That week Daly's drives were so much longer than anyone else in the field that it inspired then-competitor David Feherty to crack that to calculate their distance he had to factor in the curvature of the earth.
But though Daly won two more times in the next three years, closing out impressively at the 1992 BC Open and the 1994 BellSouth Classic, his pattern of self-destructiveness soon became all too evident. It's why long ago Fuzzy Zoeller, perhaps as an incentive, told Daly he would pay him $150,000 if he reached 50. Daly says he has yet to collect.
Daly was emerging from chaos in his personal life when he arrived at St. Andrews for the 1995 British Open. But he loved the Old Course, had stopped drinking by substituting chocolate for alcohol, and in high winds exercised the patience and focus that let him definitively prove the supreme (and underrated) quality of his ball-striking. And then, after Costantino Rocca did the impossible by holing a 60-foot birdie putt through the Valley of Sin to tie him, Daly showed the competitive heart that would get activated on the too-few occasions he got in contention on Sundays, but which went dormant or worse when he didn't.
St. Andrews ended up being a big tease. At 29 and already a multi-major winner (there are still only 76 in men's golf history), Daly coasted rather than dedicate himself to improvement. What followed was in essence a lost decade of washout seasons.
Daly didn't win again until an emotional triumph at Torrey Pines in 2004. After so much time in the shadow of the valley of death (he nearly committed suicide in 1997), it seemed that Daly would take a new road. In 2005, Daly lost a playoff to Vijay Singh in Houston. Later that year, after another spectacular display of ball-striking at the WGC-American Express at Harding Park, Daly lost to Tiger Woods when he missed a three-footer on the first hole of sudden-death playoff. Disheartened, Daly drove that night to Las Vegas and lost $1.65 million playing $5,000 slot machines.
Golfwise, not much has gone well since. I watched Daly shoot a harrowing second-round 88 at the 2009 Buick Open after which he said, "I just don't have any feel, and it scares me." In 2014, he won the Beko Open in Turkey, a small event sanctioned by the PGAs of Europe. But beginning this April, his much-anticipated rookie season on the PGA Tour Champions has been a bust. In 15 events, Daly has yet to post a top-10 finish, and he qualified for only the first of the Charles Schwab Cup's three playoff events.
Though Daly's crowds are smaller in senior golf, his fans continue to give him more unconditional love than any bad boy ever. They revel in the legend of "Wild Thing" and buy the illusion of "Grip and Rip It." With good intentions for the Everyman they so many identify with, they've acted as Daly's collective "yes man." And while professing that he plays for his fans, Daly has taken the easy way.
The act didn't fool his fellow players. They took note of his poor work ethic, many WDs and "give up" holes—most infamously his 18 on the par-5 sixth hole Bay Hill in 1998. Touring pros consider grinding during a bad round a sign of character, and Daly never grinded. It wasn't an accident that a month after he won at St. Andrews, Lanny Wadkins passed on Daly as a U.S. Ryder Cup captain's pick, recently saying, "he wasn't even on my radar."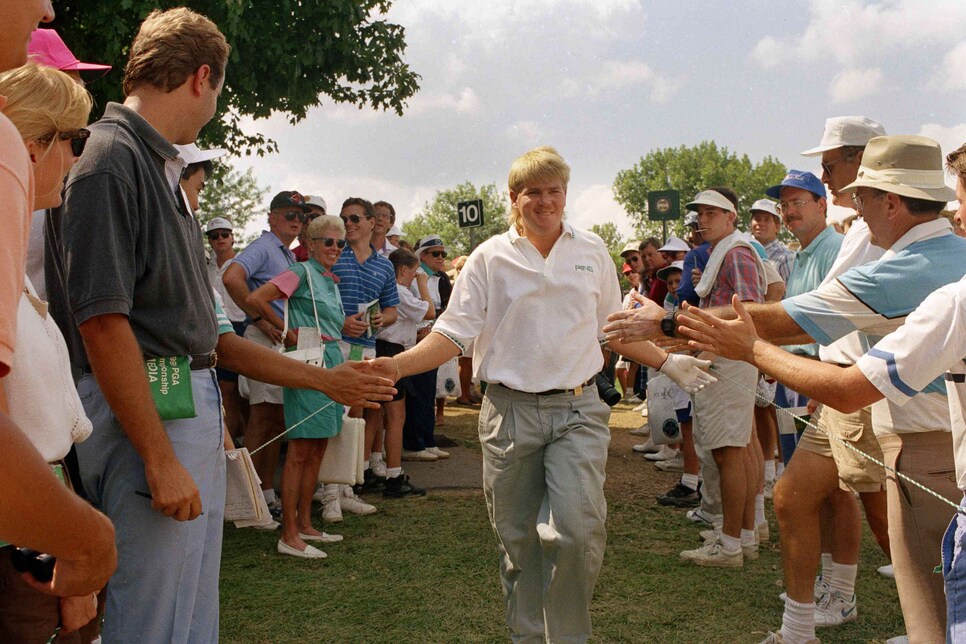 Daly gets more empathy and encouragement from his 50-and-older peers, from polar opposite Bernhard Langer on down. "To have legends take you under and say, 'Hey, get your crap together now. We love you, we need you.' It meant a lot," Daly says in the documentary.
But what all competitors most cherish—the open respect of peers—is something Daly has never felt, and the resulting sadness comes through the camera.
"That would be a regret if they didn't," Daly said in a poignant, and too rare, moment of self-awareness in the documentary. "And I could totally understand why they wouldn't."
There's an argument that Daly did remarkably well given the baggage he carried from an unmoored childhood and having too much money too early. He was suspended five times, ordered to rehab by the PGA Tour seven times, fined 21 times, has been married four times and claims to have lost more than $55 million gambling. Ely Callaway, who went to great lengths to help Daly, once said, "John's got every bad habit that you can have."
In the documentary, Daly presents himself as a grateful survivor. Even so, he's never been a proactive one. He chooses to emphasize his undeniable philanthropy and generosity with his time, and his relationship with his three children and longtime companion Anna Cladakis, saying, "The lows cannot defeat the highs in my life."
"I kind of love the way it turned out," Daly concludes defiantly. "I'm still just going to be John Daly. I'm going to hit it hard, I'm going to grip it and rip it. And I'm going to grip it and sip it. I ain't changing."
When it came to reaching a level of golf commensurate to his gifts, that was always the problem.