The Loop
The story of Jordan Spieth's caddie and how they made history at the Masters
Michael Greller went to his first Masters three years ago. The fifth- and sixth-grade math teacher from Washington State won the right to purchase four practice-round tickets through the tournament's lottery, so he dug into his bank account and treated his brother, his brother's wife and a friend. Even at face value, the badges were expensive on a teacher's salary, but well worth it. They followed Rory McIlroy, drank a few beers and enjoyed the walk.
"I was dreaming about just getting a pass into the gates, let alone getting to walk inside the ropes," Greller said last week, wearing the traditional white caddie overalls with the name SPIETH on his back. "I'm enjoying the walk now, too."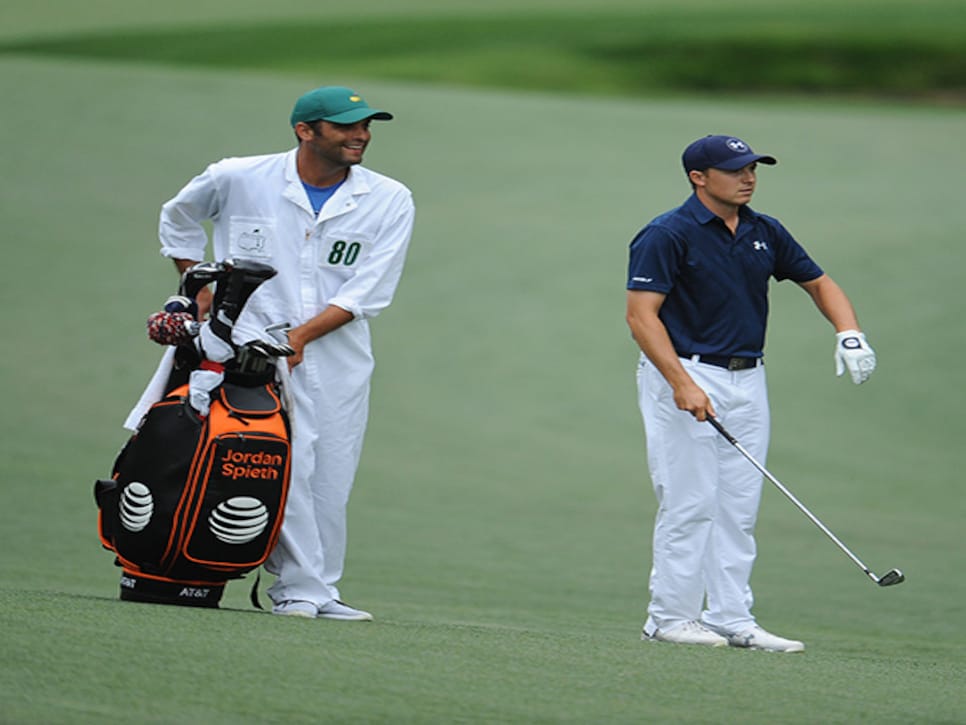 Two years after buying his way into Augusta National, Greller found himself on Jordan Spieth's bag in a pairing with McIlroy during the first two rounds of the 2014 Masters. And on Sunday, he won the caddie lottery by carrying Spieth's clubs to a victory in the 79th Masters, with McIlroy finishing four strokes back.
How Greller became caddie for the 2015 Masters champ is a story unto itself. Now 37, Greller grew up in Michigan, played NAIA golf for Northwestern College in Iowa and moved to the Pacific Northwest to be near his sister. When the U.S. Public Links came to Gold Mountain G.C. near his Gig Harbor home in 2006, he approached a player that was carrying his own bag, Matt Savage of Florida State.
After helping Savage advance to the quarterfinals, Greller changed school districts to be closer to Chambers Bay, where he could moonlight as a caddie. Savage knew Justin Thomas and recommended Greller when the course hosted the 2010 U.S. Amateur. Through their success, Greller begged Thomas to set him up with Spieth for the 2011 U.S. Junior Amateur at Gold Mountain. They won, and when Spieth finished low amateur at the 2012 U.S. Open at the Olympic Club, Greller locked down the job.
"I took a one-year leave of absence from teaching, thinking [Spieth] had no status anywhere," Greller said. "Yes, he was the No. 1 amateur in the world, but that means nothing out here. I was getting married, had a house. To go chase this kid caddieing was kind of a big risk. And then he went crazy."
The story gets better now that Spieth is a 21-year-old major winner with more than $13 million in earnings. Greller and his wife, Ellie, a kindergarten teacher, were married at Chambers Bay, site of this summer's U.S. Open. He returned home last year and served as a substitute teacher for one day. It's hard to shake your roots.
Combined with his loops at Chambers and a stipend for coaching the girls' golf team at Curtis High School, Greller was bringing home $55,000 a year. The kids he taught and coached were priceless. "Working with them was a walk in the park," he said. "We'd get crushed and they were giggling."
Greller also brought yardage books into the classroom as a learning tool, getting the kids to think quick on their feet, add the yardage, figure the percentages.
"It's kind of eerie how much it translates," he said.
What does he miss most about teaching? The bonds with the couple dozen kids in his classroom and the unfiltered joy they bring. What doesn't he miss? The lesson plans and returning parents' emails.
"Now it's the same thing," he said, "except I have one kid."