The Loop
I've been up early every day while I'm in Hawaii--my inner-clock is still ticking to the eastern time zone. It was the 5th of July, it was 4:30 a.m. and I was transcribing the Sluman Q&A when someone from Florida was calling my cell phone.
"Matt. It's Carl Bubeck . . ."
Immediately, from the combination of the voice and the name, I remembered who he was and where I met him.
I've bumped into a lot of characters throughout my search for great golf. From beverage cart girls, Jack Johnson, John Smoltz, Jerome Bettis and locals looking for a game. I've played with Jim Mahoney, Frank Sinatra's former PR guy in Palm Springs and recently I played with Clesson Pang at Wailua Municipal on Kauai. Pang taught me a valuable lesson about how to lose $30 in a game of $2 "whip out." Which means if you lose the hole, the greenie, the sandie or a birdie, you pay $2 on the spot. Ties carry over and you should carry enough ones to last two hours at a strip club. Clesson shot 75 and I shot an 83. "I love Golf Digest money," said Pang, after the first time I had to whip it out.
In a regular blog format about people like Gina Cloepfil, the spicy beverage cart girl at Crosswater in Oregon, and now Carl Bubeck, the Monday starter at the C.C. of Miami, here's my latest installment of people I meet at golf courses all over the country: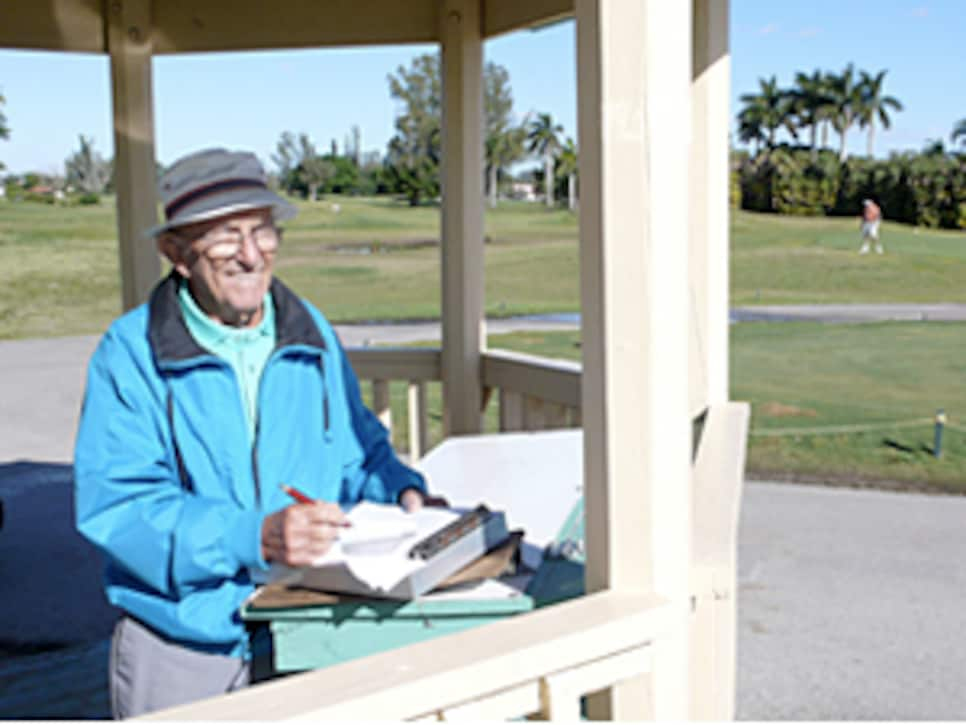 Age: He turned 96 on July 4th.
Short Story: Bubeck was quick to explain the reason for his call: "Matt, I turned 96 on the 4th of July, I still play golf twice a week and I can't believe people aren't coming down to do a story about me."
I told him to give me a second. I'd grab a notebook and a pen.
Besides the fact that his last three rounds were a 97, a 92 and a 91, the most amazing stat about Bubeck: in May he celebrated his 70th wedding anniversary with his wife, Betty. (I can't date a girl longer than 7 days.) I asked him his advice on a successful marriage: "Take care of your wife. Make sure she's happy when you're out playing golf. And sometimes, take her with you."  Betty, 91, used to play golf with 62 friends but now they've all passed away. Bubeck still plays with a group they call the Eastern Shores Golf Association. It's about 20 guys, ages range from early 20s to Bubeck and they have a game a few days a week. Bubeck works as a starter at the C.C. of Miami on Mondays to pay for his golf. It saves him about $100 per week. "It's an easy job," he says. "I collect tickets, talk to them, if they haven't been here before I tell them that the National Airline Open used to be here. Snead, Nicklaus, Palmer and Trevino all played in it. And then the tour moved out. I guess they had other places to go." Bubeck prefers the East Course at the C.C. of Miami, because "the West is too damn long."
Golf Game: Bubeck says he's an 18 handicap who hits it 150 yards off the tee, "But they're straight."
What he thinks of how far the tour pros hit it today: "It's hard to believe. And they do it without much effort."
Aces: "I have six. But none lately. I used to get certificates from Golf Digest, but I guess there are so many now they can't do it any more."
Local Knowledge: "If you play here you better bring a lot of golf balls. There's water somewhere on all 36 holes."
Keep up the good work, Carl--at home, on the golf course and in the starter shed. You're an inspiration to all of us. And yes, you're right, you're a good story.