News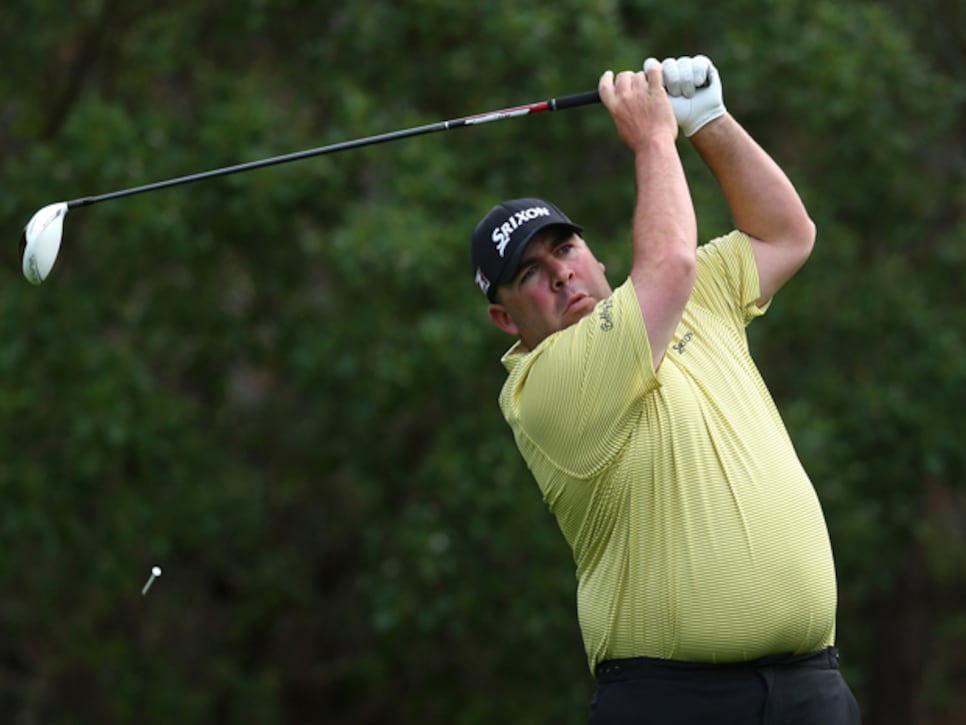 For a relatively unknown tour pro who knocked around for nearly a decade in his father's shadow, Kevin Stadler found himself on the A-list at the AT&T Pebble Beach National Pro-Am. He was paired with Jeb Bush, the former Florida governor projected as a possible Republican presidential candidate in 2016. Everybody on the Monterey Peninsula wanted to shake Kevin's hand and congratulate the Baby Walrus on becoming a PGA Tour winner for the first time.
Stadler's Waste Management Phoenix Open victory three days before his 34th birthday resonated not only because of his long wait, but also because of the storyline it created. By winning, Stadler and dad Craig will become the first father and son to compete in the same Masters. In many ways, the victory came not a year too soon.
At 60, Craig, the 1982 Masters champion, has grown tired of lugging his body up the steep hills at Augusta National only to, in his words, "chop it around" with scores like the twin 79s he posted last year. On a personal level, the 2014 Masters could also be the glue that repairs their relationship.
Kevin hinted at this during his pre-tournament news conference at Pebble Beach. "I was talking to my dad about it, and it's going to be the last one he's going to play," Stadler said. "It's great to be able to spend some time with him on the course when I never, ever, play any golf with him. It's going to be a special week."
Kevin was a 2-year-old in diapers when his 28-year-old father beat Dan Pohl in a playoff for the green jacket 32 years ago. Craig was married at the time to Sue, who spent her early days as a tour wife outside the ropes listening to spectators complain about her husband's tempestuous demeanor. Their 27-year marriage ended in 2006; in May 2010, Craig got remarried (to Jan Zumbrunnen) on the deck of his home in Colorado.
That background will be underscored at Augusta, in part because there were feelings Kevin couldn't mask in his news conference after his win in Scottsdale. Asked to describe his relationship with his dad, Kevin paused and said, "Hmmmm. Yeah, it's fine. Rather not talk about that, but it's fine." He punctuated that somewhat awkward question and answer with a smile.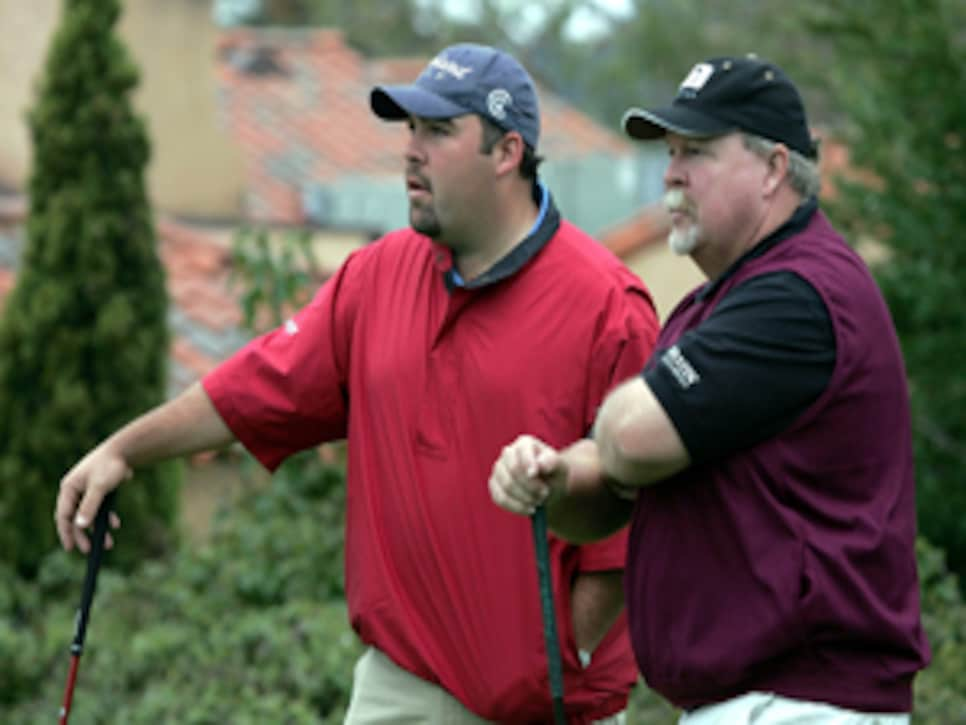 Asked a follow-up, Kevin used the "fine" word twice more and concluded, "I'm just not as close with him now as I used to be, but he's still my dad." Craig reinforced the last point when he told me, "I was so happy for [Kevin], and proud of him at the same time. He probably doesn't know it, but without a doubt I'm his biggest fan."
Kevin shares his father's mannerisms, his alma mater, his body type, and most of all, his dry sense of humor. When the Baby Walrus came into the interview room Sunday night at TPC Scottsdale, the moderator noted it was Kevin's first win in 239 starts. The golfer's opening comments channeled his deadpan dad. "Sure, yeah, it's pretty amazing," Stadler said. "As you said, it's 295 million tournaments, however many."
At his vacation home in Ponte Vedra Beach, Fla., his father watched the drama unfold on Super Bowl Sunday. At first he took the Bud Light approach and, like the superstitious football fans in the commercial, didn't dare leave the couch for fear of jinxing things.
"Damn, dude, I can't do this shot by shot for the whole tournament," Stadler said to himself, admitting to me later, "It's only weird if it doesn't work." It worked, as Kevin went for the back pin at 18 on Sunday to put heat on Bubba Watson and ultimately beat the 2012 Masters champion by a stroke. A year ago in Scottsdale, Kevin went at the same flag, plugged his approach in a bunker, shot 63 and finished T-11. An aggressive play potentially cost him the 2012 FedEx St. Jude Classic. "He always had a little bit of Lanny [Wadkins] in him," Craig said. "No matter where the pin is, he's going to fire right at it."
Craig scored his first tour victory at age 26. Wearing a woolly beard, he beat Tom Purtzer and Mike Sullivan in the 1980 Bob Hope Desert Classic. Five years after a decorated college career at USC and seven years after winning the 1973 U.S. Amateur wearing mutton-chop sideburns, Stadler backed up the Hope with a victory at the Greater Greensboro Open. Two years later Tom Watson was putting the green jacket on Stadler's back.
By the time Stadler was his son's age, he had eight wins and had played in two Ryder Cups. A bow was put on his career in 2003, when at 50 he won the B.C. Open for victory No. 13. His senior tour career also seemed past its due date when he won the 2013 Encompass Championship.
As a father-son team, the Stadlers come to Augusta with a good success rate, Kevin having won the 2002 Colorado Open with Craig caddieing and the duo taking the 2002 Office Depot Father/Son Challenge with Kevin carrying the team. They also won on the same day in 2004, Craig on the Champions Tour, Kevin on the Web.com Tour. Going to the Masters together should top all that and bring out emotions we've never seen from the Stadlers.
"As a father-son tandem, we've been very fortunate to have several really cool things happen together, so this will be another one," Craig said during our conversation. "Being the first father-son there, I think that's awesome."
Tiger Woods, Phil Mickelson and Adam Scott officially pulled out of the WGC-Accenture Match Play Championship before the Feb. 10 cutoff date for the top 64. Now Steve Stricker's status is doubtful due to the health of his brother Scott, who is in the intensive-care unit at University of Wisconsin Hospital in Madison, seeking a liver transplant. "There have been some touchy moments," said Steve. "He's struggling. It's sad to see." Stricker won the Match Play in 2001, ironically during a year when many stars skipped the event. He would be a No. 3 seed, but unless a donor steps forward by week's end, he'll remain in Wisconsin to support his parents and brother. Sub-zero temperatures in the Midwest much of January challenged Stricker's usual outdoor-practice regimen. His first tournament might not be until the WGC-Cadillac Championship, March 6-9. "My plans are up in the air," Stricker said, "At the same time I'm an optimistic person, so I feel like something really good is going to happen."
Cheyenne Woods has been taking lessons from Mike LaBauve in Scottsdale since she was 9. This winter, all they worked on was scoring from 100 yards and in. The practice sessions paid off when Woods holed two bunker shots and won the Australian Ladies Masters, a Ladies European Tour (LET) event, predominantly with her short game. "That's the biggest difference . . . I'm comfortable with the wedge in my hands," Woods said from Victoria, where she was preparing for the Women's Australian Open, an event co-sanctioned by the LPGA. Woods now has a two-year LET exemption and will continue to concentrate on getting LPGA status through the Symetra Tour. Tiger Woods saluted his niece's win with congratulatory tweets and texts.