The Loop
Flying in the face of a fragile economy and a shrinking golf industry, the idea of a new Florida golf resort seems silly. But after a recent tour of Streamsong, and hearing the business strategy, I'm willing to bet this is going to be a success. The people in management are making decisions that make sense. They had the land, the sand, and they hired the right designers who build courses that are playable, walkable, accessible and easy on the eyes. (Hopefully they stay relatively affordable.) Other than some decent-size gators patrolling small lakes, you'd never know you were in Florida. Unique isn't always a good thing, but in this case, and as it relates to this plan, it is. There are no houses, and other than the Polk County Power Station in the distance, you can't see another man-made structure. Think Wisconsin without the cows. Birds and the occasional train are the only breaks in silence.
More to come, but for now, here are the answers to 18 pressing questions: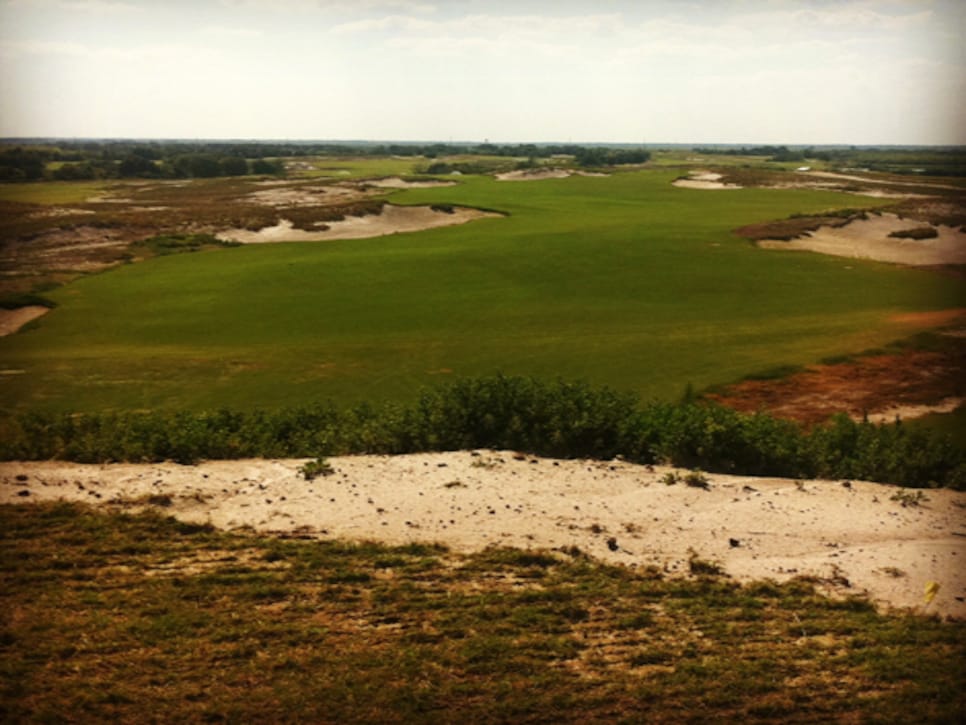 The first hole at Streamsong Blue (built by Doak).
Mid-December. And according to Tom Sunnarborg, vice president of land development and management for Mosaic, the project is on schedule. "The first cups were cut today," says Sunnarborg.
A company specializing in fertilizer. Its motto: "We help the world grow the food it needs." A key ingredient in fertilizer is phosphate, and for the last 50 years, Mosaic has been separating phosphate from, among other things, sand, and then spreading that sand back out across the company's 16,000 acres in middle-of-nowhere Florida. As a result it has been left with an ideal canvas for a golf-course architect (and an especially good base for drainage). "What looks to be coastal dunes might not be natural," says Sunnarborg, "but God has sure been working on them for a long time."
It's an 90-minute drive from the Orlando airport and a 60-minute drive from the Tampa airport.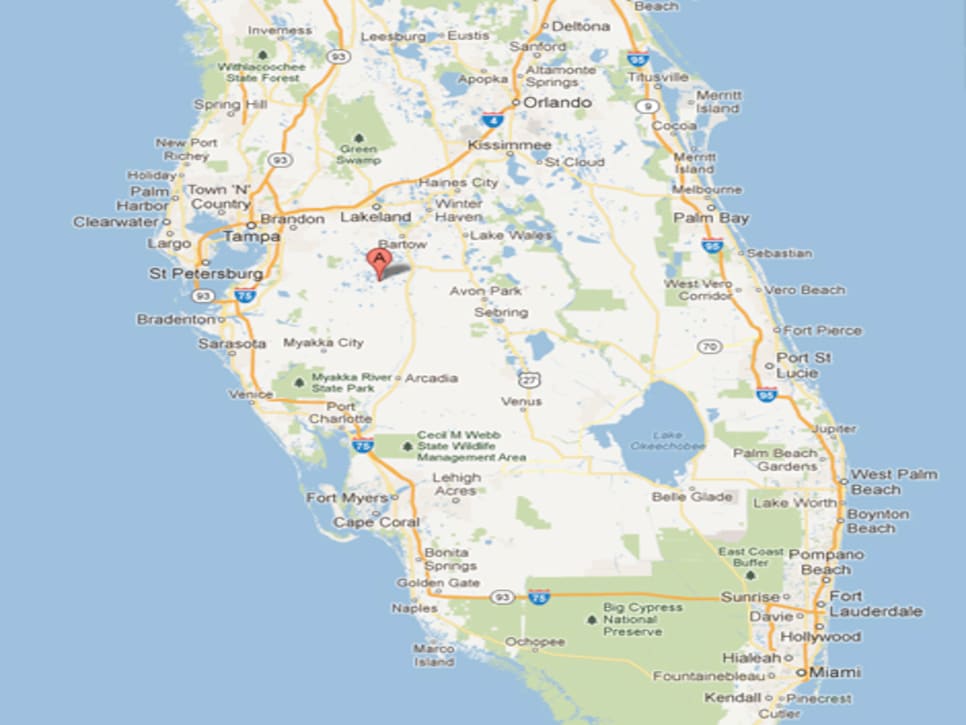 There are 18 holes designed and built by Bill Coore and Ben Crenshaw, and 18 designed and built by Tom Doak. Both courses will be par 72. Coore/Crenshaw will tip out at roughly 7,000 yards; Doak's course can be played at about 7,200 yards. The bye hole, the bet-settling short hole just below the deck of the clubhouse, is also a Doak design. (The range was designed by Coore.) Because of the routing, there will be a few of Doak's holes used on the Coore/Crenshaw course, and vice-versa. "It was a real collaboration, not just lip service," says Sunnarborg. "There was a mutual respect among the architects and their crews, who all knew each other. And there was definitely a healthy competition." A majority of the courses are almost ready for play. The last five holes, 1-4 and 6 on the Coore/Crenshaw course, were grassed two weeks ago.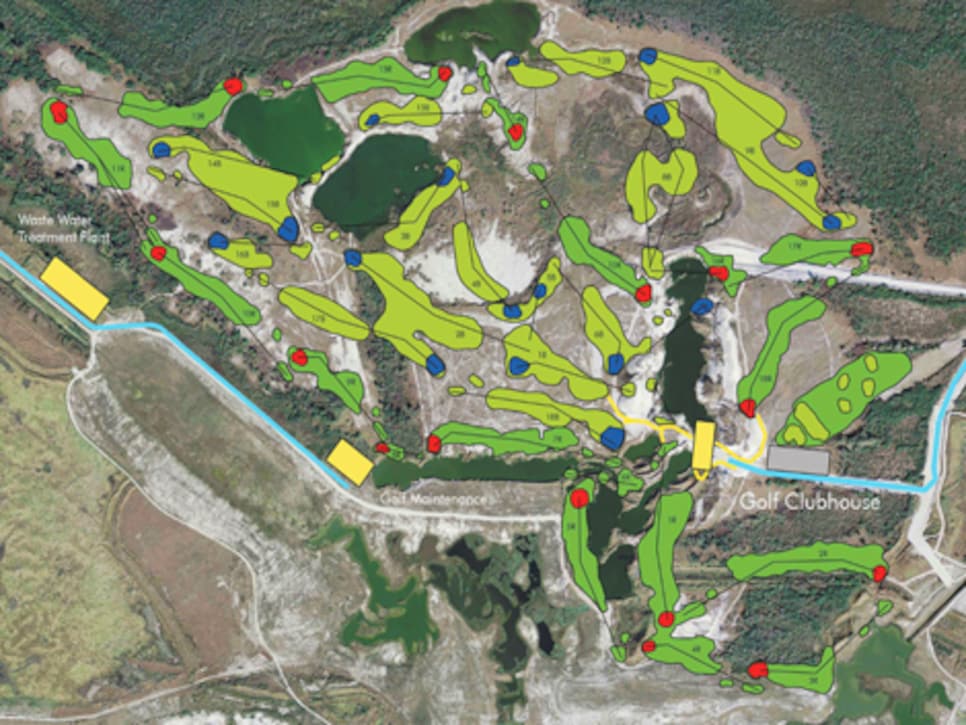 5) What are the lodging options?
The clubhouse, which will also open in mid-December, will have 12 rooms, 16 beds, a three-meal-a-day restaurant (with a masculine steakhouse theme) and 4,000 square feet of conference space.
6) What's the look of the clubhouse?
The clubhouse design was also a collaboration. "We actually asked the architects for input on what it should look like, and all three were taken aback. They had never been asked before," says Sunnarborg. "And we didn't know any better. Doak was most helpful. We pushed it down into the ground, and it sits gently in the saddle of the dunes. We didn't want it to be the star. We didn't want it to dominate the setting."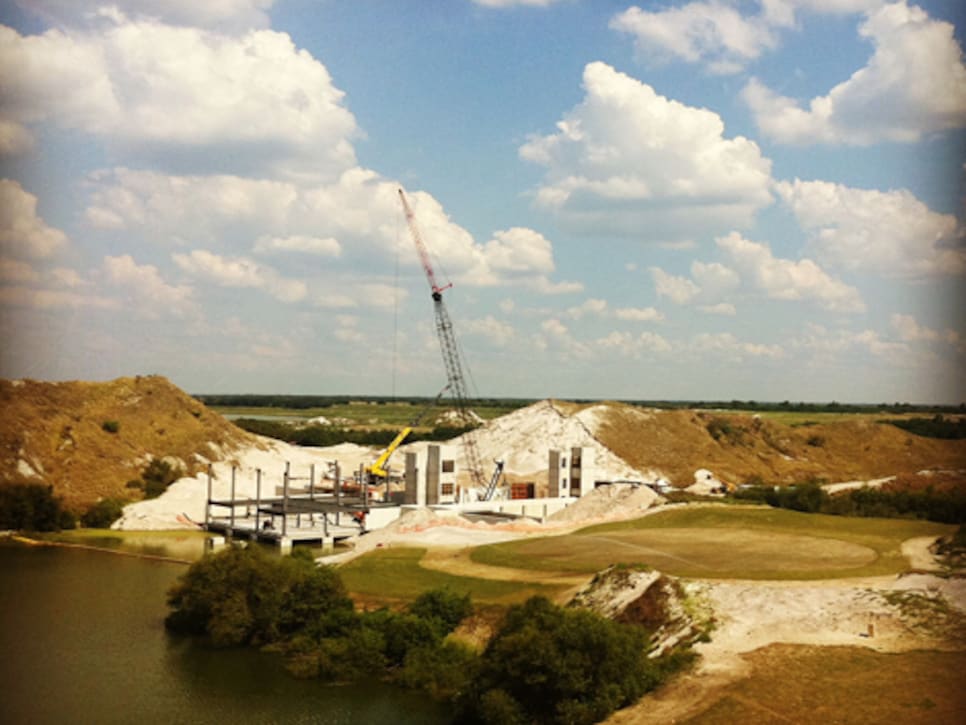 The main practice putting green and the clubhouse in progress.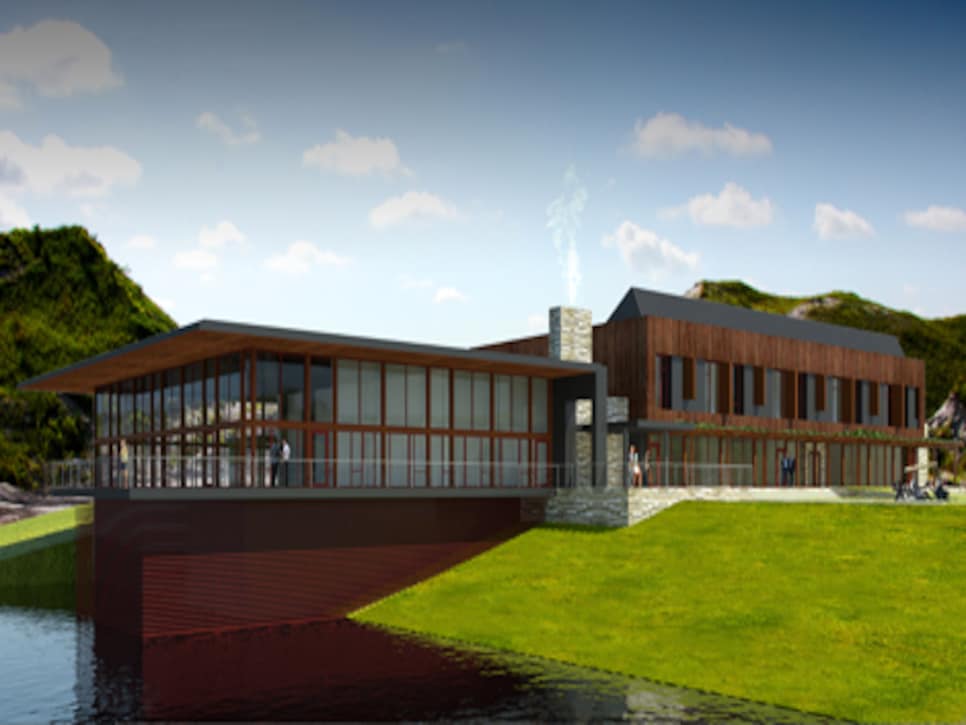 An artist's rendering of the finished product.
*"It's hard to believe, that in seven months, we'll be sitting on the deck,
having a drink, and watching people play the bye hole," says Sunnarborg.*
7) Where do I stay if the clubhouse is booked?
In the fall of 2013, there will be a 216-room hotel with amenities such as a spa, shooting range and fishing.
Until the hotel is open for business, there's a Best Western in Bowling Green, 20 minutes from Streamsong, "which was good enough for Ben Crenshaw, a two-time Masters champion," says Sunnarborg. Other options are more chain hotels in Lakeland, which is where the Detroit Tigers stay during spring training. There's additional lodging within 30 minutes, as you get closer to Tampa.
8) What will the courses be called?
The Coore/Crenshaw course is the Red, the Doak course is the Blue. Why? Those are the colors of the pens they used when they drew the original designs. "We like the simplicity, but if something better comes along, we're not opposed to making a change," says Sunnarborg.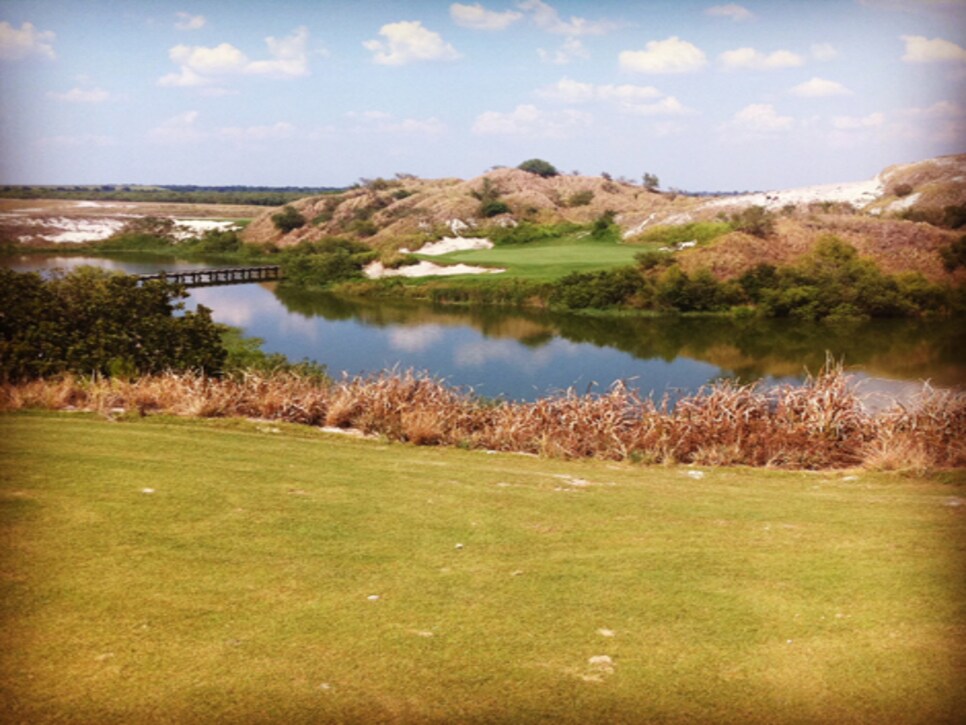 *The seventh at Streamsong Blue (Doak) will play roughly 180 yards
**and be one of the few forced carries on property.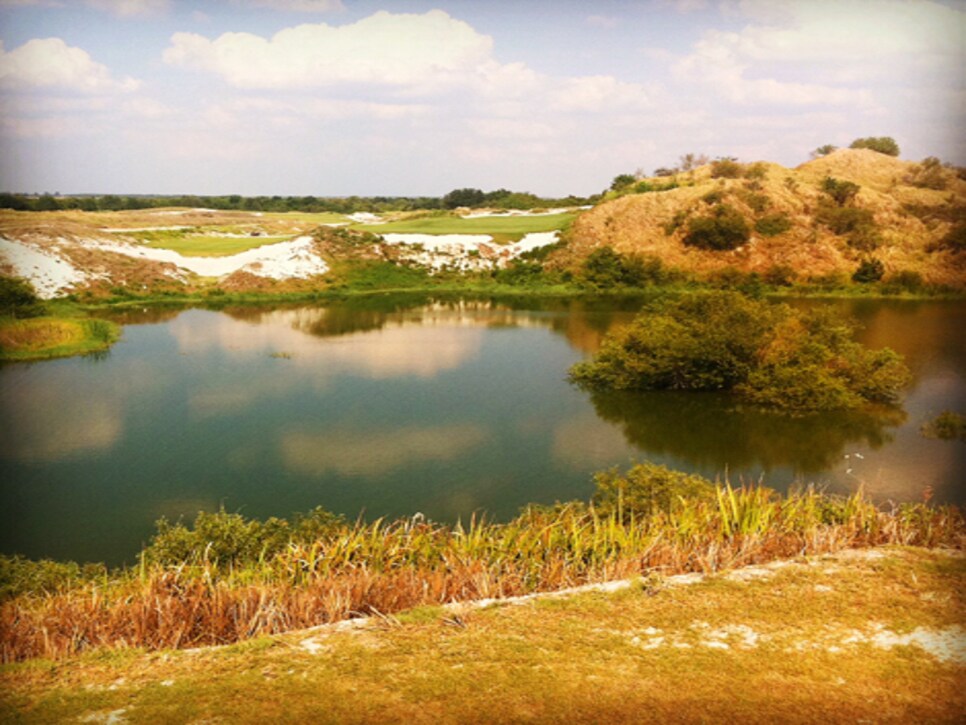 *The 16th at Streamsong Red (Coore/Crenshaw) plays over
*the same lake as the seventh on the Blue.
Rich Mack, executive vice president and general counsel for Mosaic, considered everyone. "Say a name, and they were out here," says Sunnarborg. "Ultimately we liked the design philosophies of who we hired as it relates to this property."
10) What grasses were used?
The tees and fairways are 419 Bermuda. The greens are MiniVerde, another hybrid of Bermuda, which thrives in the heat.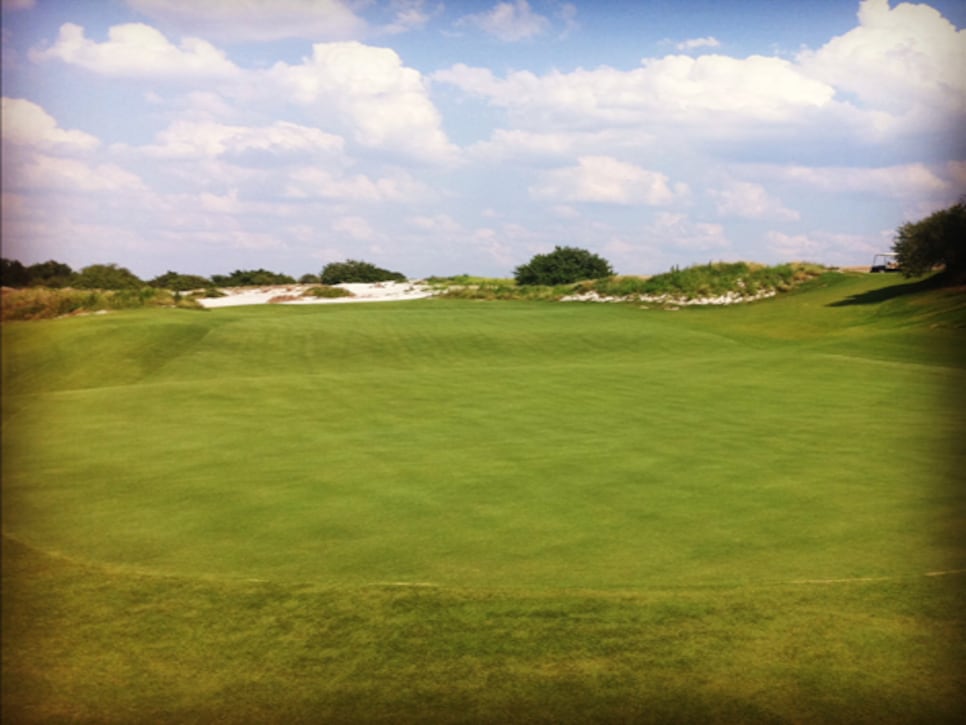 *A closer look at the 16th Biarritz-style green
at Streamsong Red (Coore/Crenshaw),
which features a natural swale.*
11) What are the green fees?
It's still being sorted out, but Sunnarborg estimates an 18-hole rate averaging $175 throughout the year. It will be roughly half off that in the off-season (summer) and a little more in the peak season (winter).
12) Will walking be an option?
Walking will be strongly encouraged. "We aren't going to be as strict as Mike Keiser at Bandon Dunes," says Sunnarborg. "This is a Florida resort, so we'll have carts, but we'll also have caddies, fore-caddies and pull-carts."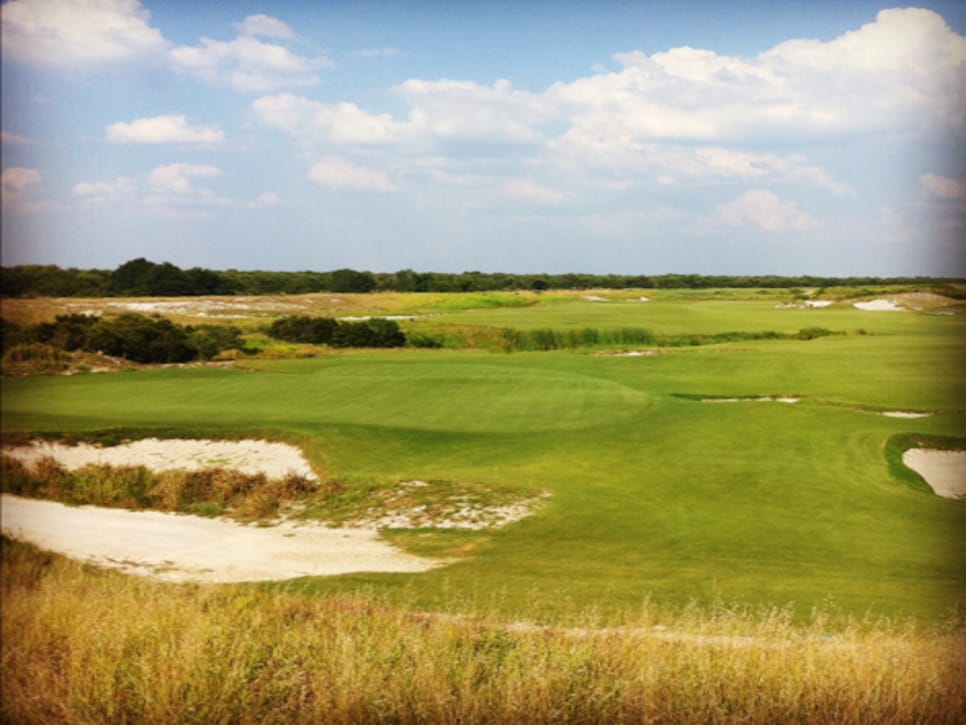 From the back of the 12th green at Streamsong Blue (Doak).
13) Are there plans for more golf?
Not anytime soon. "We have a lot of land, and the zoning in place for more golf," says Sunnarborg. "We might have a par-3 course, we might have a private 18 holes, there might be a municipal course, but there's nothing imminent. We have to get open first and see how it goes for a few years."
14) Will there be beverage carts?
There will be two comfort stations, two lightning shelters, and "lots of beverage carts."
15) Which course will be better?
These two design firms have rarely been accused of building a bad golf course. "We hope there is great debate. We will be disappointed if one is so much better than the other," says Sunnarborg.
16) What are the differences between the two courses?
The biggest differences are the greens and the bunkers. "Tom's greens have more contour, they are steeper and sharper," says Rusty Mercer, the superintendent at Streamsong, formerly at Cuscowilla, a Coore/Crenshaw course in Georgia. "Bill's and Ben's greens are longer and gentler. Tom's bunkers are bigger. He built some big bunkers out here. Bill pulled his bunkers back a bit to make sure the courses are different."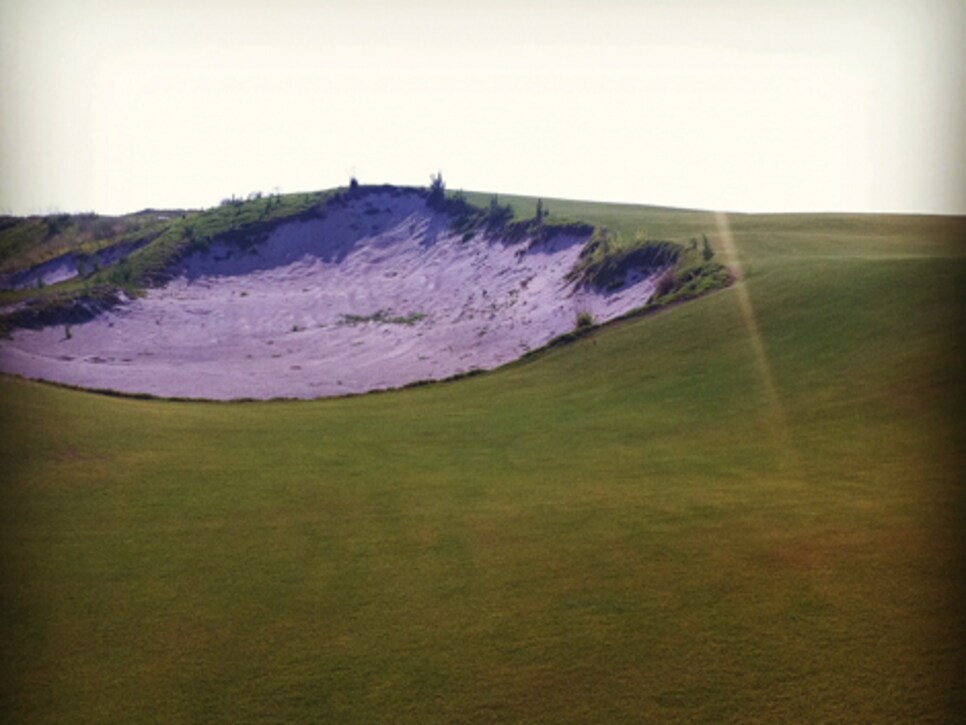 *The 13th at Streamsong Blue (Doak) is a drivable par 4, but most golfers
*will be left a short wedge shot over the large greenside bunker.
__17) Are there any plans for preview play?
Yes, but it will be very limited. "We don't want to open before we're ready," says Sunnarborg. "We don't want to give a first impression we'd wish we could take back."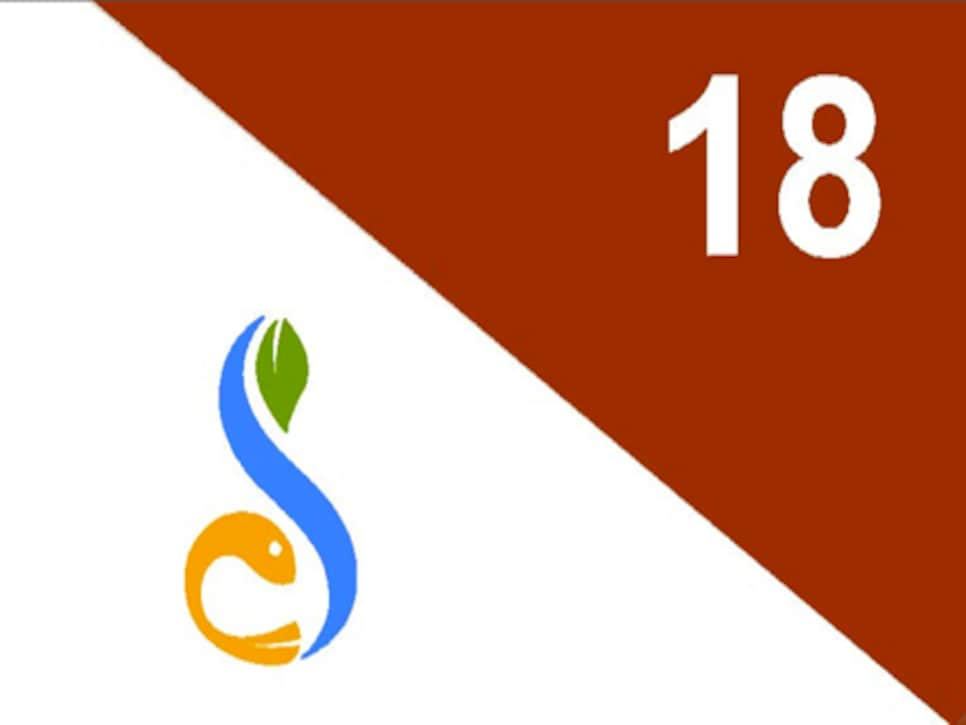 Until the hotel is built, the two courses in a remote setting, with a clubhouse featuring some lodging and a steakhouse, makes it another ideal buddies-trip destination. Even when the hotel is finished, like Bandon Dunes, it still strikes me as a destination for men and/or women who are avid golfers. Either way, it looks appealing to the eye of this avid golfer.