The Loop
The six worst decisions players have made at the U.S. Open
As the pros get ready to take on Chambers Bay in the 115th U.S. Open, there is a fair chance that by week's end someone is going to be fitted for a pair of goat horns after making a poor decision that potentially costs them the championship. To be clear, poor decisions are not to be confused with poor shots. Sometimes a bad shot is just a bad shot (see Stewart Cink's botched putt at Southern Hills in 2001). Other times, however, the decision-making process is lacking, leading to disaster. Here are six U.S. Open brainlocks that stand out. __Sam Snead, 1939 U.S. Open__Needing only a par to win the 1939 U.S. Open at Philadelphia (Pa.) C.C., Sam Snead stood on the tee of the par-5 18th believing he need a birdie to win. Going for a big drive, he hooked his tee shot into the left rough. A safe play short of the green would have done the trick, but Snead still thinking he needed to make 4, hauled his 2-wood out of the bag and went for the green. The ball landed in a bunker some 100 yards short of the green and plugged, leading to a triple-bogey 8 and one of the great collapses in golf history.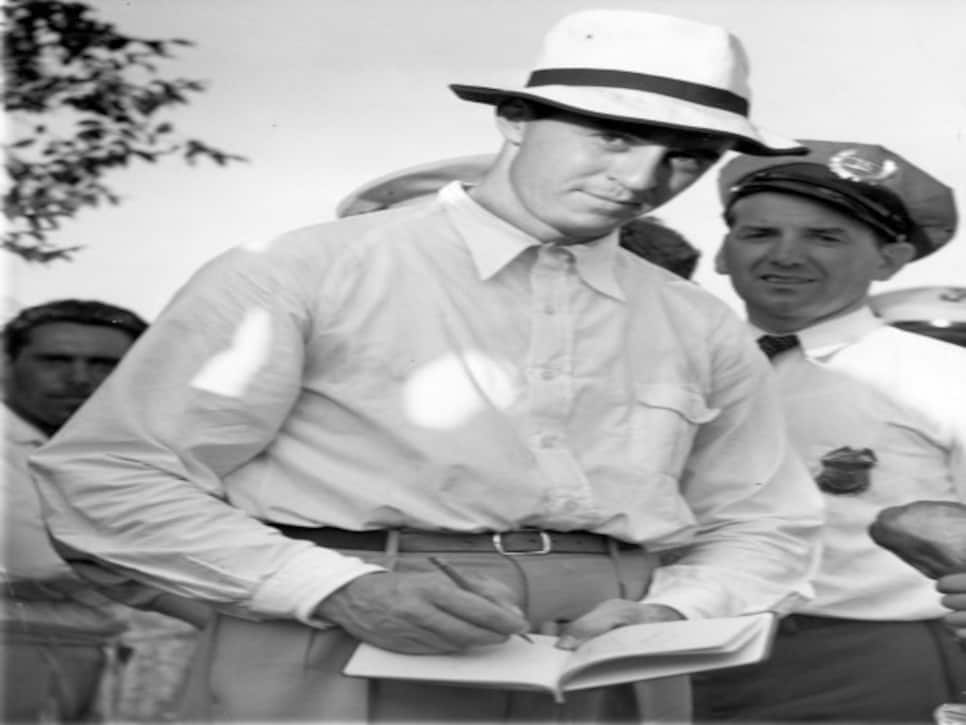 In a playoff for the 1950 U.S. Open title at Merion (Pa.) G.C., George Fazio, Lloyd Mangrum and Ben Hogan fought it out for the trophy. Fazio was never a factor, but Mangrum was only one behind Hogan as they played the 16th. On the green, Mangrum was addressing a short par putt when he spotted a bug on his ball. Incredibly, Mangrum picked up the ball and blew off the bug, thus incurring a two-stroke penalty and handing Hogan a three-stroke lead. Hogan eventually won by four and his 1-iron shot on the last hole Sunday went down in history as one of the great clutch shots of all time. But who knows what might have transpired if Mangrum had gone on to win instead of Hogan? [#image: /photos/55ad7348b01eefe207f69e68]|||mangrum.jpg|||(Golf Digest Archives)
Ben Hogan, 1960 U.S. Open
While the 1960 U.S. Open at Cherry Hills (Colo.) C.C. will always be remembered for Arnold Palmer's historic driving of the first green and subsequent 65 in the final round, Ben Hogan's error in judgment on the 71st hole greatly aided Palmer's cause. Tied with Palmer playing the par-5 17th, Hogan was just short of the moat-surrounded green in two. The final day consisted of 36 holes of play back then and Hogan had hit all 34 greens in regulation up to that point. Gunning at the front pin position, Hogan's wedge shot hit the green and then spun back off the green and into the water, ending his chances. Afterwards, the 48-year-old Hogan knew he had blundered. "When will I ever learn not to go for the pin there?" he said.
Arnold Palmer, 1966 U.S. Open
Leading by seven shots entering the final nine holes, Arnold Palmer forgot the golfer's credo of "staying in the moment" and got ahead of himself. Seeking to tie or break Ben Hogan's Open scoring mark of 276, Palmer continued to play aggressively. Slowly the lead evaporated. Still, Palmer was six up with six to play and five up with four to play. Firing at the flag on the par-3 15th, Palmer found sand and a bogey. He would bogey 16 and 17 as well and end in a playoff with Billy Casper, who would win the title the next day and make Palmer the author of biggest collapse in Open history.
Leading the U.S. Open at Rochester, N.Y.'s Oak Hill C.C. by three strokes, Tom Kite unwisely reached for his driver on the 406-yard fifth hole during Sunday's final round. The hole, named ``Double Trouble,'' for a stream that comes into play on both the tee shot and the approach, saw most players use a fairway wood or long iron to avoid the water lurking on the right. But Kite felt confident and went with the big stick. It turned out to be a disastrous choice. His tee shot found the water and by the time he holed out (after missing an 18-inch putt for a 6), Kite had carded a triple-bogey 7, lost his lead and eventually finished five shots back of Curtis Strange.
[Ljava.lang.String;@454d7447