The Loop
The simple advice Davis Love III is giving to the remaining U.S. Ryder Cup hopefuls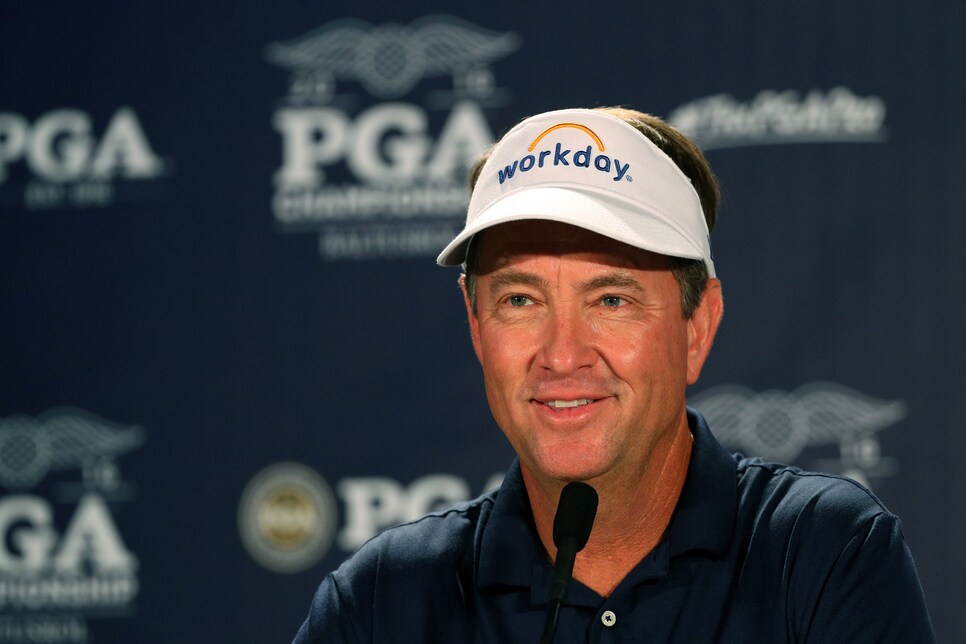 Davis Love III has two FedEx Cup tournaments remaining before announcing his three of his four captain's picks for the U.S. Ryder Cup team. Age is not an issue and neither are Ryder Cup points, even this late in the game.
Love has affectionately told 46-year-old Jim Furyk "flat out" that he's playing his way out of his place on the sidelines as a vice-captain. In an exchange of text messages with another vice-captain—Tiger Woods—Love expressed that Furyk's late-summer hot streak "is screwing up the top 12 right now."
According to Love, Woods responded, "That's great. Let him mess it up. We want guys to play good to make the decisions hard."
The point race ended Sunday at the Barclays with winner Patrick Reed locking up a spot, moving from eighth to fifth, but no player moving in or out of the top eight. Furyk didn't have a great week—T-41—on a Bethpage Black course that plays big like Hazeltine National will. But Furyk has two more FedEx Cup events and possibly even the Tour Championship to impress Love, Woods and fellow task-force members Phil Mickelson, Steve Stricker, Tom Lehman, Raymond Floyd and Fowler.
Furyk missed the first four months of the 2016 season with a wrist injury that required surgery, but started to make a case for himself with a T-2 finish in the U.S. Open at Oakmont in June and back-to-back top-10s before the Barclays that included his PGA Tour-record 58 at the Travelers.
"If Jim is one of the best players on tour this year in tournaments he's played in, then past record doesn't matter," Love said. "His only knock would be if you have two guys playing equally, do you have the older guy or the younger guy going five matches when it's going to be cold and a big golf course."
The other criticism of Furyk is a 10-20-4 record in 34 matches going back to 1997. Along with Woods (13-17-3) and Phil Mickelson (13-19-6), Furyk represents an era in which the U.S. team has lost eight of 10 matches. Because of that, the call for younger players with a new attitude has never been louder—especially after the success of Reed (3-0-1) and Jordan Spieth (2-1-1) in their Ryder Cup debuts at Gleneagles in 2014.
"When you look at U.S. Ryder Cup records, none of us should be on the team; you have to throw everybody out of the window," Love said. "We're all .500 or worse."
The opposite end of the spectrum is the untested Justin Thomas. At 23, Thomas is half Furyk's age and has no scars from Ryder Cup defeats. He averages more than 300 yards off the tee and has chemistry with Fowler and Spieth. His 2015-'16 track record shows a win at the CIMB Classic (from last November) and four third-place finishes, including the Players.
In this case, Love is willing to overlook the Mickelson edict of not fully counting fall tournaments in the wraparound schedule, instead giving consideration "to the big tournament he won in Malaysia." Love also questions the analytics of how Thomas could enter the Barclays ranked just 25th in Ryder Cup points but 10th in the FedEx Cup standings.
At Bethpage, Thomas had one of those hot rounds he has had on tough courses this year. Like the 65 on Sunday at the Players, a Saturday 66 on Bethpage Black ultimately vaulted him to a T-10 finish.
"I tell them, 'Look, after the Tour Championship, I have a pick,' " Love said. "Let's not get hung up on points. If somebody's playing well, they're not going to get left out."