News
'The Short Game' star Amari (Tigress) Avery is maturing as she succeeds in junior golf. Same goes for her father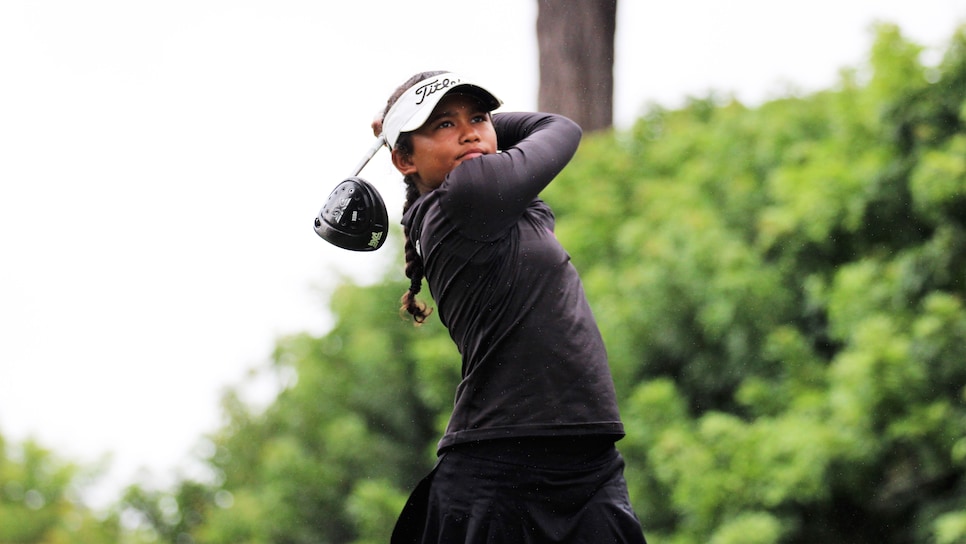 Photo By: Courtesy of the AJGA
MURRIETA, Calif. — Maybe the camera doesn't lie, but is it obligated to reveal the truth? Is having its lens turned on an overbearing father and his precocious 8-year-old grappling with her temper good theater or bad form?
Andre Avery called his daughter "Tigress," said she was the next greatest golfer who ever lived. She played. He caddied. They argued. The camera recorded it.
The film was "The Short Game," a 2013 documentary featuring eight 7- and 8-year-olds, including Amari Avery, playing in the U.S. Kids World Championship at Pinehurst Resort the year before. The Los Angeles Times' reviewer called it "a warts-and-all portrait of these pint-sized athletes and their parents."
Remorse is not a wonder drug, but it does have its healing properties. Six years on, the warts, if not eliminated, at least have diminished, and Andre is grateful for the camera's assist.
"It was depressing for a couple months," Andre said inside the clubhouse at Bear Creek Golf Club here recently. "When you get these negative comments, when you constantly get berated and people on the course look at you funny, 'that's the guy cursing at his kid, yelling at his kid,' it hurts. But it was truthful to a point, right? I finally had to stand back and look at myself and say, 'that's how I was.'"
Amari, meanwhile, is now 14, impressively polite and well-spoken beyond her years and already one of the top-ranked girls in the American Junior Golf Association. She has an invitation to play in the ANA Junior Inspiration next month, with the winner given the final spot in the LPGA's first major of the year, the ANA Inspiration.
"ANA, those are her initials," Andre offered optimistically. "Amari Nicole Avery."
Better that than identifying her as Tigress. Andre has been eager to promote comparisons between Amari and Tiger, beginning with the fact she, too, is the offspring of an African-American father and an Asian mother, Maria, a Filipino. Amari and Tiger share the same birthday, as well, Dec. 30.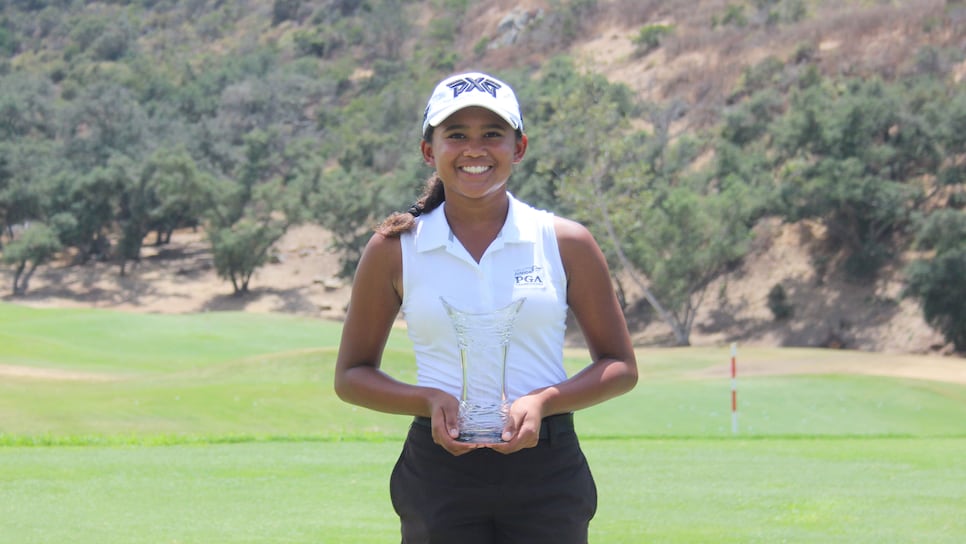 "My dad mentions it a lot to people about how I have so much in common with Tiger," Amari said. "The same [first] hole in one, Heartwell [Golf Course, in Long Beach, Calif.]. Won the Junior World around the same age. I don't really think about it too much. I'm not Tiger Woods, he's not me.
"My dad used to sign me up at tournaments as Tigress Avery. I'd go to check in and I'd say 'Amari Avery.' And they'd say, 'You're not on here.' I was like, 'Tigress Avery?' I didn't really like it. At first I did. But I want to be Amari Avery, not Tigress Avery."
Her potential to make a name for herself is measurable, in yards. She's long. "She's very athletic, very strong for her size," Tom Pernice, a winner of two PGA Tour and five PGA Tour Champions events, said. Pernice, like the Averys, is a member at Bear Creek, and when he is home he takes time to work with Amari and her younger sister, Alona, when they cross paths on the range at Bear Creek.
"She drives the ball powerfully," Pernice said. "Her compression on the golf ball is like a college boy. That's a huge advantage for her age. She has huge potential."
She has huge ambition, too. "I want to be No. 1 in the AJGA Rolex rankings," she said. "I want to play in an LPGA event. I really like Mission Hills [Country Club, site of the ANA Inspiration]. I won there before. I really like that course, and it sets up really well for me with my game."
Amari also expressed an overriding goal, No. 1 in the world, and is considering forgoing college in pursuit of it. Pernice is advising her not to get ahead of herself, to follow the trajectory that Woods took, learning to dominate on the junior level, then the amateur and college levels before turning pro. "I'm trying to give a little of that, be cautious, take it step by step, don't get ahead of the game."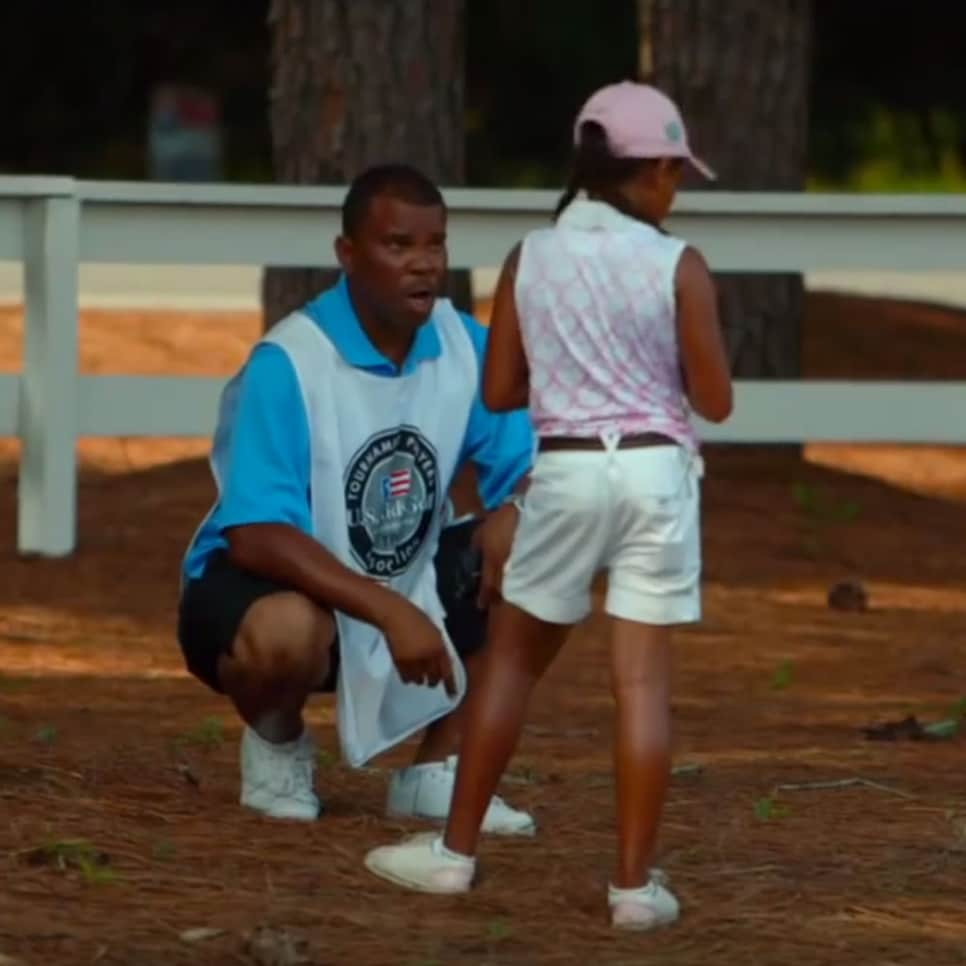 Andre perhaps is of a similar mind, at least in one small way. Following the second of three rounds at the ClubCorp Mission Hills Desert Junior last summer, the tournament allowed the juniors to leap into Poppie's Pond, as the winners of the ANA Inspiration ritually do.
"Don't jump in that water," Andre told her. "That's for people who win. If you jump in the water that puts bad juju on the thing. Don't jump in the water for fun. Wait until you win."
She did not jump, notwithstanding her friends' urging her to do so. She was three down starting the final round, shot 67 to win by three, then made the celebratory leap. "It was super fun," she said.
Water fun was how she was introduced to the game. When she was 3, Andre took her to the Islands Golf Center in Anaheim, a range featuring floating greens in a 10-acre lake. "She'd hit balls into the water to the point she'd get tired and start throwing the balls in the water," Andre said.
A year later, Amari's talent began to surface, Andre said, and he set her up with an instructor. But he was not content with a sideline seat and allowing her progress to unfold of its own accord.
Another documentary that debuted in 2013, "State of Play: Trophy Kids," featured Andre and Amari. "So when the golf dad Andre reduces his preteen daughter Amari to tears, after berating her for what seems like every imperfect shot, he says, 'Good. That'll toughen her up,'" David Hinckley wrote in the New York Daily News.
It isn't the same Andre that Pernice has witnessed, though he is familiar with the criticism. "I get to see him in action with the two of them on a daily basis at the club," Pernice said. "He was obviously very intense and probably overbearing, but he's definitely softened up. They really have a great relationship between them. They have fun. At the same time they still respect him."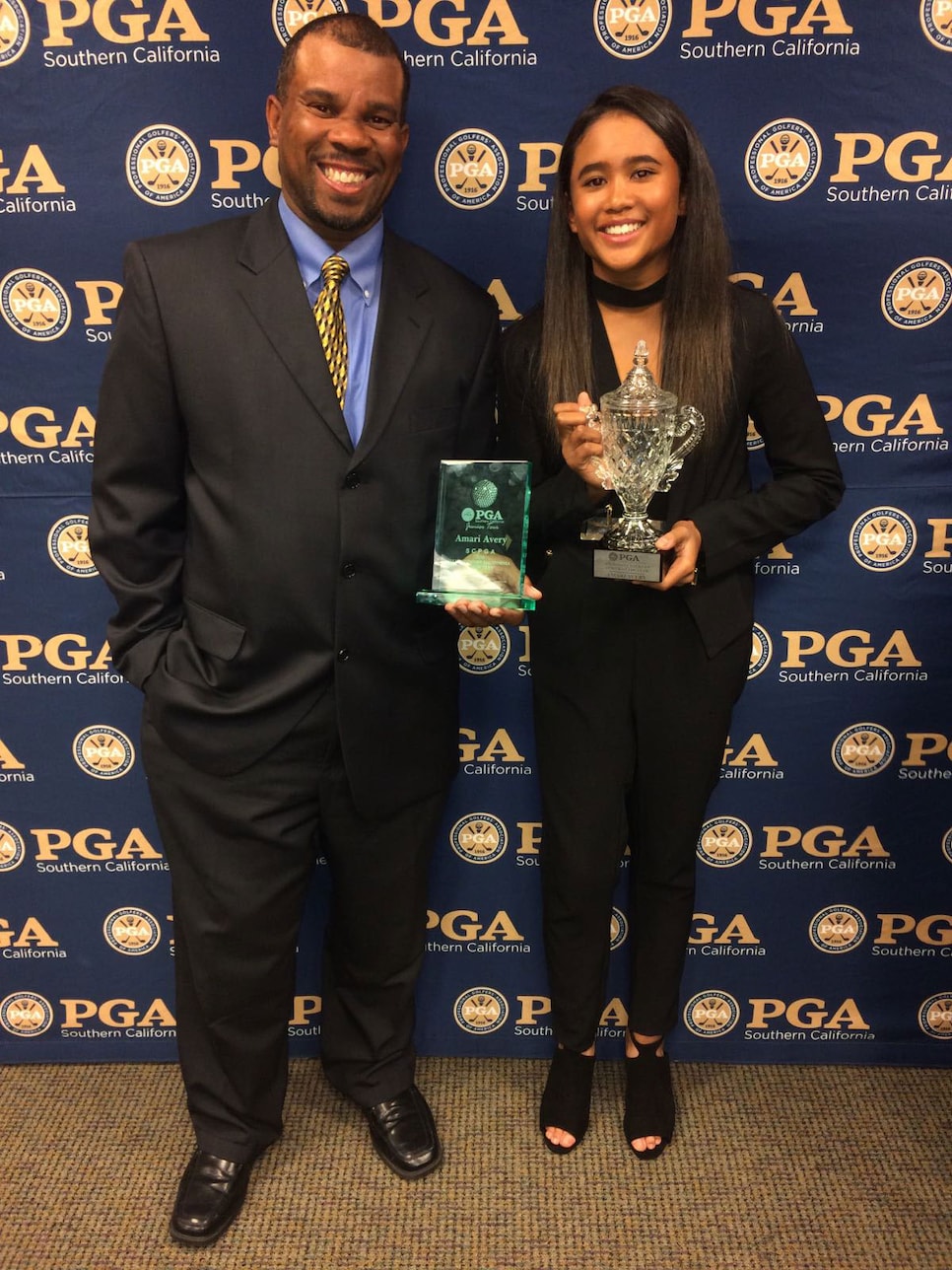 Yet Andre's reputation shadows him. He is determined to live it down in the service of other similarly overbearing parents, of which the number in sports is not a small one.
"I wish I had that platform to talk now," he said. "I think I would be a great asset, a voice for people to hear. These documentaries that I was in where I was portrayed as this overbearing person, there's a thousand other people who do the same thing to their kids, and they don't know it because they haven't seen themselves on television.
"I speak to parents all the time. In fact one of the parents I spoke to last night said he gave his daughter the ringer, cursing her, berating her, 'Why can't you do this, why can't you do that?' Why? Why can't you just explain to her? Why can't you just help her? Communicate. That's why we have mouths."
The Averys still argue, incidentally. "A lot," Amari said. "We haven't fully overcome it. But we've definitely gotten better. Usually it's OK. We figure it out. I've learned how to control my attitude on the course a little better. Now we're actually seeing a sports psychologist. Jay, he's helping me with my mind to get my mental game right on the course."
Andre has not completely given up his Tiger obsession, though he is expressing it in a more practical, positive way. The Jay to whom Amari was referring is Jay Brunza, a sports psychologist who worked with Tiger throughout Woods' teen years and is now working with Amari.
Among Brunza's advice, taken from what he and Earl Woods used to tell Tiger? "Be regal." Regality is defined in one dictionary as "the demeanor or dignity appropriate to a king or queen." Brunza was speaking to Amari, but could he have been speaking to Andre, too?
"We're having fun with it now," Andre said. "Like anything else, some days are rougher than others. That's when we go see Jay. He can keep us on a straight path."