News
The secret to Dustin Johnson's success? He's no longer beating himself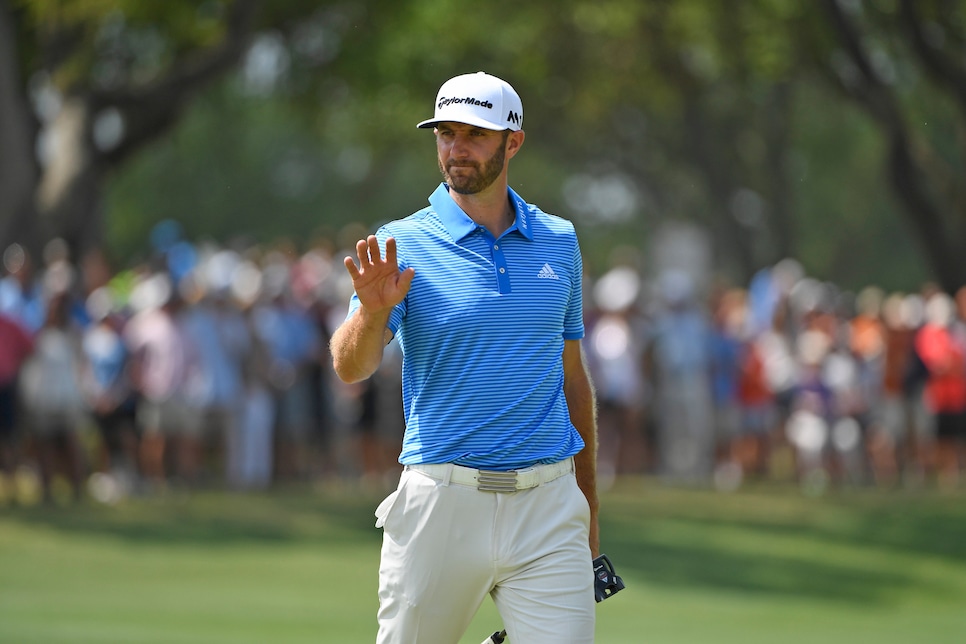 Dustin Johnson didn't demur or mince words when he was put on the spot. The question: Is he beatable if he is playing his best golf?
"I believe that I am not," he said, eschewing the need for qualifiers.
Well, Johnson has put his best golf on display in his last three starts. And he hasn't been beaten.
Since acquiring the World No. 1 ranking in mid-February at the Genesis Open, Johnson has added two more victories, both in World Golf Championships. His latest performance might have been the most emphatic. Johnson never trailed through seven matches and 112 holes at Austin (Texas) Country Club, and defeated upstart Jon Rahm, 1 up, in the final to win the WGC-Dell Technologies Match Play.
The 32-year-old reigning PGA Tour player of the year is the first golfer to win all four WGC events and the first since Rory McIlroy in 2014 to win three starts in a row. He has five WGC wins in all, far behind Tiger Woods' 18. But he's gaining.
"He's just a perfect, complete player. Honestly, he doesn't really make mistakes," Rahm said after his second setback to Johnson in as many WGC starts. The 22-year-old who turned pro just last June had finished T-3 at the WGC-Mexico Championship after briefly passing Johnson in the final round, and he wanted another piece of the game's best player.
Well, he got him. And then he was had.
The final possessed more drama than necessary after Johnson led 5 up after eight holes and 4 up with six to play. Even so Rahm, who beat Bill Haas in the semifinals, 3 and 2, exhibited the tenacity and talent that already has made him the world's 14th-ranked player after a mere 15 professional starts.
In the end, though, the result was as familiar as the one in Mexico, with Johnson holding off the Spaniard.
Johnson's 15th PGA Tour title was a breeze until Sunday. The U.S. Open champion had taken out four major winners in his first five matches without going more than 16 holes. In Sunday morning's semifinal match he finally had a close call, fending off Japan's Hideto Tanihara for a 1-up win after sinking an eight-foot par putt on the final green. Then Rahm wouldn't go away.
Neither time, however, did Johnson fail to hit the shots he needed to prevail.
"That was a tough day, a long day," said Johnson, who joined Luke Donald in 2001 as the only WGC-Match Play winners to never trail the entire week. "I definitely didn't play my best today in the first match or the second. So to win both those matches not having my best stuff is definitely a positive. And I'm definitely proud of the way I hung in there and played tough and just tried to never give away holes, which I felt like I did a pretty good job of that."
Johnson, who overtook Hideki Matsuyama for the top spot in the FedEx Cup standings, intends to play in this week's Shell Houston Open and then he'll be the likely favorite in the year's first major at Augusta National. He has never been the No. 1 player in the world heading into a major championship, but he'll have a target on his back in the Masters.
He was asked how that felt, being the favorite.
"How do I like it? I don't care," he said.
Why should he, especially when he's playing his best.